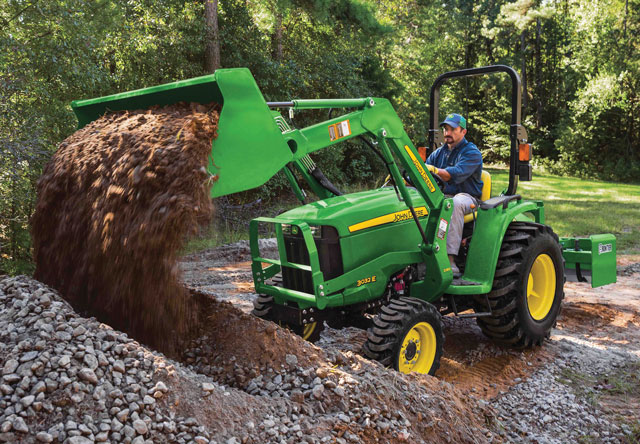 Four Different Families of Utility Tractors from the American Ag Giant
John Deere compact utility tractors have found uses in light commercial, landscaping, municipal and other non-residential environments. With the right implement, these chore tractors can dig, transport material, mow and remove snow, doing the work of several pieces of equipment.
The beauty of these tractors lies in their versatility. With several hundred implements available, John Deere compact utility tractors allow a professional to complete nearly any task at hand. The more commonly used implements include a loader, a mowing deck and a backhoe, allowing John Deere compact utility tractors to quickly transition from material handling to grass mowing to digging tasks. Additional attachments allow Deere tractors to be used for tasks like snow removal, landscaping, maintenance and repair. John Deere compact utility tractor implements are designed to easily connect and disconnect. Some implements, such as the AutoConnect mower deck, can be installed and removed simply by driving the front wheels of the tractor over it.
Where some larger machines require well-trained operators, John Deere compact utility tractors are easy to use for all operators, says the company. The controls are intuitive and non-intimidating. Hydrostatic drives are also a common feature on these units, meaning new operators will find them as easy to drive as cars. John Deere offers four model families of compact utility tractors to meet the varying needs of customers: 1 Family sub-compact utility tractors (up to 25 hp); 2 Family compact utility tractors (25 to 38 hp); 3 Family compact utility tractors (25 to 46 hp); and 4 Family compact utility tractors (44 to 66 hp).
Advice to Buyers
"When purchasing a compact utility tractor, it is important for customers to select the right machine for their property or business," says Jared Lowe, product marketing manager for compact tractors, John Deere. "Work with your dealer to discuss your needs, identifying the horsepower and transmission type you desire, as well as any implements needed for intended jobs."
John Deere Ag and Turf Div.
2000 John Deere Run, Cary, NC 27513
johndeere.com
Click on table to enlarge
[prettyPhoto title="John Deere Specs" link="https://compactequip.com/wp-content/uploads/2017/08/john-deere-tractor-specs.png" type="link" ]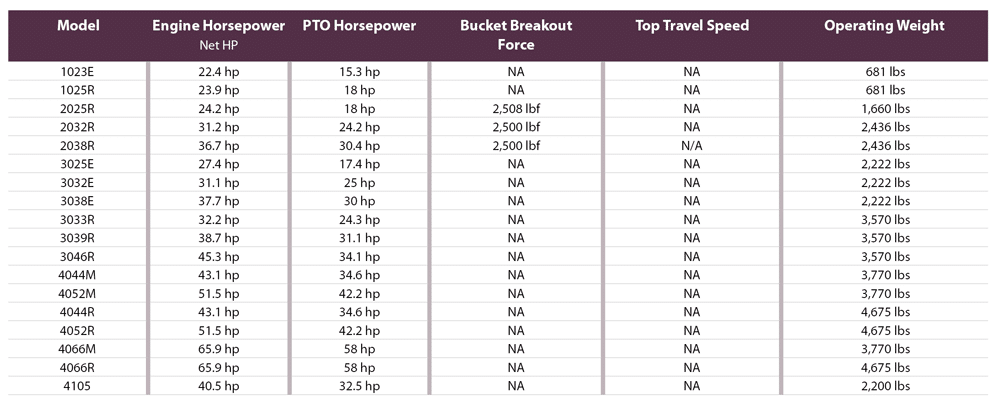 [/prettyPhoto]
Read more 2017 tractor specs here.