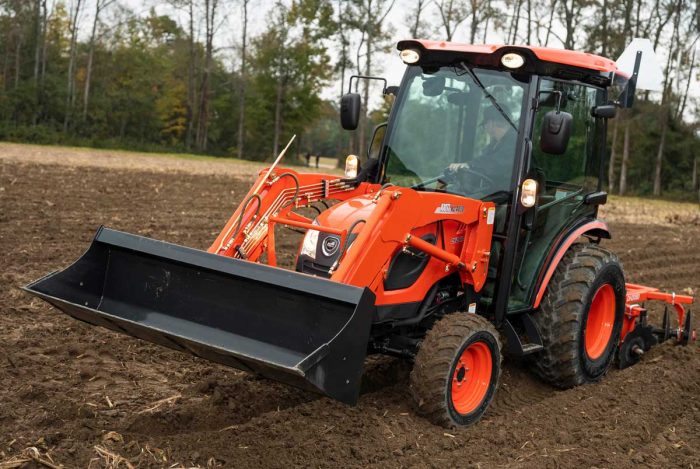 By Joel Hicks, Product Development Manager, KIOTI Tractor
For those who spend their days tackling tough tasks out on a jobsite, it may not come as a surprise to learn that compact tractors are a do-it-all workhorse. With a nearly endless variety of attachments and implements, compact tractors are hard to beat when it comes to versatility.
And as critical as loaders, grapples, augers and other add-ons may be, there's one option for your tractor that can truly help you get the most out of it all year long: a cab.
Cabs can help you stay comfortable and work more efficiently and safely in the summer heat or winter snow. They keep you dry in the rain, protecting you against the elements, and even allow you to listen to your favorite music when it's safe to do so.
At KIOTI Tractor, where I serve as product development manager, we offer field option cabs across three of our tractor series and factory-installed cabs on even more. With this year's introduction of field option cabs for our popular CS20 Series, plus the all-new CX2510 CH model with a factory-installed cab, KIOTI is continuing to provide our customers more options to ensure they leave the dealership with the best tractor for their needs.
But there's a lot to consider when it comes to deciding if a cab—and which type—is right for you and your tractor.
Let's break it down.
There are two main types of cabs for compact tractors: factory-installed or field option. A factory-installed cab is just what it sounds like. This cab is a permanent feature of your tractor installed during the assembly process. Factory-installed cabs at KIOTI feature both heating and A/C with deluxe suspension seats so operators can work in comfort all year long.
Field option cabs, meanwhile, are added on to the tractor at a customer's request either at the time of purchase or later on down the road, and can be removed. The field option cab provides customers the opportunity to customize their machine for their evolving needs. KIOTI field option cabs feature forced air heating, so this cab is perfect for folks whose winter work never ends.
Either way, there are a handful of features you can expect to find on many cabs on the market today. Side view mirrors, windshield wipers and lights both inside and outside the cab help operators work productively, regardless of the outside conditions. Doors, windshields and windows (that partially or fully open) allow operators to enjoy the fresh, outside air when desired. Audio features such as radio, CD players or systems to stream from your phone help operators enjoy tunes or podcasts in situations when it's safe to do so.
And, perhaps the most desired feature of all, many cabs come equipped with heating and/or air conditioning systems. The work on a jobsite doesn't stop just because the weather isn't ideal. Yet when rain begins to pour, harsh winter winds start to blow or the summer sun is beating down, climate control options can allow operators to work much more comfortably and effectively.
So, why opt for a cab? Beyond the added comfort, cabs also allow you to work more safely. The windows protect operators from dust, bugs and stray flying objects that can obstruct views and create hazardous conditions. Cabs also provide relief from the constant noises on a jobsite so operators can focus on the task at hand. Plus, the increased visibility provided by cabs' mirrors and lights allows for safer operation of the machine, including in low-light situations.
Despite cabs' many benefits, there are select situations in which cabs can hinder the effectiveness of your work. Most notably, forestry and other applications with debris and protruding objects may not be the best uses for cabs. Under these conditions, operators risk breaking the cab's glass if they aren't careful.
There's a lot to consider when it comes to adding a cab to your current tractor or purchasing a new tractor with a cab already installed. As always, your dealer is your best resource. Let them know how you plan to use your tractor and the factors that matter most to you about the machine. Informed about your specific situation, your dealer can help guide you towards the best decision for you and your team.