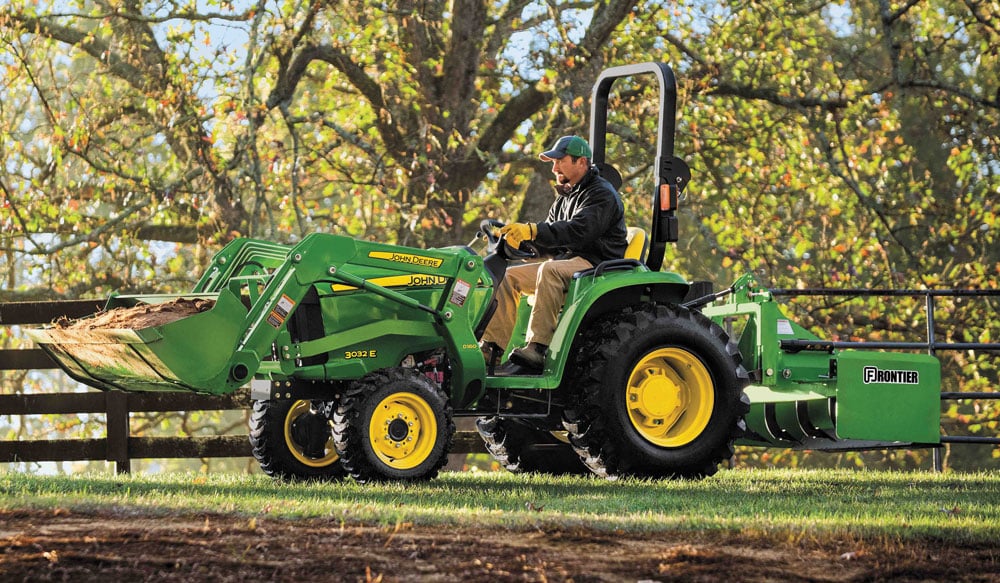 Armed with the right attachment, compact utility tractors can tackle any project. Whether you're a farmer, large land owner or even a contractor, these machines offer the perfect workhorse complete with enough power to do the job and a variety of attachments to diversify your operations.
"A utility tractor is true to its name — it provides operators the opportunity to complete a wide variety of tasks," says Joel Hicks, senior product support manager at Kioti. "But, a utility tractor needs attachments and implements to truly provide value. When buying attachments and implements, buyers should clearly determine the use of the tool and then consult with their dealer for guidance. Buyers need to understand if the attachment will be used frequently or sporadically and if it will be used lightly or heavy use around their land. Speaking to their dealer can help determine if this is the correct tool to successfully perform their job at hand and if it is sized properly for their tractor."
When talking with a dealer, Tom Elliott, product marketing manager for John Deere Small Ag, seconds the importance of knowing the applications the attachments and implements are needed for and offers some other points to consider.
"By knowing the intended use, as well as other key factors including the machine specs and the terrain on which it will be used, a dealer can help with selecting the right type of implements for the desired application," he says. "For example, if mowing is a common task, there are two primary implement options: mid-mount and rear-mount finish mowers. By discussing the property size, type of grass, horsepower, hitch lift capacity and compatibility of the machine with a dealer, the dealer can help navigate through the options and determine the best solution for that specific customer."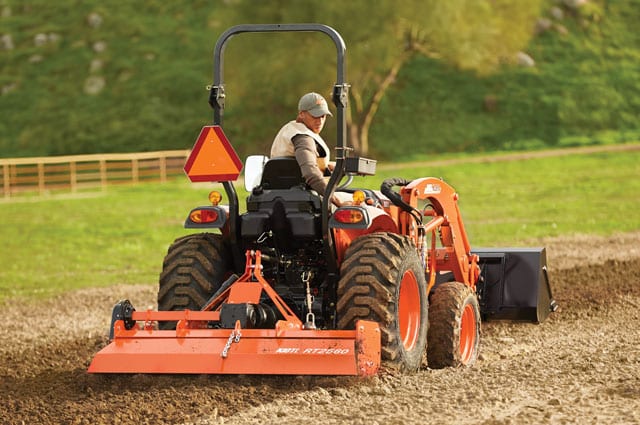 Plenty of Options
There's a variety of attachments for compact utility tractors, however, the most popular are loaders, backhoes and mowers, to name a few.
"Loaders are a great tool for owners who need a specialized machine like a skid steer but cannot justify the cost of purchasing one," says Elliott. "Loaders can be used to move dirt and carry materials, such as gravel, and can be converted with additional attachments to allow operators to perform tasks like picking up tree stumps and branches.
"Backhoes combine power with excellent visibility and precision," he continues. "Typically used for installing underground utilities or for moving large amounts of soil, customers have a variety of options available for purchase based on the desired use. It is important for owners to select a backhoe that offers the right digging depth and digging force needed for the job at hand."
Mowers are frequently purchased by compact tractor owners, particularly large land owners. When selecting a mower, operators need to select which type of mount they prefer — mid or rear.
"Mid-mount mowers are attached to the bottom of the machine and are ideal for mowing turf, whereas rear-mount finish mowers are pulled behind the machine or integrally attached to the rear three-point hitch and are ideal for large, open areas," says Elliott. "Rotary cutters are used to manage around small livestock areas as well as along the fence lines of your place."
Aside from the most popular attachments and implements mentioned, Elliott points out there are dozens of other implements on the market that allow tractors to take on all sorts of projects like snow removal and construction cleanup.
"There are a variety of implements, including snow blowers, front blades and rotary brooms, that make snow removal an easy task for customers located in geographies that get a lot of snow accumulation," he says. "If a compact utility tractor is being used on a construction site, loader implements like a 4-in-1 bucket or rock bucket can be used to clear debris on worksites."
Core aerators and debris blowers are perfect implements for helping tractor operators maintain their land. Hicks explains their benefits.
"Aerators are used to remove cores of soil and thatch, typically from a manicured lawn or turf like a golf course," he says. "Removing these sections of soil reduces compaction and helps stimulate healthier turf. Blowers are often used to remove yard waste after maintenance, to clean up after a storm or move debris from one place to another."
Three-point trenchers and wood chippers also allow tractors to tackle different types of work — further diversifying the machine's abilities around acreage or a jobsite.
"Three-point trencher implements are ideal for digging uniform trenches, particularly for a small drainage or utility projects," says Elliott. "To use a three-point trencher, the operator simply hitches up the implement and can get to work. Wood chippers make big cleanup jobs easy. Using a wood chipper implement, operators can quickly chew up tree branches, turning them into wood chips or mulch."
---
Rent or Own? Do Utility Tractor Owners Typically Own or Rent Attachments? John Deere's Tom Elliott Answers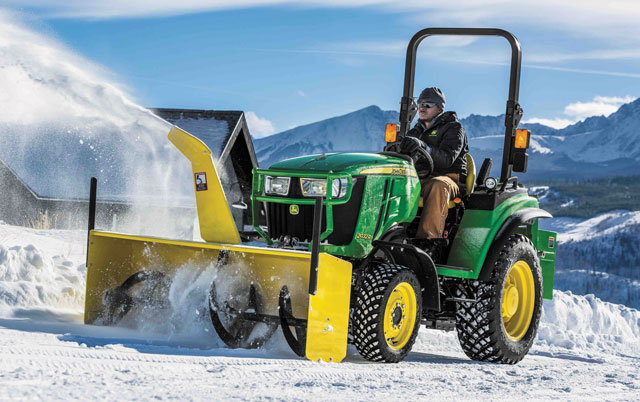 "It depends on the customer and the frequency of the job," says Elliott. "For example, if an owner/operator regularly moves materials, in the long run it makes more sense to purchase a front loader with their unit. However, sometimes they need an implement for one-off jobs, like building up a fence. It may make more sense to rent a post hole digger implement rather than purchasing an implement that would be used less often.
"When purchasing a new machine, owners should speak with their dealer about implements they know they will want and frequently use, as implements can often be wrapped into a financing package, allowing the owner to pay off the implement along with their machine."