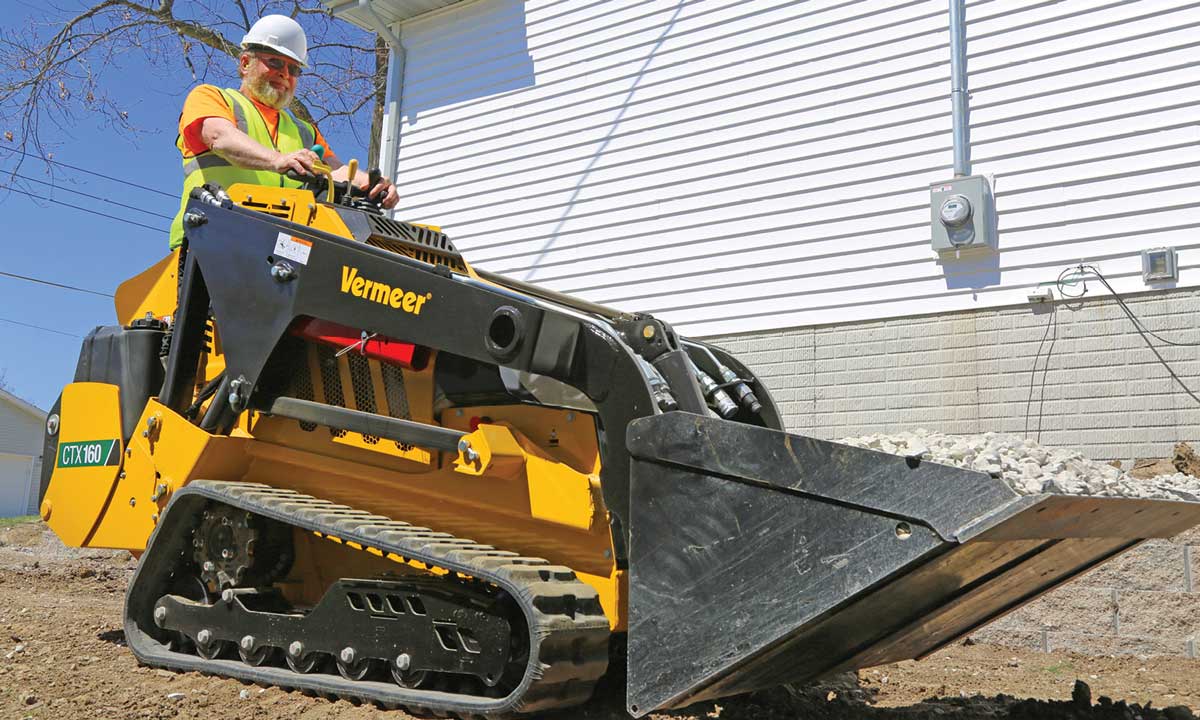 Seven Mini Skid Steers Ranging from 24 to 40 HP
This post is a part of Compact Equipment's annual Spec Guide. View other brands' product and spec info by clicking this link. View the magazine version of these summaries by clicking right here. Sign up for the print edition right here. Now enjoy!
Founded in Pella, Iowa, Vermeer serves customers in more than 60 countries with a full line of tree care, landscaping, rental, environmental, underground construction, surface mining and agricultural equipment. Vermeer introduced its first compact tool carrier in 2003 to help contractors in the landscape, rental, tree care and utility markets complete jobs more efficiently. Vermeer currently offers seven compact tool carriers ranging from 24.8 to 40 hp.
The CTX160 mini skid steer is the latest addition to the Vermeer compact tool carrier portfolio. With a rated (SAE) operating capacity (ROC) of 1,600 lbs, 16.7 gpm of auxiliary hydraulic flow and a width of 42 in., the CTX160 provides high lifting capabilities while remaining compact and nimble to operate. This durable Vermeer mini skid steer can handle jobs such as moving heavy material, working ground-engaging attachments and efficiently maneuvering in congested operating conditions — including passing through a standard gate. The Vermeer CTX160 is sized for challenging landscaping, hardscaping, rental, utility and general construction work.
The Vermeer CTX160 features a vertical-lift path design, with a hinge-pin dump height of 88.75 in. for efficient clearance when dumping material into a trailer or truck. The unit is powered by a 40-hp turbocharged Kohler KDI diesel engine that does not require a diesel particulate filter (DPF), helping to reduce the cost and complexity of the engine.
With a weight of 4,000 lbs and a 9-in. rubber track undercarriage, the CTX160 provides optimal traction when transporting heavy material and in harsh working environments. Its Vermeer chariot-style ride-on platform has an integrated operator presence system that disengages the loader's ground drive and attachment motion when the operator steps off the machine. The platform also provides operator comfort and visibility.
The control station on the Vermeer CTX160 includes a single, pilot-operated joystick for smooth functionality. It has a dual auxiliary system so the operator can switch between high flow for ground-engaging attachments and low flow for optimal control. Also, the unit's universal mounting plate fits a wide range of Vermeer-approved attachments. The Vermeer CTX160 is backed by a three-year/3,000-hour limited warranty on the loader arms. For more information, contact your local Vermeer dealer.
Advice to Buyers
"There are more options of mini skid steer available to buyers than ever before with new models that have been introduced offering more horsepower and lifting capacity," says Trevor Koolmees, sales manager for Vermeer Environmental Equipment. "However, it's important to keep in mind that a bigger machine isn't always better. This category of equipment was founded on giving contractors a machine that efficiently maneuvers in areas where other equipment is either too big to be productive or where the added weight of a large unit could result in significant remediation work. Choosing the right size model for your needs helps optimize production."