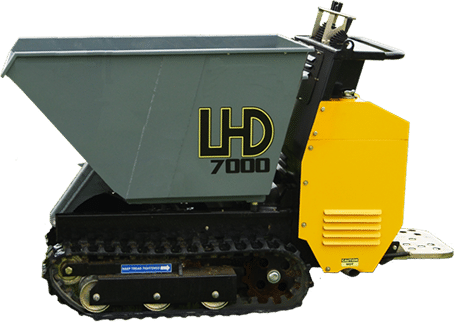 LHD Machinery recently introduced its new LHD 7000S material handler. This rugged, rubber-tracked buggy features a .6 cubic yard high density poly bucket capable of handling a 2,500-lb payload. Measuring only 35 in. wide, the LHD 7000S can fit though narrow gates to efficiently deliver mulch, stone, or concrete to a confined space without significant lawn damage. What's more, it can dump material to the right or left for spot-on placement with less maneuvering. Although it's frame is made of steel, the LHD 7000S is lightweight enough to be hauled with a single axle trailer.
The LHD 7000S series is assembled in the USA and features a 20 horsepower Honda gas engine with electric start, 2 speed hydraulic drive, and simple and intuitive independent drive controls. LHD believes in producing quality machinery at very affordable prices. Please contact us for more information.
For more info, visit lhdmachinery.com or phone 1-(888)- LHD-7472.
Tags:
LHD 7000S
,
LHD Machinery
,
Material Handlers