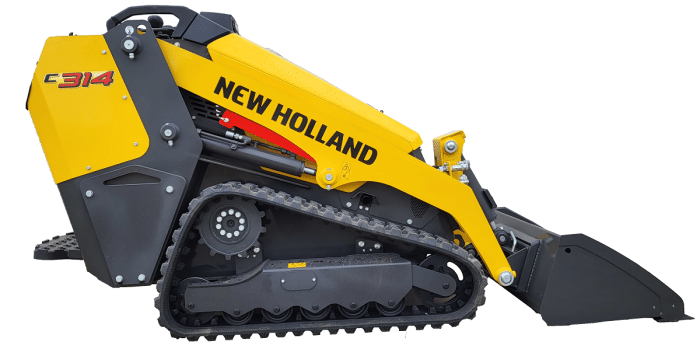 New Holland Construction will be launching in 2024 for North America its first mini track loader to accommodate landscape and general contractors — the C314 mini track loader. This new machine is a lightweight stand on mini track loader that's built to maneuver on a variety of jobsites and handle a wide range of tasks, from loading to dumping to drilling.
"We designed and built the C314 mini track loader from the ground up to meet the diversified needs of contractors," says Ryan Anderson, product marketing manager for New Holland Construction North America. "Mini track loaders are a necessity in the landscape business, and we believe having one of these on the trailer is an essential tool for any job site."
Tackling Multiple Projects with One Machine
The C314 mini track loader, with 25 horsepower, enables the operator to become a jack-of-all-trades with its ability to adapt to the job ahead. The machine can be used for a variety of projects. From paving patios and walkways, to moving cut pieces of brush, trees and shrubs, to completing light duty construction work like erecting foundations and decks.
Paired with an extensive list of loader attachments that can be used with the machine, the new C314 mini track loader has the versatility to dig, load, drill and more. The new machine is compatible with New Holland Construction's suite of 29 attachments and is enabled to operate this wide range of attachments due to its auxiliary flow rate of 15 gallons per minute. Thanks to its approximately 1,000-lbs rated operating capacity (at 35 percent of tipping load) and 35 in. of working space, operators are able to power through mild structural projects, like laying footings for a small building, fence line work and irrigation or drainage tasks. It also offers optimal dump height for easy loading.
The C314 Mini Track Loader: Unique Ergonomics and Operator Positioning
For greater machine control, the C314 mini track loader will uniquely position the operator closer to the drive and motor. As a stand-on machine, operators will experience more stability being positioned closer to the center of the machine. Further details on the C314 mini track loader's ergonomics will be announced closer to its official 2024 launch.
"The C314 mini track loader is just the beginning of the new machines that are coming to the New Holland Construction portfolio," Anderson explains. "We're thrilled to be breaking ground into a new product category with this launch and be able to deliver such a versatile machine for contractors and landscapes that has a role every day on their jobsites."
Compact tool carriers, compact utility loaders, mini skid steers. Whatever you call them, we can all agree these machines pack a lot of productivity in a small package. Learn more about them here!