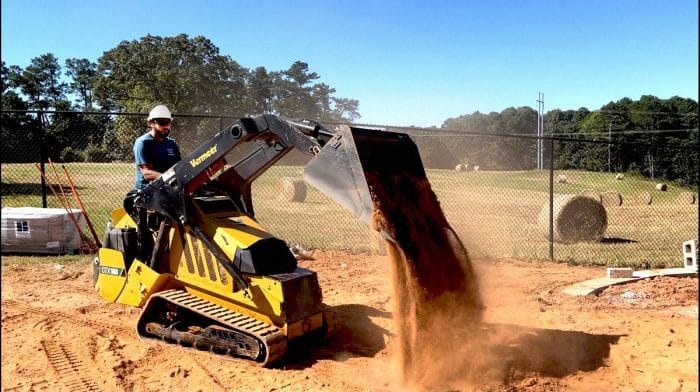 In 2021, Southern Classic Landscape Management Inc. purchased a Vermeer CTX160 mini skid steer to replace its wheelbarrow fleet and help minimize labor needs.
Southern Classic Landscape Management, Inc. beautifies outdoor spaces ranging from residential homes to commercial properties, from office and retail buildings to retirement and townhome communities to healthcare facilities. They are a leading landscape contractor in north metro Atlanta and the surrounding areas.
Todd Brown, a 37-year veteran of the landscaping industry, is the founder of Southern Classic Landscape Management. He has a passion for helping people make decisions about their landscapes. "Our company believes in high-quality products and services paired with a design that keeps ongoing care in mind so that the customer's landscape will look gorgeous now and in the future," he said.
The company offers turnkey landscaping services, performing landscape installation and maintenance. Vice President of Operations Brad Brown has more than eight years of experience leading crews on hardscape, construction, planting carpentry, irrigation and drainage projects. He also manages the company's comprehensive maintenance program.
The installation crew size varies from four to five, depending on the day. The company also has a three-man maintenance crew. "Finding quality employees is one of our biggest struggles," Brad explained. "It [the CTX160] is a big selling factor when trying to hire new help. It is hard to get anyone to want to push a wheelbarrow all day anymore."
The nature of the company's work means heavy materials need to be constantly moved. "We do full service and maintenance," Brad explained. "We also do design and build installations. Right now, we are on a project building a 48-ft circle paver patio with a 120-ft wall. If it is outside and not attached to your house, then we do it."
Mechanized Solution Helps Replace Manual Labor
The Vermeer CTX160 mini skid steer is well-suited for landscape contractors like Southern Classic Landscape Management. "The Vermeer CTX160 mini skid steer is our bread and butter," Brad said. "It is our largest piece of equipment. We try to use it to do most of the work for us."
The CTX160 is equipped with vertical lifting geometry and a lift capacity of 1,600 lbs, all in a compact footprint that can enter residential gates. With 9-in. tracks, this mini skid steer is 42 in. in total width.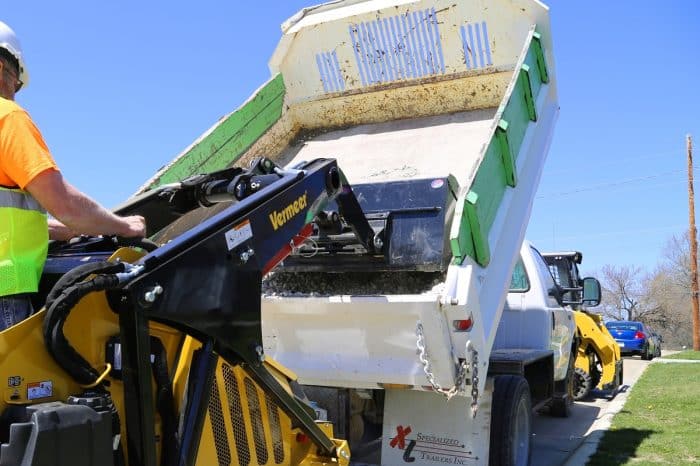 Brad is no stranger to the demands manual labor can place on crew members. "I personally have been in the field for nine years. For about six of those years, it was wheelbarrows and shovels. Ever since we've had the mini skid steer, it has really cut down on the wheelbarrows."
The company is saving significant time and labor with the transition from wheelbarrows to mini skid steer. The crews are handling much less material because of the machine's lifting capacity. "If we are moving a pallet of pavers, that is about 10 to 12 wheelbarrow loads," Brad said. "But with the CTX160 mini skid steer, all we have to do is unstack half of the pavers onto another pallet. Then we can carry each half pallet right to where we need to go. We don't need to handle it again."
Pallets of sod are handled in the same manner. "We usually split the load and stack half the sod on another pallet and then carry it that way. Instead of using wheelbarrows, we can just put it where we want to go. If we need to move it, we back up a little, and it is right in front of our face."
Southern Classic Landscape Management has rented full-size skid steers for larger projects, but they are not well suited for most jobsites. The CTX160 mini skid steer offers a smaller footprint. "Most of our work is usually in tight spots. We work in a lot of backyards," Brad said. "We really enjoy it just for its smallness."
Ground disturbance is a big issue for the company. "We try to avoid it as much as possible by using plywood." The crew lays wood on the ground to help protect sensitive areas from machine travel. This fix won't work for trips longer than 100 yards, and they must factor sod repair into the end of the project. A lightweight mini skid steer with tracks can be a good option to minimize ground pressure and, therefore, ground disturbance. "We like the CTX160 because we've learned that if you drive in different locations and you don't wear out one path, you often don't have to fix anything," Brad explained. "It can get our jobs done without making too much of a mess like a normal skid steer would."
The entire Southern Classic Landscape Management crew is trained to properly operate the CTX160 mini skid steer, which features equipment controls designed for ease of use. That means crew members don't have to stand around waiting for an operator. The pilot-operated ground drive enables the operator to maintain smooth control of the joystick. "I trained a crew member this week how to use it," Brad said. "He is now proficient at it. We get everybody on the crew proficient with it. Everybody knows where it is at all times on our jobsite."
Attachments Maximize Utilization
Attachments maximize the versatility of the mini skid steer. Southern Classic Landscape Management currently owns a fork, a tooth bucket, a 36-in. trencher and a Harley rake. During a typical job, the crew often switches between the attachments. "I like the ease of hydraulic hookups," Brad said.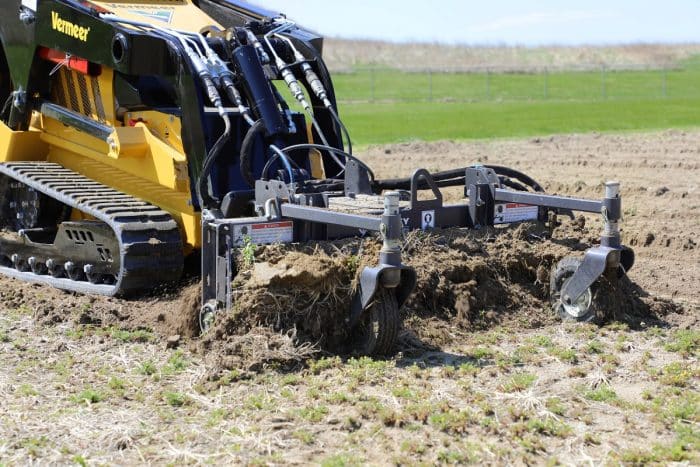 The ground-engaging attachments have proven popular. "We really like the trencher and our Harley rake," Brad said. "Drainage is always an aspect of our jobs. The trencher attachment is used to bury a lot of 4-in. drainpipe. We also do a lot of irrigation, so we use it to trench for our irrigation."
The Harley rake prepares the finished grade for sod. "You just back up, and it is ready for sod in front of you." It can very quickly leave a prepared surface that would otherwise take a crew and rakes much longer with more manual labor required.
Ease of Transport Maximizes Productivity
Southern Classic Landscape Management keeps a boneyard of pavers and different materials left over from jobs at its shop so they can be used on current projects. "Sometimes we need those the next day at the jobsite, or we need something else from the shop," Brad said. "Instead of going back to the shop and loading it by hand onto our truck, it's simple enough for us to back the CTX160 mini skid steer up onto the trailer, chain it down and take it back to the shop."
The ease of transport makes it efficient for the crews to take the CTX160 mini skid steer wherever it is needed to minimize manual labor. "Our loading process onto our trailer takes about seven to 10 minutes," Brad noted. "We got it down to a science and can load and go where we need to go on the drop of a dime."