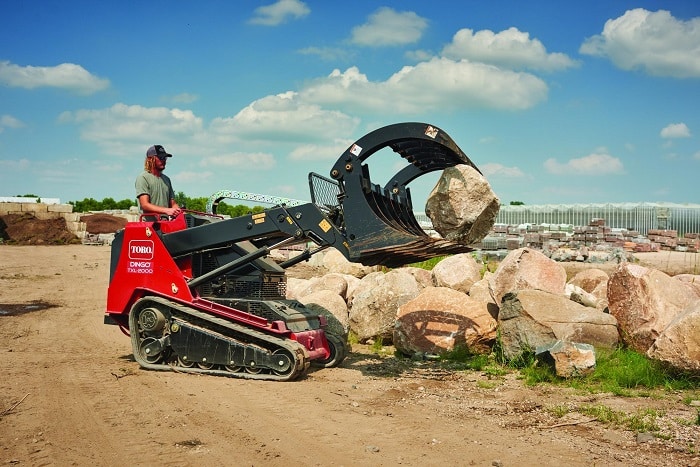 One of the smallest categories of attachment takers is the compact walk-behind tool carriers. Some units even have a gas engine or an electric variant. Sometimes called mini skid steers, compact utility loaders or stand-on track loaders depending on the manufacturer, compact tool carriers personify the big power and small footprint trend of compact equipment. Even more so, over the last 20-plus years, compact tool carriers have morphed from wheeled, medium-power supplemental equipment to track-driven, spec heavy jobsite project leaders. The size, power and versatility of compact tool carriers have significantly increased sales over the decades.
Today, manufacturers such as Toro, Kubota, Ditch Witch, Wacker Neuson, Kanga and Vermeer are all selling compact tool carriers. Think of them as skid steers or track loaders without a cab. They use a similar universal quick-attachment plate (some can even wield a skid steer quick-attach plate), they come on wheels and tracks and they have a zero turning radius that's ideal for tight quarters. Buyers have a bevy of options: stand-on and walk-behind units; hydraulic flow rates from 8 to 16 gpm; gas, diesel and electric engines; wheels or dedicated track undercarriages; and a zillion different attachments (buckets, breakers, brooms, blades, backhoes and box scrapers, and that's just the Bs).
These units are not necessarily cheap (most falling in the $14,000 to $40,000 price range). In fact, units have gotten as large as small skid steers — like Ditch Witch's monstrous SK3000 and Toro's TXL 2000 (the latter has a telescoping version). So, before you choose to buy one, it's wise to do your homework. Let's start by looking at these popular modals…
Ditch Witch Stand-On Skid Steers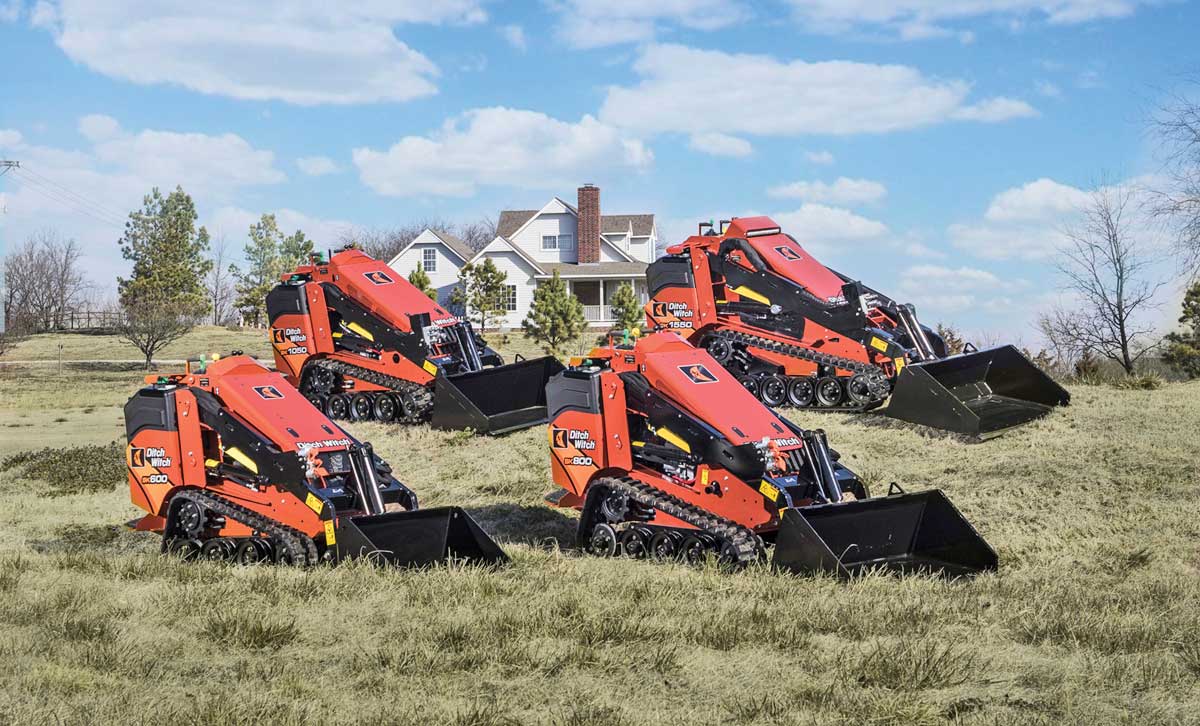 The newly enhanced line of Ditch Witch stand-on skid steers offers construction-grade durability and versatility to conquer a variety of complex landscape and irrigation jobs. The family of skid steers is broken into two classes: mini stand-on skid steers and full-size stand-on skid steers. The SK600, SK800, SK900, SK1050 and SK1550 units make up the mini class. The machines are equipped with powerful engines ranging from 24.8 to 44 hp and offer up to 34.5 hp directed to the attachment, depending on the model. The SK3000 is the only full-size stand-on skid steer in the industry and is powered by a 59-hp engine — with the ability to direct 51 hp to the attachment. Operators can effectively maintain hydraulic flow to the attachment with an easy-to-use auxiliary control foot pedal. For more info, visit ditchwitch.com.
Toro Dingo TX 1300 Walk-Behind Tool Carrier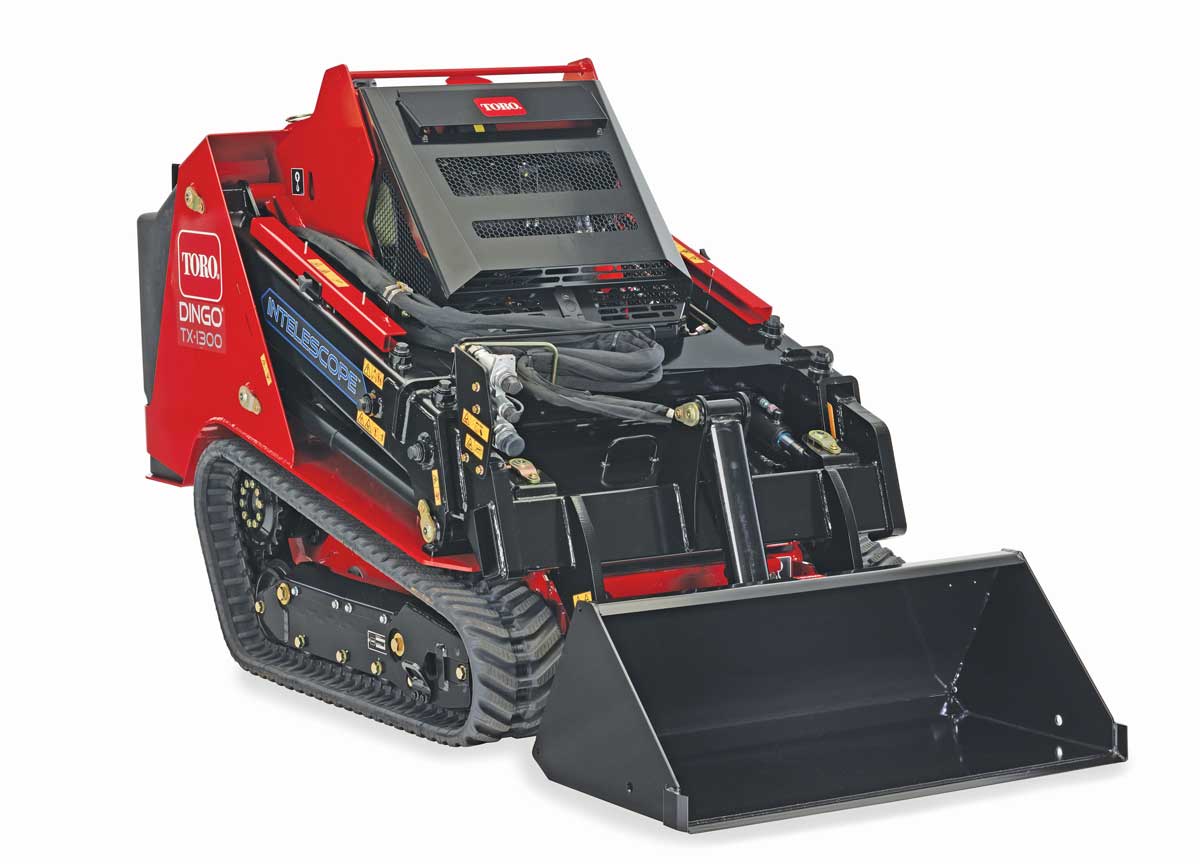 The Toro Dingo TX 1300 features an exclusive Intellescope loader arm with SmartLoad technology, giving the operator an additional 26 in. of reach. An impressive hinge-pin height of 109 in. allows for loads to be lifted up and over the side of a dumpster or truck, another major convenience. The goal of these features is to help users reach maximum productivity. On that same note, Toro has integrated the hydraulics and loader arm functions into one thumb-operated controller for easier, more accommodating operation. One hand can be used to operate the loader arm and auxiliary attachments and the other to operate the Toro patented traction controls. This feature makes it more manageable than ever to pick, place and dump loads all day long. For more info, visit toro.com.
Wacker Neuson SM100 Utility Track Loader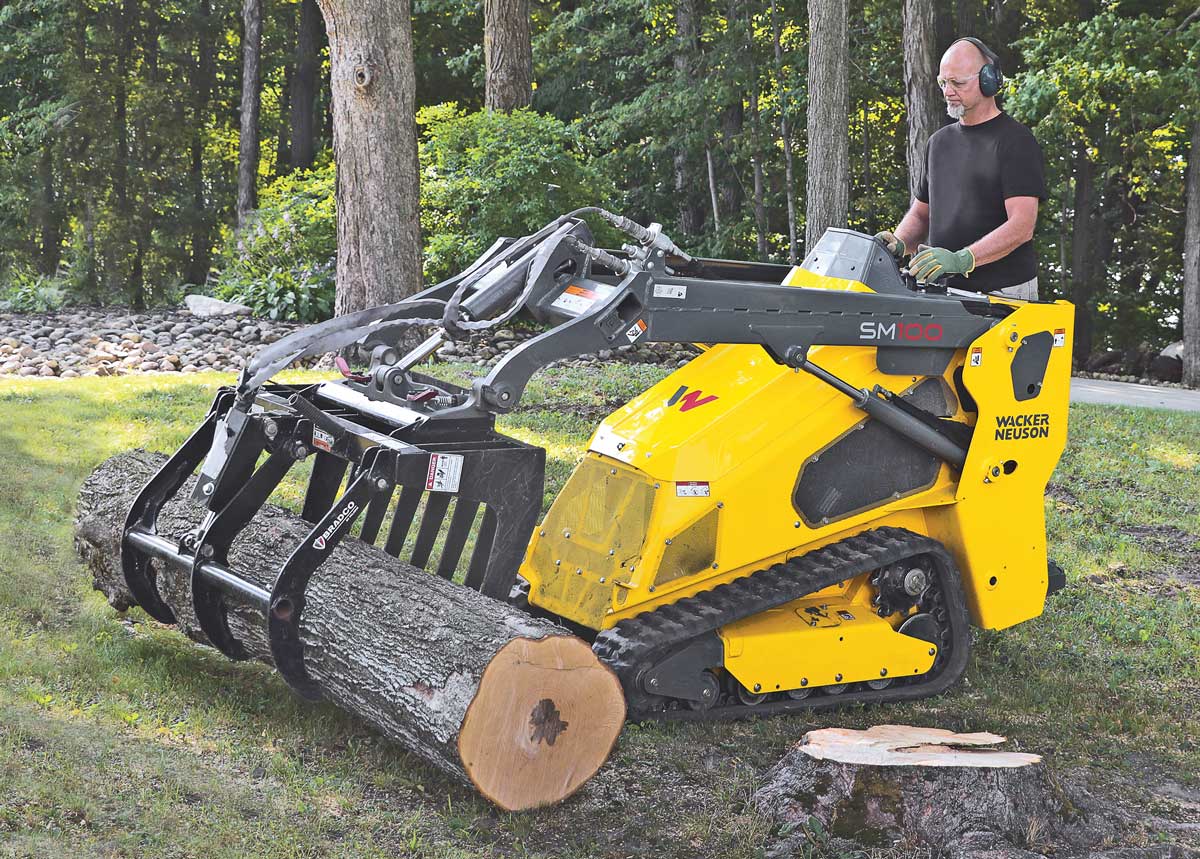 Wacker Neuson's first utility track loader, the stand-on SM100, is an excellent addition to any rental or contractor fleet and is the perfect fit for landscaping projects, general material handling and more. The standard 9-in.-wide tracks provide low ground pressure, reducing turf disturbance and repair work, and the overall machine width of 35.5 in. fits through doorways, gates and other tight spaces. The SM100 is powered by a 24.7-hp Yanmar turbocharged diesel engine. It offers a 1,000-lb rated operating capacity at 35 percent with a tipping load of 2,857 lbs. The optimized radial-lift path provides vertical-lift performance with a hinge pin height of 85.7 in. for dumping into high-sided trucks and has the reach for loading into truck beds. For more info, visit wackerneuson.com.
Kubota SCL1000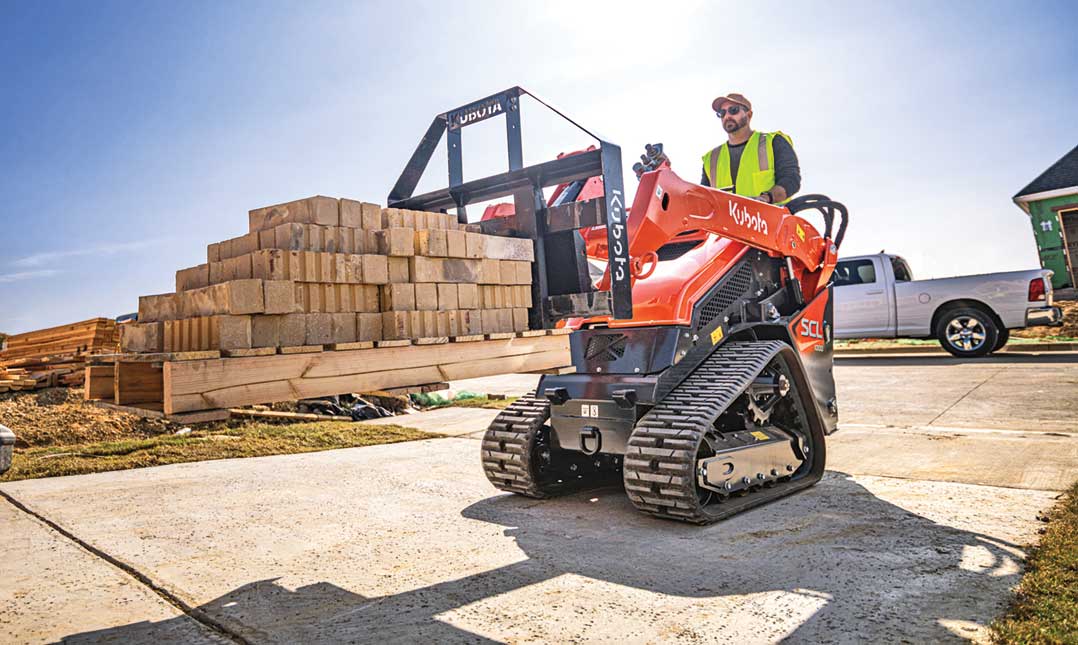 Kubota entered the stand-on track loader market in March 2020 with its highly anticipated SCL1000. The new stand-on track loader is well-positioned with wide tracks, narrow body and a rated operating capacity of 1,000 lbs. The SCL1000 features a wide 9.8-in. track that comes standard on the overall narrow, 36-in. machine. The integrated track design is engineered for durability with the undercarriage welded to the mainframe of the body. Kubota's SCL1000 boasts a powerful 24.8-hp turbocharged Kubota diesel engine with quiet operation, high altitude performance and no diesel particulate filter requirement. The loader arms reach high and far with a hinge pin height of 84.7 in. and a reach of 25.9 in. at a 45-degree dump angle. The SCL1000 has a best-in-class travel speed of 4.9 mph. For more info, visit kubotausa.com.
Kanga Loaders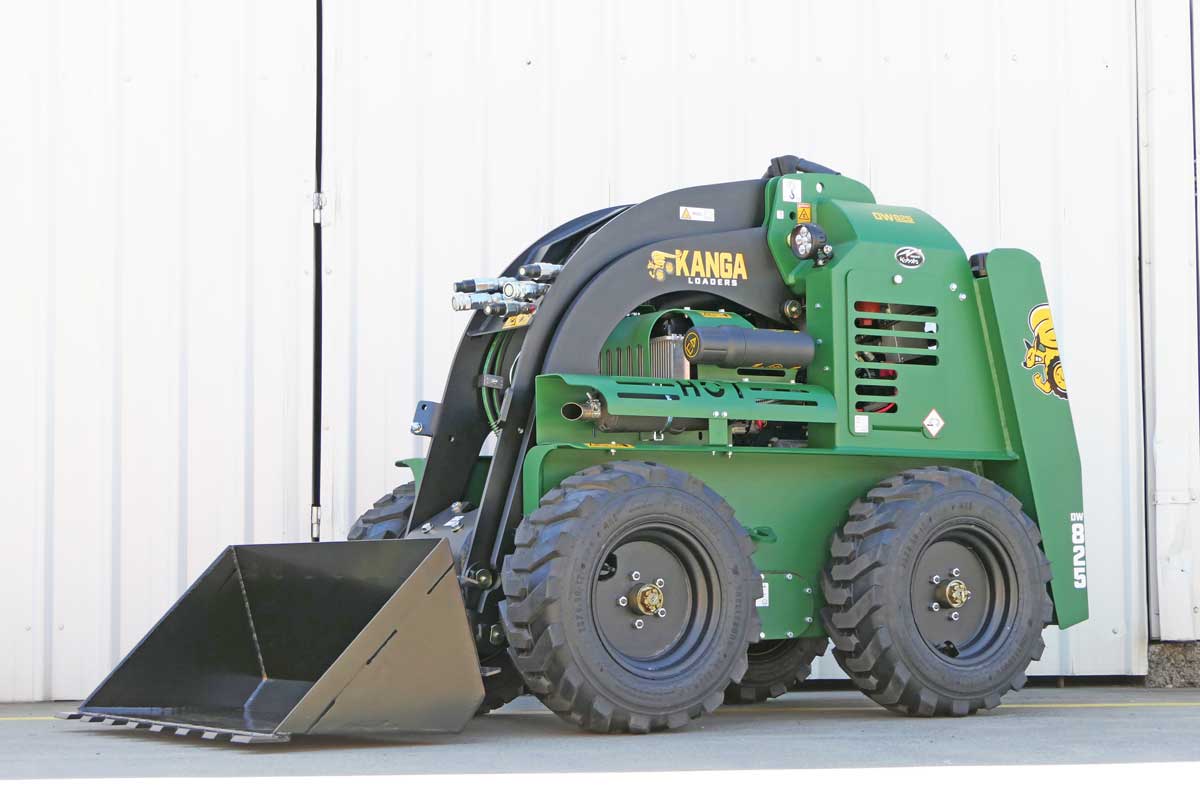 The company that invented the stand-on compact utility loader back in 1981 has finally arrived in America. While Kanga Loaders have been imported into the United States for over 20 years under various names and licensing arrangements, Kanga Loaders themselves are now driving the re-introduction of its machines into the United States. A distribution center has been set up in Iowa while a dealer network is currently being developed. Originally designed in Australia as a motorized wheelbarrow in 1978, the concept soon evolved into a stand-on machine. These days Kanga manufactures five different models, including a remote-control machine. Kanga Loaders are renowned for their toughness and durability, featuring all-steel construction and numerous safety features. For more info, visit kangaloaderusa.com.
Vermeer S925TX Mini Skid Steer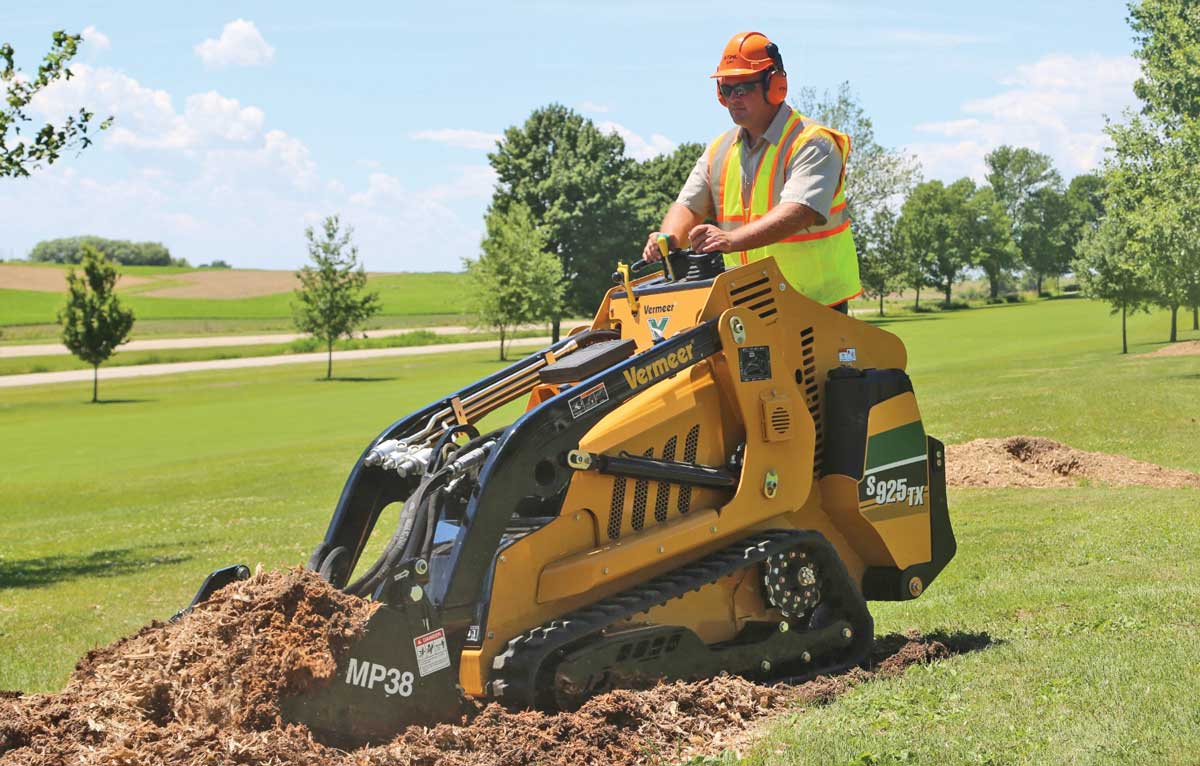 The Vermeer S925TX mini skid steer delivers impressive lifting performance and the power to conquer demanding jobs. With a tip capacity of 2,643 lbs, a rated operating capacity of 925 lbs and a maximum hinge pin height reach of 84.5 in., the radial-lift path of the Vermeer S925TX makes easy work of lifting and dumping heavy loads. It also features a dual auxiliary system that allows the operator to switch between high flow for ground-engaging attachments and low flow for maximum control. For more info, visit vermeer.com.
I hate to be the bearer of bad news, but sometimes you can't have it all… unless you rent. From finding the right dealer to scoring the perfect rental machine, we have you covered!