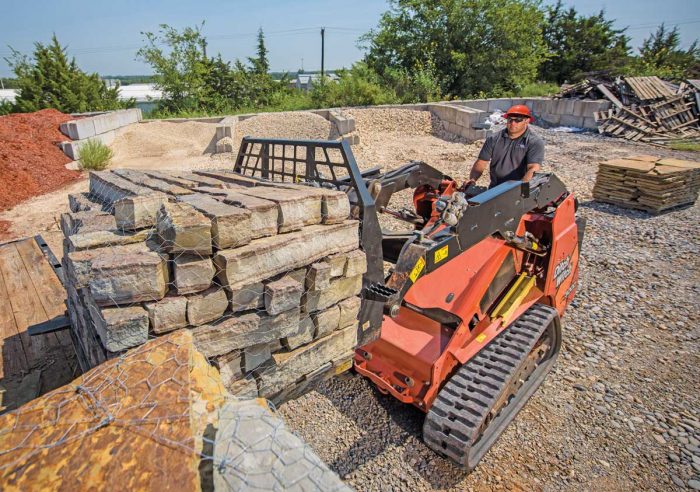 Compact tool carrier. Stand-on skid steer. Compact utility loader. Mini skid steer. Whatever you call this piece of equipment, there's one thing we can all agree on: It packs big power and productivity in a small package.
"Compact tool carriers bridge an important gap between manual hauling methods like wheelbarrows and equipment classes that include skid steer loaders and compact track loaders," says Kyle Cartwright, marketing manager at Toro. "The line separating a CTC or mini skid steer loader from the standard skid steer loader is blurring, but there are some definitive benefits to using a CTC, including better visibility and maneuverability, intuitive controls and the ability to mount and dismount the machine with ease. Compact tool carriers are incredibly versatile and can simplify tasks like landscaping, hardscaping, utility installation, demolition, earthmoving and general construction projects."
While the compact size of these machines is one of their best features, compact tool carriers are getting larger to tackle even more jobs. Manufacturers are designing their machines to compete with larger equipment, while maintaining their 360-degree visibility and simple accessibility.
"The mini skid steer loader market is trending toward larger units over the last several years," says Brett Newendorp, landscape market manager at Vermeer. "The mini skid steer's design allows it to be operated on jobsites where traditional loaders may not be able to access. In the last few years, manufacturers, including Vermeer, have introduced models with higher lift capacities and auxiliary hydraulic flow for running attachments. These advances help bridge the gap between the skid steer, compact track loader and the mini skid steer product categories."
Larger compact tool carriers are carving their niche in residential construction, landscape and tree care jobs. These bigger machines are especially useful for those operating with smaller crews.
"As the landscape and tree care industries are dealing with a workforce shortage, we're seeing stand-on skid steers help contractors meet their deadlines and complete jobs efficiently," says Brant Kukuk, compact equipment product marketing manager at Ditch Witch. "For example, because large stand-on skid steers have the power to carry heavier loads of debris or landscaping material, crews need fewer machines on site and need to make fewer trips with each machine. The hop-on, hop-off ability is pertinent as well. Operators of a cabbed machine often stay in their machine all day due to the hassle of getting out of a cab, while operators of a stand-on skid steer can easily dismount and remount their machine. This is especially important on jobs with smaller crews because it makes it easier for people to quickly help each other out with digging, loading material or any other tasks. And those extra hands are a big help in staying as efficient as possible."
When looking at larger compact tool carriers, both vertical- and radial-lift models share the spotlight. While potential buyers can find these larger machines in the two lift configurations, the decision comes down to the type of work an operator does.
"Radial-lift models are popular with tree care professionals because they aren't typically loading material onto a trailer or into the back of a dump truck," says Newendorp. "They are hauling material to a brush chipper and using the mini skid steer to assist with the process. Hardscape construction contractors prefer vertical-lift machines with higher lift capacities because they move a lot of concrete blocks."
Rent or Buy? Toro's Kyle Cartwright Weighs In
The short answer is that it depends on the specific needs of the operation, but both options — renting and buying — are common with this increasingly popular equipment class. If a contractor knows that they can capitalize on the benefits of a compact tool carrier on a consistent basis, purchasing the unit may be the best option for the operation's bottom line. Toro also offers an aggressive leasing option starting as low as $800/month for qualified customers. Conversely, for one-off projects or unique applications, renting the equipment eliminates capital investment costs, storage costs and maintenance costs over time. If renting is the best option for a contractor, it's important to have the right conversations with the rental store personnel so that they can help select the right unit for the specific project needs. Rental store staff should know about what the intended task is and can help provide recommendations on the right unit and attachments to get the job done. Contractors can and should also communicate any site requirements and limitations. Asking questions and relying on the expertise of the rental store staff can pay dividends in the long run.
Cartwright says both configurations are common on CTCs in general, but typically with larger machines, Toro has seen that vertical-lift loader arms are the more popular option. The company offers both options across the Dingo family of compact tool carriers.
"Radial-lift options can be found on the wheeled models, like the Dingo 320-D, 323 and e-Dingo 500 as well as the Dingo TX 427 and Dingo TX 525 models," he says. "Vertical lift comes standard on the Dingo TX 1000, and the largest Dingo in the family, the TXL 2000 offers radial lift with telescoping arms for added versatility."
Interested in buying or renting one of these machines? Let's take a look at four of the largest compact tool carriers on the market today.
Ditch Witch
The largest and most powerful stand-on skid steer in Ditch Witch's lineup is the SK3000. With an operating capacity of 3,100 lbs and the ability to deliver 5,500 lbs of breakout force, Kukuk says the SK3000 is also the most powerful stand-on skid steer on the market. The SK3000 is available with an optional ride-control system which creates a smooth, comfortable ride with great maneuverability and stability — even on hilly, uneven terrain.
"The SK3000 was built to complete a wide range of landscape, hardscape, construction and tree care jobs that are normally reserved for cabbed skid steers, but with the 360-degree visibility and hop-on, hop-off convenience of a stand-on machine," says Kukuk. "The SK3000 is also more forgiving to residential lawns than larger, cabbed units, as it weighs 7,200 lbs — much less than a typical cabbed unit. Ditch Witch also manufactures the SK1550 mini stand-on skid steer, which has an operating capacity of 1,558 lbs. However, SK1550 comes with the option for a weight kit, which, when installed, increases its operating capacity to 2,000 lbs. Most contractors opt for the weight kit."
Toro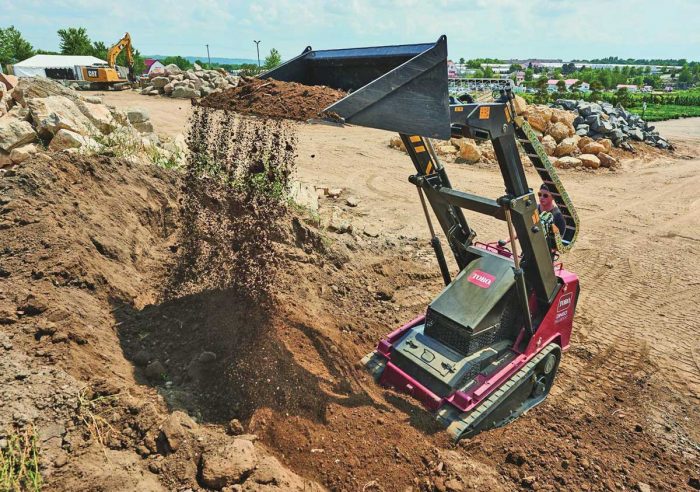 The company's largest unit, the Toro Dingo TXL 2000, was released in 2018 and is available with both non-telescoping arm and telescoping arm configurations. Cartwright says the TXL 2000 engineered with telescoping arms allows the operator to reach over obstacles, dig below grade and extend the overall working range — consolidating the benefits of several machines into one to perform a variety of tasks on the jobsite.
"Thanks to the telescoping loader arm technology, operators can perform a number of tasks previously unachievable with this class of equipment," he says. "For instance, operators are able to backfill behind a retaining wall, dump material into the center of a full-size dump truck or dumpster or offload both rows of a trailer from one side with ease. Fully extended, the boom has a hinge pin height of just over 10 ft. In addition to featuring innovative telescoping loader arms, the Dingo TXL 2000 is the most powerful Dingo on the market today with a rated operating capacity of up to 2,000 lbs [when arms are not telescoped], rivaling the strength of many skid steer loaders and compact track loaders."
Vermeer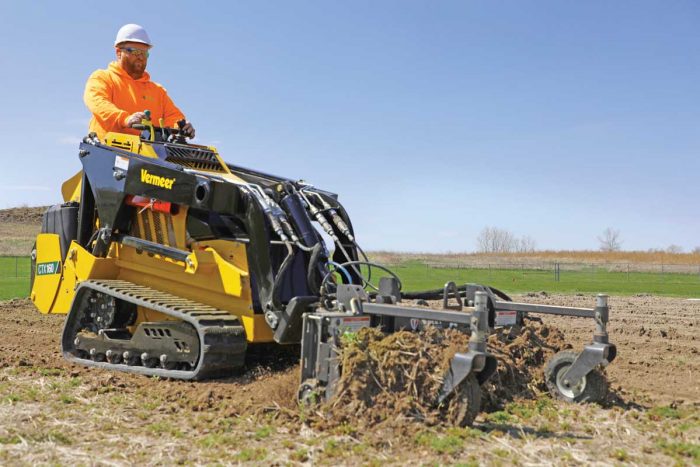 Introduced in late 2019, the Vermeer CTX160 features a vertical-lift path design, with a hinge-pin dump height of 88.75 in. for efficient clearance when dumping material into a trailer or truck. The company says the unit is powered by a 40-hp turbocharged Kohler KDI diesel engine that does not require a diesel particulate filter (DPF), helping to reduce the cost and complexity of the engine.
"While mini skid steer loaders are growing in size and performance capabilities, not all larger models have the same footprint," says Newendorp. "To accommodate increasing lift capacities, some manufacturers expanded their machines' width, limiting access on some jobsites — many of these units cannot fit through a standard residential gate. When designing the CTX160 mini skid steer, Vermeer took a different approach. This unit maintains a narrow profile while still being able to lift up to 1,600 lbs by slightly extending the machine's length. The vertical-lift CTX160 delivers 16.7 gpm of auxiliary hydraulic flow moving heavy material and working ground-engaging attachments."
Bobcat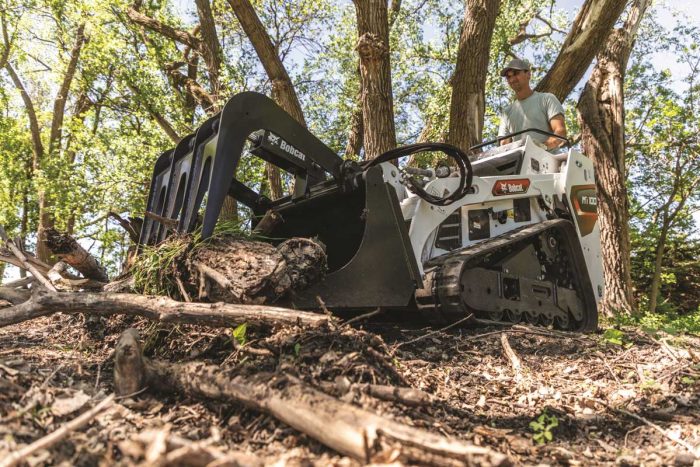 The Bobcat MT100 mini track loader delivers a big boost in power with a 1,000-lb rated operating capacity, powerful breakout force and impressive lift height. The company says optimized roller spacing on the MT100's track system improves ride quality for enhanced operator comfort and confidence when working long days.
Bobcat's MT100 is powered by a dependable, durable Tier 4 diesel engine, and uses an efficient hydraulic system to deliver fast cycle times and increased strength when working with big loads. This mini track loader also features high-flotation tracks that allow it to move across wet and muddy ground conditions with less worry about repair time and costs associated with surface damage. Bobcat says the MT100 makes tight jobsites easy to navigate thanks to its ergonomically designed ISO joystick controls. A dedicated ride-on platform also gives operators a wider view to the sides and the bucket cutting edge or attachment while keeping them above surface conditions as they work.
Five Attachments That Can Increase the ROI of Your Stand-on Skid Steer
By Brant Kukuk, Ditch Witch Compact Equipment Product Marketing Manager
If you're looking to up the ROI of your stand-on skid steer, investing in attachments is one good place to start. Attachments allow your machine to do more for your operation by conquering more tasks on a jobsite with one machine or by taking on jobs across multiple industries. Here are five attachments beyond the standard bucket and forks that can increase the ROI of your machine.
Trencher
Using a stand-on skid steer to trench is an efficient alternative for jobsites requiring different tasks — in addition to open cutting — as it limits the need for extra machines on-site. Having a trencher attachment increases jobsite efficiency and opens up utility installation and landscaping jobs to contractors. Standard trencher attachments are available in 4-, 6-, 8- and 12-in. widths.
Grapple Bucket
While standard buckets are the bread and butter of most stand-on skid steers, a grapple bucket with its hydraulic clamps that hold unstable material will further increase the ROI of your machine. In addition to allowing operators to work more quickly without the worry of their load falling off, grapple buckets open the door to tree care and landscaping jobs — two of the fastest growing industries for stand-on skid steers.
Microtrencher
Fiber installation and other street-located work is a rapidly growing market. A microtrenching attachment is a key attachment for operators looking to get into this line of work. Microtrencher attachments are designed to cut both concrete and asphalt in controlled increments so contractors don't need to stop traffic, saving on traffic redirection headaches and associated costs.
Vibratory Plow
A vibratory plow attachment offers a less invasive option for utility installation than open-cut tactics like trenching. Investing in a vibratory plow attachment will widen a contractor's reach and allow contractors to take on jobs in more sensitive areas. There are two different plow blades to choose from — the pull blade and feed blade — which can be adjusted between 6 and 24 in.
Auger
Ideal for landscaping and tree care, an auger attachment will expedite creating holes, allowing operators to more quickly plant trees or install fence posts than if they were hand-digging or relying on hand-held augers. By speeding up these tasks, operators can take on more jobs in a day, increasing their ROI. Auger attachments are available in a variety of bit styles and sizes which typically range from 6 to 36 in.
Pam Kleineke is managing editor of Compact Equipment
Tags:
Bobcat
,
Ditch Witch
,
June 2021 Print Issue
,
Toro
,
Vermeer