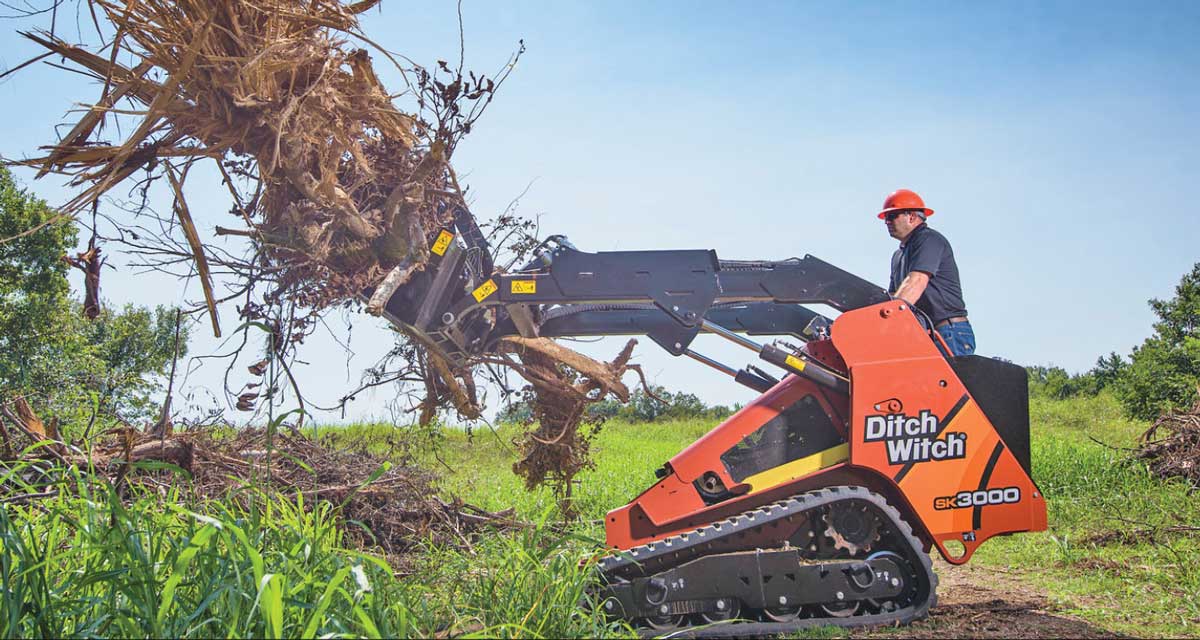 Mini and Full Size Stand-On Skid Steers
This post is a part of Compact Equipment's annual Spec Guide. View other brands' product and spec info by clicking this link. View the magazine version of these summaries by clicking right here. Sign up for the print edition right here. Now enjoy!
Ditch Witch was founded in 1949 with the first mechanized compact service-line trencher. A longtime innovator in the underground construction industry, the organization leveraged this expertise when entering the stand-on skid steer market. The versatile, construction-grade machines and accompanying attachments provide landscapers, tree care professionals, contractors and renters the power and functionality needed for a variety of projects. Ditch Witch manufacturers five mini stand-on skid steers and one full-size unit. With this wide range of stand-on skid steer power, Ditch Witch offers a machine for almost any job, from compact residential projects to landscaping tasks. Each machine delivers maximum efficiency to the attachment, enhancing project speed and versatility.
This mini stand-on skid steer set begins with the SK600. The unit has a narrow frame for easy maneuvering in tight, residential spaces. Powered by a 24.8-hp Kubota diesel engine, this compact, mighty machine delivers enhanced productivity and versatility on jobs. Operators can rely on its ability to handle tasks that require heavy-duty power with a 600-lb rated operating capacity and a 76-in. hinge pin height.
The SK800 stand-on skid steer is equipped with a 24.8-hp Kubota diesel engine, providing power for all machine functions. With its 911-lb rated operator capacity and 83-in. hinge-pin height, the unit is engineered for productive loading.
The SK900 is equipped with a 24-hp Yanmar turbo diesel engine that runs at 2,600 rpm, providing a quieter, more comfortable operator experience. With a 932-lb rated operating capacity and 2,665-lb tip capacity, the machine enables operators to transport heavy loads easily and efficiently.
The SK1050 has a 37-hp Yanmar diesel engine that provides efficiency and directs 30 hp to the attachment. Combined with 15 gpm of auxiliary flow and 3,625 psi, it leads to quicker jobsite cycle times, making crews more efficient and decreasing overall labor costs. The unit also has a 1,062-lb rated operating capacity and 83-in. hinge pin height.
The SK1550 has an operating capacity of 1,558 lbs, but that can be increased to 2,000 lbs if the machine is equipped with a weight kit. It also has a 94.5-in. hinge pin height and is powered by a 43.5-hp Yanmar diesel engine, which can direct 34.5 hp to the attachment.
Ditch Witch officially entered the full-size skid steer market in October 2019 with its SK3000, the industry's only full-size stand-on skid steer. The SK3000 is the most powerful full-size stand-on skid steer in its class. It has a lift capacity of 3,100 lbs — 50 percent more than its closest competitor. It has a 59-hp engine and can direct up to 51 hp to attachments, so they can be used more efficiently and productively on a wide range of jobs. And it delivers 5,500 lbs of breakout force to help operators lift and move heavy loads with a bucket.

Advice to Buyers
"Whether you are purchasing a mini stand-on skid steer for the first time or have been using the equipment for years, make sure to talk to your local dealer," says Brant Kukuk, Ditch Witch product manager, compact equipment. "Not only do local dealers understand the equipment that a contractor will need, but they have years of experience working directly with contractors across a variety of industries. They are a vital resource for questions surrounding jobsite conditions, local regulations and industry insights. Visiting your local dealer allows you to try out different equipment and receive unmatched advice."
For reprint and licensing requests for this article, please click here.