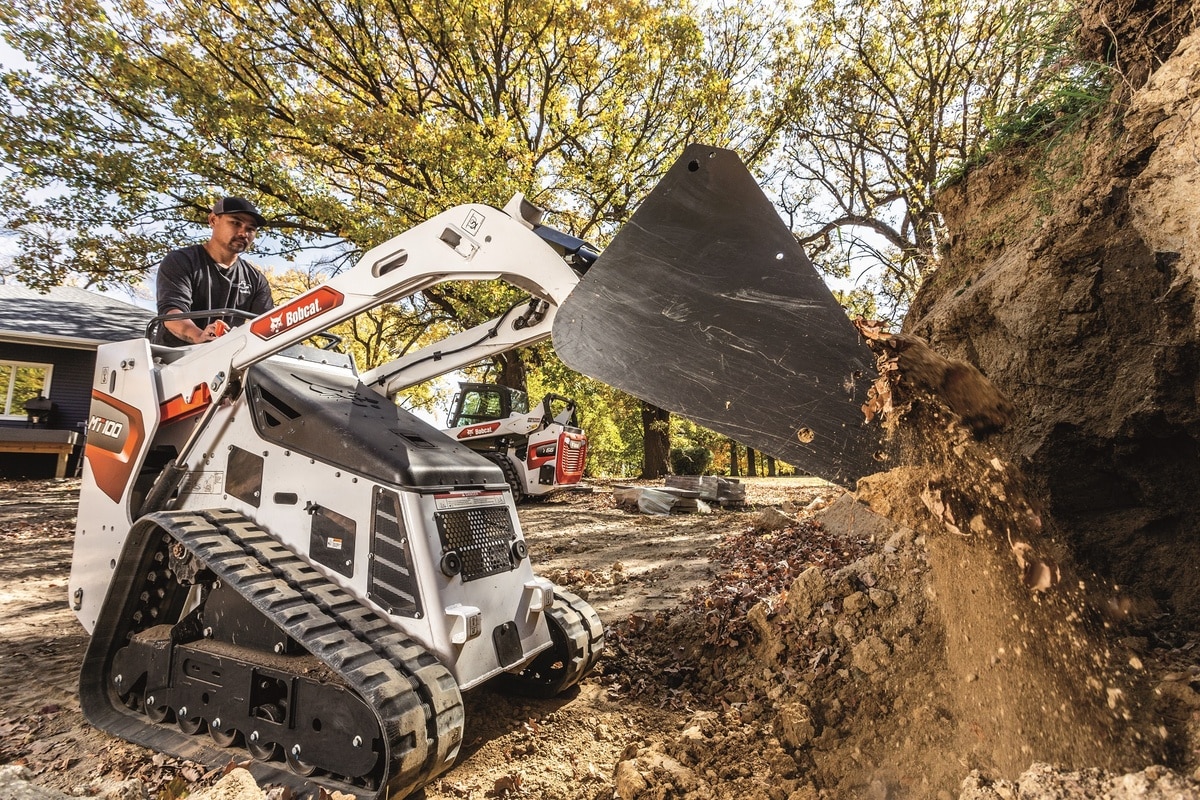 A Mini Track Loader Made for Serious Work in Tight Spaces
This post is a part of Compact Equipment's annual Spec Guide. View other brands' product and spec info by clicking this link. View the magazine version of these summaries by clicking right here. Sign up for the print edition right here. Now enjoy!
Bobcat mini track loaders travel to and work where other machines can't. A single operator can complete a variety of jobs in limited-access areas, reducing the need for wheelbarrows and shovels. Easily travel through gates, doorways or other narrow spaces with your choice of a walk-behind or ride-on style mini track loader. Despite their small size, these mini track loaders do some serious work: digging, trenching, tilling, moving material and more. With Bobcat's mini track loaders, you can replace manual labor, toss aside the hand tools and wheelbarrows and get more done in hard-to-access work areas.
Mini track loaders, sometimes known as mini skid steers, offer the attachment versatility of larger Bobcat compact track and skid steer loaders. The Bobcat MT100 offers two attachment interface choices. Choose between the Common Industry Interface (CII) or the exclusive Bob-Tach attachment mounting system. The Common Industry Interface design allows you to pair your machine with many mini track loader attachments you may already own or choose to rent, while the time-tested Bob-Tach attachment mounting system delivers rapid attachment changes and superior attachment fit. Bobcat mini track loader popularity grew, in part, because the loaders could operate select attachments approved for larger skid steer loaders, using the popular Bob-Tach attachment mounting system, to increase their versatility and improve operator productivity. By pairing a mini track loader with an already efficient machine, any tough job becomes that much easier.
One of the most obvious benefits of mini track loaders is their ability to travel through tight spaces, such as doorways and fence gates, and work in confined spaces in landscaping, construction and agriculture applications. Bobcat mini track loaders are just 36 in. wide when paired with a bucket, and their compact size makes them easy to load and transport on a trailer from jobsite to jobsite. This transportable quality allows you to save time and get to work where it matters.
Bobcat mini track loaders have powerful Tier 4-compliant diesel engines and efficient hydraulic systems to deliver fast cycle times, strong breakout forces and excellent pushing abilities. These attributes give you big machine capabilities in a small, agile package. The machine's frame, lift arms and hydrostatic drive system are designed for a long, dependable service life. Popular attachments for mini track loaders include buckets, pallet forks, augers, trenchers, stump grinders and hydraulic breakers. A rubber-track undercarriage distributes the loader's weight, reducing ground pressure and minimizing damage to lawns and other established surfaces. Less ground disturbance means fewer repairs, happier customers and improved profitability. This durability factor ensures that both you and your clients are impressed: time and time again. With solid traction in wet, muddy and sandy conditions, the machines can keep crews working when they might otherwise be waiting.

Advice to Buyers
"Consider purchasing versus renting attachments for use with mini track loaders," says Mike Fitzgerald, marketing manager for Bobcat. "Not only will various attachments have the versatility to work on both a mini track loader and also on select larger compact loaders, but an attachment will pay for itself after only a few projects because of increased productivity and time saved versus doing the work by hand."