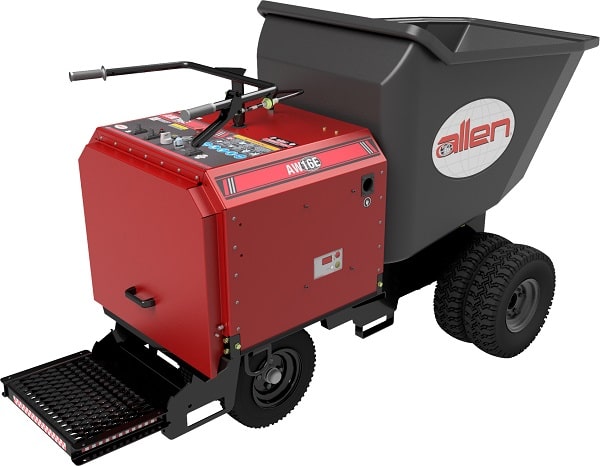 Allen, a leader in concrete finishing equipment, recently announced the debut of the all-new 2020 AW16E Fully Electric Wheel Buggy. The AW16E is the newest wheel buggy in the Allen Engineering lineup and was designed to compete with existing wheel buggies but have a more thoughtful impact on the environment. This wheel buggy comes with the best technology available to achieve a rechargeable, battery powered machine that is capable of withstanding working conditions. With travel speeds of up to 6 mph and a payload of 2,500 lbs, this new, fully electric wheel buggy is contractor tough and ready to take on anything.
AW16E standard features include:
Rechargeable 48 volt lithium ion battery
Long-lasting battery life (up to 6 hours or 4 hours of constant use)
Travels speeds up to 6 mph for greater job site efficiency
Bucket capacity of 16 cubic feet with 90º dump angle
Easy access to charging with standard three-prong industrial power cord
Come see the AW16E alongside other Allen equipment at The ARA Show (previously The Rental Show) in Orlando, Fla., from Feb. 10-12, in Booth #3070.
Tags:
Allen Engineering