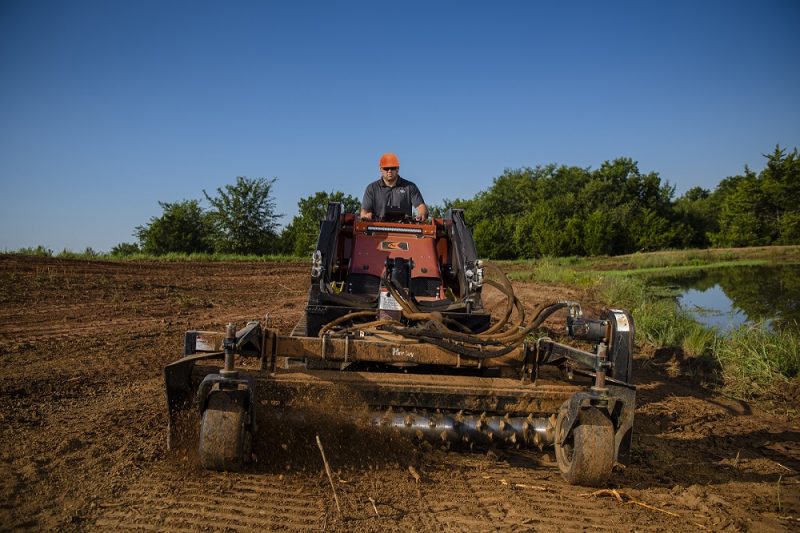 This article was provided by Ditch Witch.
Power can come in all shapes and sizes. That's a lesson that Ontario-based contractor Darcey Mullen has always known. It's also a lesson he demonstrated for another local landscaping company on a residential project in 2020.
The landscaping crew needed to lift and transport skids loaded with over 3,000 lbs of stone across a homeowner's pristine lawn, and the machines they brought to the jobsite weren't able to get the job done. Mullen owns a wide range of compact equipment and local landscapers often call him to assist on jobs like this.
Because it's so easily transportable, Mullen decided load up his Ditch Witch SK3000 for this job. When he first arrived, the landscaping crew wasn't happy with his machine selection.
Their feelings changed quickly.
"The landscapers didn't think there was any way a stand-on skid steer could lift, let alone move, the skids of stone they had called me for," Mullen said. "The whole crew laughed when I started prepping the SK3000 for the job. They stopped laughing pretty quickly when they saw the forks slide right under the skids and lift them off like feathers."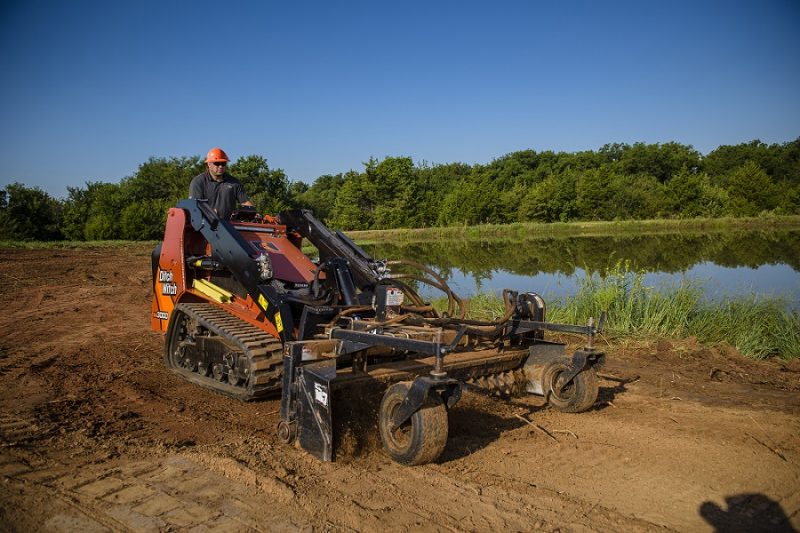 If Mullen had been unable to lift the skids, then the landscaping crew would have had to cut the wires on each skid and unload each stone individually. This would be a long process, and would have made a simple project more costly and more complicated – which is why the crew was so perplexed that Mullen would choose to bring a stand-on skid steer to a job they thought needed a traditional skid steer.
But with the SK3000, Mullen effortlessly removed each skid from the truck, and transported it through a narrow gate and into the backyard with ease – a task that would have been impossible with a larger, traditional skid steer.
"That's the reason I use stand-on skid steers like those from Ditch Witch," he said. "If I had brought my traditional skid steer, I could have lifted the skids but there's no way I would have fit through the gate. And I could have wrecked the homeowner's nice, golf-course-looking lawn. With the stand-on skid steer, I could get it all done."
The Best Tool Money Can Buy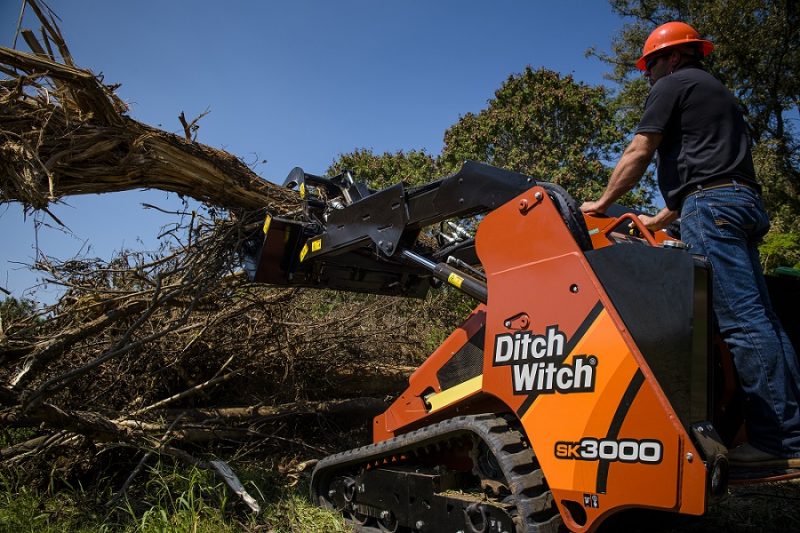 Contracting jobs are just a side gig. Mullen's primary businesses are Big Yellow Bins, the largest dumpster rental and loading company in Simcoe County, and his farm.
Both offer extensive opportunities to use stand-on skid steers.
"Investing in stand-on skid steers is the best money spent for any tool. And that's what it is — a versatile tool," Mullen said. "We use the stand-on skid steers for everything. When my employees arrive in the morning, there's almost a race to get to one of the Ditch Witch machines because they can get all their jobs done with that one machine."
In addition to multiple traditional cabbed skid steers, Mullen owns a SK755, a SK1550 and a SK3000, and his employees use them for a variety of jobs. Each machine offers a different level of power and maneuverability.
For Big Yellow Bins, the stand-on skid steers are compact enough to load into his dumpster bins for transport to jobsites and powerful enough to get the job done once they arrive. They are especially helpful on demolition clean-up jobs.
One of the best parts of small equipment is the variety of attachments. From buckets and breakers to mowers and plows, click here to see what's out there.
These jobsites are especially difficult to maneuver in, and machines with wheels would be unable to drive through the debris without breaking down. The tracks of the stand-on skid steers make them uniquely helpful for these jobs, and their visibility, power and versatility all are important during hazardous demolition clean up.
"On demolition jobs, there is often sharp, potentially damaging debris scattered across the jobsite, but that's no problem for the Ditch Witch stand-on skid steers," Mullen said. "On a recent demolition job, I drove right across a jobsite, used a grapple to hook an old boat, and dragged it right over and into our dumpster with no problem."
On the farm, the stand-on skid steers are used for moving food containers and water jugs, and cleaning animal pens, among other jobs. Mullen also owns a variety of attachments that allow him to use the machines for trenching and tree removal, as well.
"I've owned stand-on skid steers for years and I use them every single day. They don't break and they get the job done," Mullen said. "I like to joke that some people own motorcycles, some own boats, I own Ditch Witch stand-on skid steers and I put them to work."
Tags:
Ditch Witch