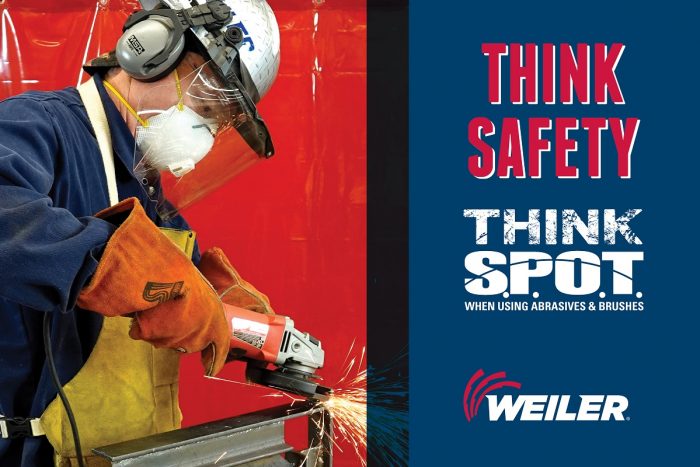 Weiler Abrasives, a leading provider of abrasives, power brushes and maintenance products for surface conditioning, has expanded its safety training program based on the SPOT (Speed & Size, Pressure, Orientation, Time) methodology. The program now includes a video series of six focused training modules for cutting wheels; grinding and combo wheels; cups, cones and plugs; coated abrasives; power brushes; and general abrasives and brushes. Videos are available in English with a Spanish version available in the first quarter of 2023.
"The safe use of our abrasive products is our priority. The more we can raise awareness of safety best practices, the better protected our customers will be," said Nate Schmid, director of global marketing, Weiler Abrasives Group. "Work-related injuries cost US businesses $160 billion a year. The Weiler SPOT Safety Program can help companies reduce costs by lessening the risk of workplace injuries that lead to workers' compensation claims."
Weiler Abrasives representatives can conduct SPOT safety training onsite or virtually, and the program includes classroom training with optional hands-on training. Participants will learn to understand the basic principles of abrasives safety according to SPOT methodology. This includes how to use the appropriate abrasives speed and product diameter (Speed & Size), applying the appropriate force (Pressure), positioning the abrasive at the correct angle to the work surface (Orientation), and controlling the length of use and product wear (Time). Trainees will earn to identify potential hazards associated with abrasives use and implement safe work practices. They will receive a certificate of completion when done. In addition to training, Weiler Abrasives offers an on-site assessment to help identify opportunities for improvement regarding the safe and proper use of abrasives and brushes.
For more information, visit the SPOT Safety Training Program landing page.
We'd love to keep in touch! Check us out on Facebook, Twitter and LinkedIn!