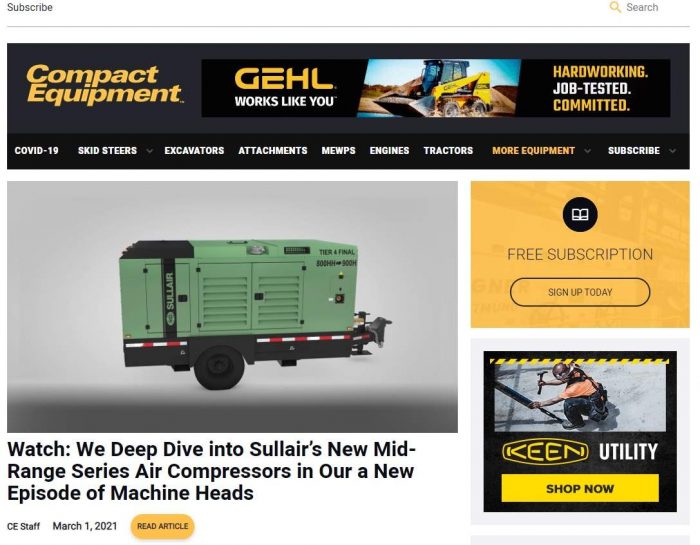 Clearly, digital has been a hyper focus of Compact Equipment for over a decade now, and we'll be expanding that greatly in 2021. First up is our new website. The structure and style are pretty close to the old site (we strive for simplicity), but it has been streamlined and tweaked with a special focus on mobile friendliness. As you well know, observant reader, machine news is a daily business. It doesn't just happen once a month. That's why we post five plus times a day through our main portal at compactequip.com — now newly revamped.
The overarching goal of the CE crew in 2021 is to produce more fresh online-only content daily, so be sure to favorite our homepage and keep checking back for a mix of outstanding in-house features, contributed tech articles, in-depth Q&As, cool videos and no-where-else-on-the-internet think pieces by the minds behind the print magazine. We're also investing heavily in social media to ensure our readers have access to important content no matter their interface (Facebook, Twitter, LinkedIn, YouTube or Instagram).
Our online headquarters has been overhauled, and now our online presence is equally powerful on desktop and mobile. This new makeover will be home to our awesome our new video series called Machine Heads and our microsite dedicated to Covid-19 preparedness and safety (19.compactequip.com). We are also in the process of migrating our sister publication focused on kids and construction, called Jobsite Juniors, under the CE brand umbrella. We hope to have that finished by the end of the year with daily and weekly content for machine dads and moms and their children.
So, take your time, tool around the site and let us know what you think. This week we'll be fixing the small bugs that come with an enormous revamp like this, so thanks for your patience upfront. Now, back to work.
Keith Gribbins is publisher of Compact Equipment.
Tags:
home