Wacker Neuson and its generous dealer, AGF Machinery, LLC, Dothan, Ala., raised over $111,000 for the local veteran's charity, the Fisher House Wisconsin. During its annual Dealer Summit held in Milwaukee in October, Wacker Neuson auctioned off a special stars and striped wrapped compact track loader. Over 70 dealerships were able to participate in the live auction and thanks to the generous bidding of many of the dealers, the ST31 track loader was won by AGF Machinery.
Wacker Neuson recently introduced a new line of skid steers and compact track loaders that were designed and are built at the company's Menomonee Falls, production plant. "We are proud to be building these quality machines right here in the Milwaukee area, and find it very fitting to support the Fisher House that provides quality support to veterans who have proudly served our country," explains Johannes Schulze Vohren, North American Regional President, Wacker Neuson. Fisher House provides a "home away from home" in the form of shelter and support for military and veteran's families during a medical crises and hospitalization at the VA Medical Center in Milwaukee.
AGF Machinery is also proud to support this charity. "We appreciate the men and women that serve this country and we felt this was one way to show our support," explains Mike Waters, Vice President of Operations for AGF Machinery.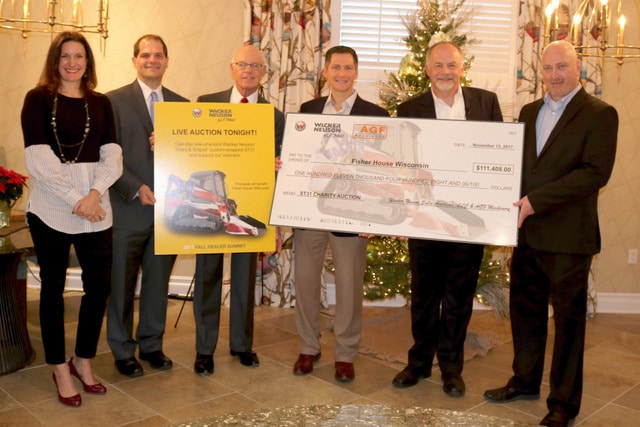 The ST31, specially wrapped in the American flag stars and stripes, was used throughout the summer in Wisconsin to celebrate the machine's local roots. It was on display at various industry shows and participated in the Menomonee Falls 4th of July parade, accompanied by many local employees responsible for its design and manufacturing. The ST31's new home with AGF Machinery will continue to support veterans. According to Jeff Washington, Owner of AGF Machinery, "For the first few months, the loader will be displayed at our store locations. We will eventually make it available to rent, at which time, a portion of the rental fee will go to support our veteran services here in the Wiregrass region."
For more info on Wacker Neuson, click this link. Really, what else are you doing?