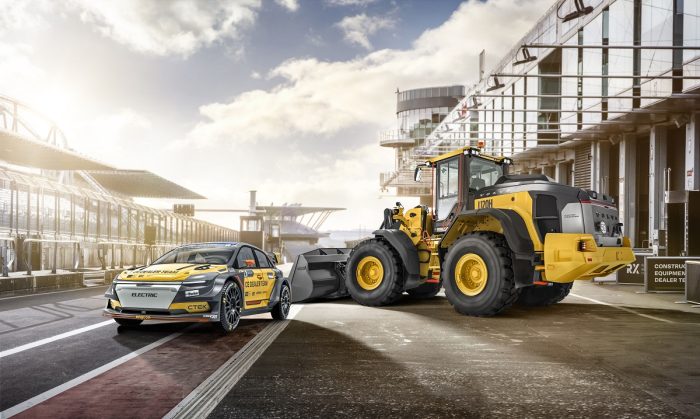 Volvo Construction Equipment just announced that Parker Hannifin, a global leader in motion and control technologies, will join the CE Dealer team (now renamed CE Dealer Team by Volvo Construction Equipment) – as a new partner for season two of the FIA World Rallycross (World RX) Championship.
The now renamed CE Dealer Team by Volvo Construction Equipment is committed to working with like-minded partners including Parker Hannifin to continue to drive change in motorsport and the construction industry.
This spirit for innovation is also demonstrated through the recent launch of the L120H Electric Conversion wheel loader – a 20-ton electric solution developed in partnership between Volvo CE and Parker.
Motivational Partnership
The CE Dealer team by Volvo Construction Equipment will see Volvo CE play a more active role in helping to shape the team's common goals towards a more diverse and sustainable future. Parker shares similar values with regards to both sustainability and diversity and believes that electromobility plays a key role in responding to our global climate challenge. With more than 100 years' experience developing reliable and optimized solutions, Parker is accelerating the adoption of electrification and digitalization in vehicles.
The team's race car will also benefit from an update, with a fresh look bringing it in line with a new modern design language for Volvo CE products, as shown on the L120 Electric Conversion wheel loader.
Excitement Grows for Season 2
The 2023 season will begin in Montalegre, Portugal on June 3 and will continue with a packed schedule in some of the most renowned racing tracks across Norway, Sweden, UK, Benelux and Germany. World RX will then finish the season with new race locations in Cape Town, South Africa and Hong Kong, China.
For more information, click here.
We'd love to keep in touch! Check us out on Facebook, Twitter and LinkedIn!