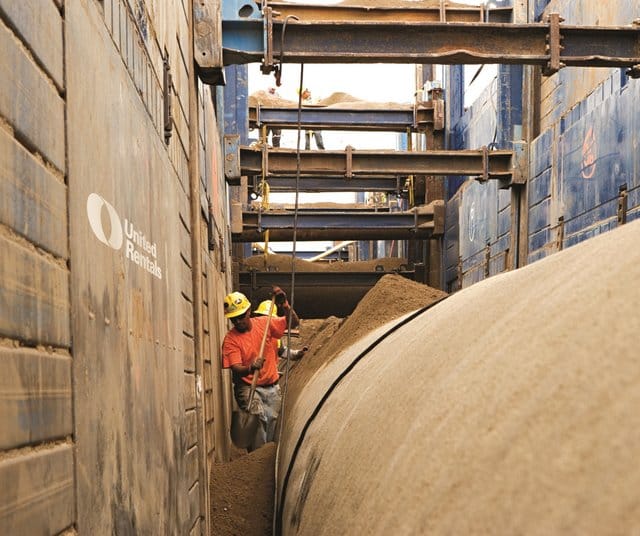 United Rentals Inc. recently announced it is participating in a nationwide series of trench safety educational events during the Trench Safety Stand Down, which takes place June 17-21. These events will help organizations and their workers advance knowledge about trench hazards and safe work practices in trenching and excavation work.
Trench and excavation operations are among the most dangerous jobs in the construction industry. Each of United Rentals' more than 92 trench safety locations will be involved in educational events, ranging from tailgate talks at jobsites and lunch-and-learns to forums featuring independent trench safety authorities, OSHA officials and United Rentals experts. Multiple events will feature Eric Giguere, a former construction worker who survived a near fatal trench collapse and now is a recognized expert in safety awareness. Last year, more than 10,000 people attended United Rentals Trench Safety Stand Down events.
"Trench Safety Stand Down week is an important event supporting an ever-changing industry," said Todd Hayes, region vice president – trench safety, United Rentals. "The complexity of excavations and trenches our customers face every day creates many obstacles. Our role and support start with safety every day and that is what a company can expect from United Rentals as North America's largest trench safety provider. The Stand Down week is just one more week in our ongoing role to share safety messages and highlight the largest offering of solutions."
For a listing of events and information on how organizations and individuals can attend a United Rentals trench safety event, please visit the United Rentals Trench Safety Stand Down event page. Here is a sampling of educational events:
United Rentals Trench Safety Solutions
United Rentals is North America's largest provider of trench safety training programs. Its team of qualified trainers have real trench experience and know the local, state, provincial and federal regulatory issues that affect jobsites. Organizations can choose from professional training courses – offered online, onsite or at local United Rentals store locations – including excavation for competent person instruction, confined space entry training, safety and fall protection, site-specific regulatory compliance and operator certifications for equipment.
United Rentals has the largest fleet of shoring and underground excavation rental equipment in North America. The company provides customers with customized, cost-effective rental solutions for their specific excavation needs. It supplies OSHA-compliant trench protective systems including shoring, shielding, lasers and optical instruments, and more. United Rentals services help companies in pre-bid analysis on protective system solutions, on-site consultation and engineering designs that can be applied successfully on a project.
For more info on United Rentals, click this link. You can click, right?