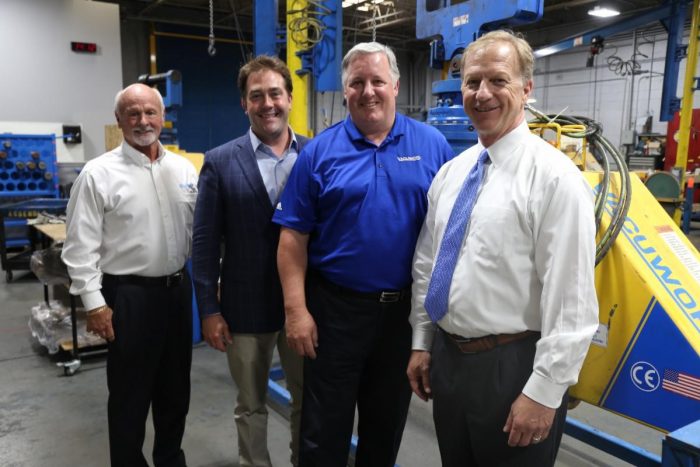 The Association of Equipment Manufacturers (AEM), Tulsa Rig Iron and Vacuworx hosted United States Congressman Kevin Hern (R-Okla.) for two special I Make America events in Tulsa, Okla. The events highlighted the importance of American equipment manufacturing and celebrated the men and women who work hard every day to build a better and brighter future for themselves and their communities.
"Equipment manufacturing supports 77,200 jobs for Oklahomans and contributes $6.9 billion to our state's economy each year," said Rep. Hern. "I want to see our critical goods made right here in Oklahoma and across the U.S., revitalizing the U.S. manufacturing sector. I appreciated the opportunity to visit with the Association of Equipment Manufacturers and hardworking Tulsans at both the Tulsa Rig Iron and Vacuworx facilities to see American equipment manufacturing at its finest."
I Make America, AEM's national grassroots campaign, advocates for the policies that are critical to the industry's long-term growth and prosperity. Earlier this year, AEM launched Year of Action, a groundbreaking initiative designed to educate and mobilize the 2.8 million men and women of the equipment manufacturing industry in support of its top policy priorities.
"Tulsa Rig Iron was honored to host Congressman Hern at our Kiefer facility," said Terry Flynn, Vice President of Sales and Marketing of Tulsa Rig Iron. "Thanks to the support of leaders like Rep. Hern, we can continue to manufacture critical components for the equipment that builds and powers America. We are encouraged to hear about his efforts on Capitol Hill that will allow our company and our industry to thrive in Oklahoma."
"The challenge lies in recognizing that having choices carries the responsibility to make them wisely," said Bill Solomon, President of Vacuworx. "Our guiding principles are we care about people, we are relentless on our focus on value for our customers and employees, and we are committed to safety. We appreciate having the opportunity to share our thoughts with Representative Hern, as well as his longstanding support of small businesses."
"Manufacturing is the backbone of the American economy, and equipment manufacturers such as Tulsa Rig Iron and Vacuwork are the beating heart of communities across the great state of Oklahoma," said Kip Eideberg, AEM's senior vice president of government and industry relations. "The 77,000 men and women who build world class equipment in Oklahoma are not afraid of rolling up their sleeves and working hard. But they do need our elected leaders to make a bipartisan commitment to pro-growth policies that will make our nation a more competitive place to do business. We greatly appreciate Congressman Hern's leadership on behalf of our industry's top policy priorities, including infrastructure investment and free and fair trade, and his steadfast support for the equipment manufacturing industry in Oklahoma."
Tags:
Association of Equipment Manufacturers
,
Tulsa Rig Iron
,
Vacuworx