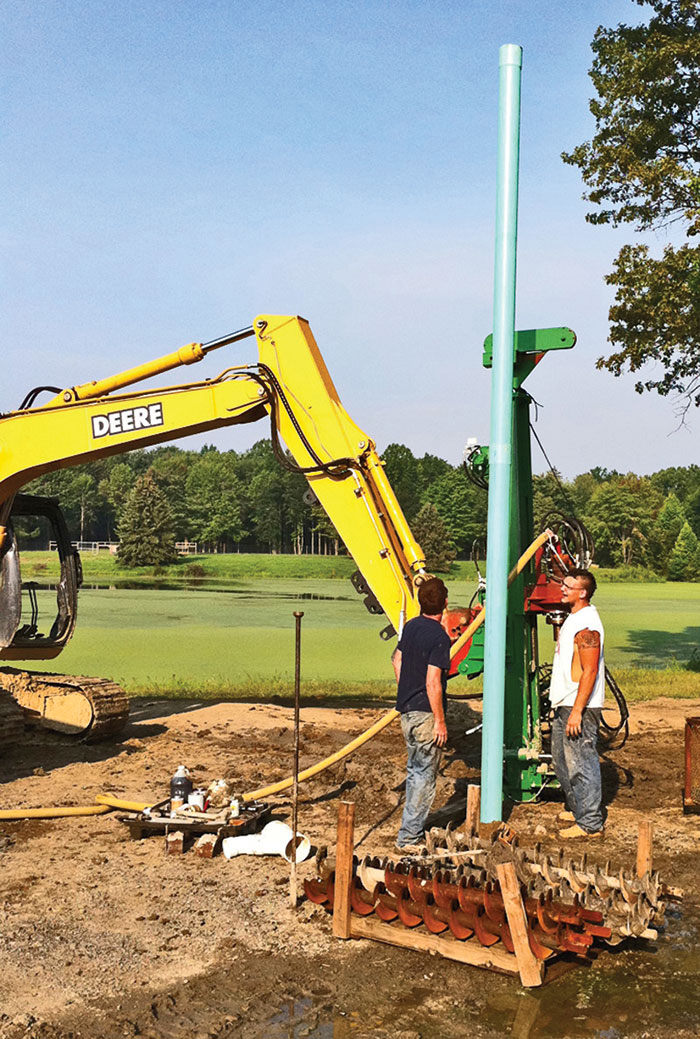 Ironically, we begin our review of 2013 by looking ahead, not behind. What sort of growth in the geothermal heat pump (GHP) market can be expected in 2014 and the years to follow? GHP systems are being installed in nearly every region of the world in residential, commercial, institutional and industrial settings with great success. According to a new report from Navigant Research (a research and consulting team that provides in-depth analysis of global clean technology markets), worldwide revenue from GHP systems will nearly triple from $6.5 billion in 2013 to $17.2 billion annually by 2020.
"The global economic downturn, slowed construction, reduced government investments in clean-tech products and limited the ability of developers to acquire capital for high-end construction products," says Mackinnon Lawrence, principal research analyst with Navigant Research (source here: www.navigantresearch.com/newsroom/geothermal-heat-pumps-will-surpass-17-billion-in-annual-revenue-by-2020). "However, the market stands to experience strong growth in the coming years, as government policies create incentives for the use of energy efficiency resources and manufacturers reduce the upfront cost of GHP installations."
Thus, with many HVAC, plumbing, excavating and landscaping professionals nationwide expanding operations into geothermal systems and most being totally new to the drilling industry, we thought we'd review some of the big issues we covered in 2013. The Geothermal Journal began the year with the fourth and final installment of "Geothermal Drilling Basics." Parts one through three overviewed the fundamental principles of auger, mud and air drilling equipment, tooling and techniques. A geothermal driller must take into consideration the earth's sub-surface composition. Armed with that knowledge, the drilling method, tooling and drill rigs' torque and RPM can be matched to the ground conditions making the drilling as efficient and effective as possible. Choosing a drilling method can be fairly straightforward if you will be drilling in a region of the country where similar ground conditions can be expected on most drill sites. However, when near equal percentages of consolidated and unconsolidated materials will be encountered, drill rigs such as the K60, which utilize mud, air and auger drilling systems, is most efficient.
With these basic drilling principles established, next came the two-part series "Starting a Geothermal Drilling Company." We looked at start-up and day-to-day costs such as equipment, tooling, transportation and materials. Questions regarding training and permits were addressed with helpful resources like IGSHPA (International Ground Source Heat Pump Association) and NGWA (National Ground Water Association). We also showed you how to determine your costs per foot of drilling so you can estimate what to charge to make your business profitable. It was demonstrated that by financing equipment, and with good planning, a new geothermal drilling company can be lucrative in the very first month of operation.
Obviously not just any equipment will do, and selecting a geothermal drilling rig can feel a little like a high performance car comparison. The difference being instead of brake horsepower and 0 to 60 stats, the specifications under analysis are pullback, pushdown and rotary torque. May's Geothermal Journal "A Drill Rig's Specs Guide," tackled these and other specifications. Pullback is vital in determining depth capacity, as the rig must have sufficient power to be able to retract the drill sting. The pushdown required is determined by the hardness of the material being drilled and the drill bit/method used. The required torque and RPM is again determined by sub-surface materials and drilling method, with auger drilling demanding as much torque as possible but generally requiring less rotation speed than mud rotary drilling.
No geothermal resource would be complete without exploring the main components of a ground source heat pump (GSHP) or GeoExchange system, as well as common system designs like horizontal and vertical closed loops. July's Journal included a comparison chart of horizontal and vertical GHSP pros and cons. Horizontal installations are simple and cost-effective when large, undeveloped property is available. However, it is not viable in all ground conditions or climates, and the area must remain undeveloped to avoid damaging the loops. Compact, track mounted drilling rigs used for vertical installations limit intrusion with less site impact making the method perfect for retrofit applications, restricted access and urban sites. Low headroom drilling rigs, such as the RigKits K40 short mast, can even operate under buildings, in basements and parking garages, supplying geothermal systems to apartments, condos, high-rise office buildings and hotels.
Another design variation, presented in August, is direct exchange (DX) geothermal. Refrigerant is circulated through buried copper tubing whereas other closed loop systems are designed with high-density polyethylene pipe (HDPE). Copper is an excellent heat conductor which enables the systems to work efficiently with shorter lengths and smaller diameter loops. Like other closed loop systems, a DX layout can also be vertical or horizontal. However, another standard design utilizes several bore holes drilled diagonally in an umbrella pattern. They can be installed in relatively small areas and in relatively shallow soil with many installers successfully using man-portable drills.
Such rigs do have their limitations. Installing casing in collapsing ground conditions can be challenging. Drilling depth capacity is limited. Difficult ground conditions or a jammed drill bit may require more power. While appropriate for specific applications such as DX and shallow bore drilling, they are not designed to be do-it-all rigs. However, man-portable drills are simple and inexpensive to transport and maintain. Their compact size and maneuverability allows entry to the most restricted access drill sites for one-man operation.
Throughout the year, The Geothermal Journal has featured some very cost-effective options for acquiring compact, powerful drilling equipment. A drill rig can be obtained new, pre-owned or rented. A rig kit is a drilling rig that has not been assembled. The rotation head, crawler tracks and engine are pre-assembled components ready to bolt onto the steel frame. October's column highlighted that a drilling mast attachment can be coupled to a skid steer, mini excavator or similar carrier machine providing low cost entry into the drilling market. As the mast attachment is powered by the diesel engine on the carrier machine, capital costs are reduced substantially when compared to a dedicated geothermal drill if a suitable carrier machine is already owned. Some readers were surprised to see how a mast attachment can pay for itself in as little as four jobs.
We hope you've enjoyed reading The Geothermal Journal in 2013 as much as we've enjoyed working on it. At RigKits LLC, our goal is to provide knowledgeable advice and quality drilling equipment. Don't hesitate to ask us for recommendations on how to best match the drill rig and drilling method with your tooling and ground conditions. Numerous geothermal projects are at your fingertips, we are here to help bring them well within reach. All that remains is to tap into the abundant potential of the ever-growing geothermal market.
Brandon Wronski is an equipment specialist with RigKits LLC, based in Charlotte, N.C.