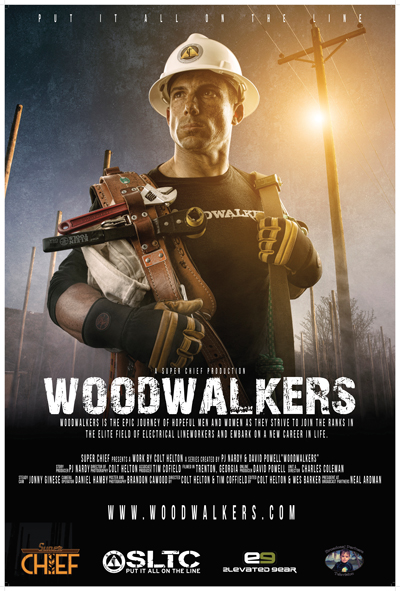 Cool construction professions are now invading our television sets. Terex Utilities recently announced that it is one of seven inaugural sponsors of "Woodwalkers," a new reality television show airing to 96 million viewers nationwide on Tuff TV. The show is based on the Southeast Lineman Training Center's six-part series, "Elevated — The Story of the Woodwalkers." "Elevated" is a docudrama highlighting the journey of individuals going through the vocational school's 15-week training program to becoming a lineman apprentice.
"Woodwalkers are part of an elite, highly-trained group of future American heroes — the ones that keep the power turned on for the rest of us, through the heat of the summer, the dead of winter and through every thunderstorm and natural disaster," said PJ Nardy, executive vice president, Southeast Lineman Training Center (SLTC). "The show follows the journey of hopeful apprentice lineworkers at SLTC as they put it all on the line for a chance at a new career and a fresh start at life. From scaling soaring 60-ft poles to rescuing an injured co-worker when every second counts, viewers will be amazed at some of the shocking scenarios a lineman must be trained to face every day as part of his job. Our goal with this series is to share these incredible stories."
The show is fully sponsored by companies like Terex that make equipment and products that serve the lineman industry. In addition to appearing in company and product spotlights throughout the series, Terex digger derricks and bucket trucks also are used in several episodes by the apprentice lineman to complete training tasks. Other inaugural sponsors of the show include Bashlin Industries, Buckingham, Greenlee, Sherman and Riley, Klien Tools, J.L. Matthews, NESCO and Hastings.
Tags:
Terex