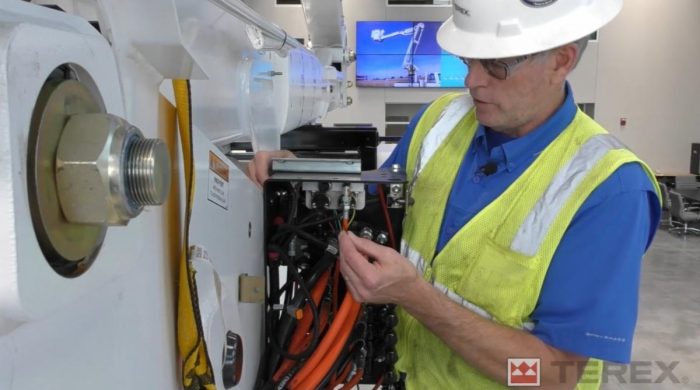 Terex Utilities regularly distributes Tech Tips about troubleshooting, inspecting, and maintaining aerial devices and digger derricks. In 2021, the Terex Utilities Services Department shared 26 new tips making a total of 169 tech tips available on the company's website. The 26 new tips alone were downloaded more than 1,000 times.
"Based on frequently asked questions from customers, our service team writes these tips as supplemental information to Terex equipment maintenance manual. Designed for quick reference, some topics are specific to certain Terex Utilities models and others are more general in nature," said Jason Julius, Technical Support and Training.
Each Tech Tip identifies what the service call is, the tools required, and which Terex Utilities models it applies to. In many cases, photos are also provided. "In addition, we are now integrating video into some of the new and existing tech tips to help demonstrate the topic," said Julius. "Whether it is useful tips or our integrated equipment and service dashboard Fleet Horizon, our goal is to provide comprehensive tools to help technicians get equipment back in service as quickly as possible," he added.
The top seven most downloaded Tech Tips of 2021 are:
#138 Troubleshooting TM Leveling with Generator Style Leveling
#148 A Popping or Cracking Noise that Appears to be coming from the Mast or Pedestal Area
#89 Removal of Stuck/Frozen Outrigger Pins
#135 Setting HOP on General Digger Derrick
#151 Ways to Attach Non-Conductive Hoses to Pull Through a Boom
#157 Fitting Torque Chart
#91 Planetary Slip Brake Rotation
These and other technical support documents are available online at the Technical Support tab at www.terex.com/utilities, or users can sign up to receive email notifications at https://www.terex.com/utilities/en/links/preferences.
Users can also request for the creation of a tech tip by emailing utilities.service@terex.com.
We'd love to keep in touch! Check us out on Facebook, Twitter and LinkedIn!
Tags:
Terex Utilities