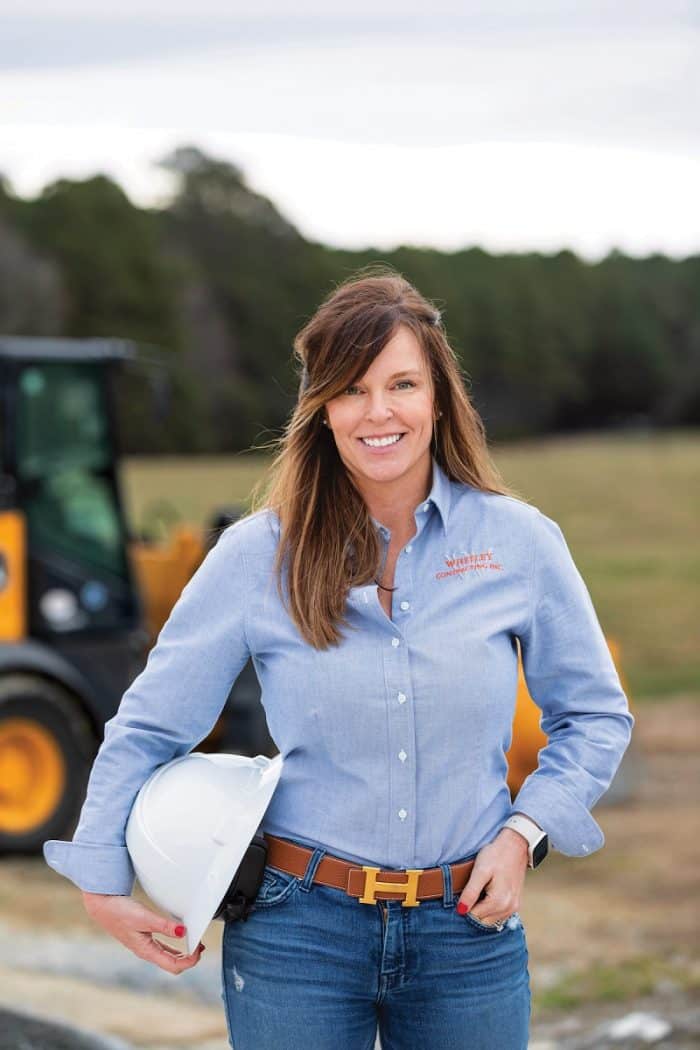 Brandy Whitley is a woman who isn't afraid to take chances. That courage, paired with a lot of determination, is what helped her start her own business, Whitley Contracting. Working in real estate and as a home builder during the 2008/2009 housing market crash, Whitley knew she needed to pivot and try something new. This led her to rely on past experiences working with concrete and transform that into a highway construction career. Whitley's husband Steve, who was also a homebuilder, came along for the ride. He brought his estimating and operating expertise to the company.
"Since both of our incomes relied heavily upon a sinking real estate market, I decided to try a new avenue I was vaguely familiar with since some of our friends were also in the same industry," says Whitley. "We knew concrete since we poured all our own driveways and sidewalks, footings, etc., on the homes I built. After a ton of research and phone calls to both friends and friends of friends in the industry, I decided to take the plunge and started Whitley Contracting Inc."
The Whitleys, along with four other employees, hit the ground running and began bidding on projects with hopes they would succeed despite being a new company. On top of being a newbie, Whitley had to stand out in a male-dominated business.
"It was very overwhelming and stressful, to say the least," says Whitley. "Getting our first job was hard. It was very difficult starting as a new subcontractor because, although our numbers may have been low, most were skeptical. After all, we had zero experience and no previous projects in our portfolio for them to reference."
Whitley's determination and persistence paid off and she was able to secure the company's first job. Then would come other projects. However, her crew needed to sprinkle in smaller jobs to help in the beginning.
"I thought getting our first job was the tedious part, but waiting to get paid was the most difficult," says Whitley. "We were pouring footings and driveways for builders on the weekends to float payroll until we received our payments from the contractor."
Thanks to the company's hard work and word of mouth, other jobs came rolling in — particularly from the North Carolina Department of Transportation (NCDOT). Today, Whitley Contracting employs 23 people and completes city and municipal work. The company uses John Deere equipment to help get those projects done.
"My favorite piece of John Deere equipment to operate is our 60G excavator because it's so versatile," says Whitley. "I love versatility. We can use the 60G on jobsites, on the farm or around the shop. It's also comfortable, easy to operate and smooth."
Standing Out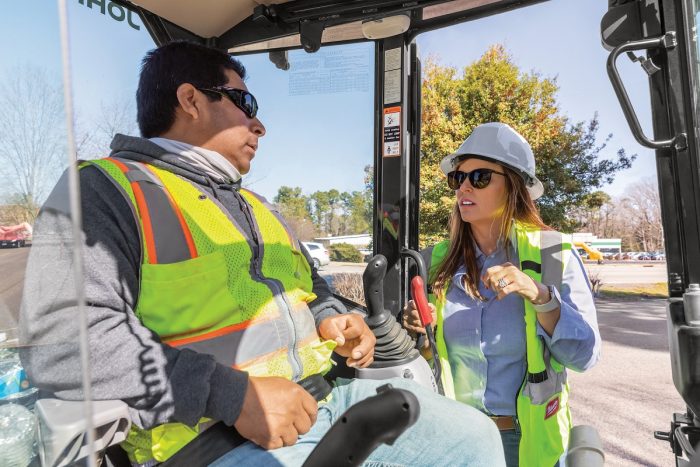 Although starting a new business can be scary, Whitley is proof that it's possible. Being a woman in a male-dominated industry can seem intimidating, but she credits "a whole new skill set and strong leadership abilities" women have to help stand out.
"I guess it's the innate motherly skillset if you will," says Whitley. "I'd like for women to know that the days of women being frowned upon working in the construction industry are long gone. With labor shortages and the gender equality movement, women are more than welcomed in the construction industry and the rates or pay are more equal to men than almost any other field."
Eager to help others, Whitley offers three pieces of advice for other women interested in starting their own business.
1. It's important to network. It's not what you know, it's whom you know. Networking and word of mouth have all led to quite a bit of work for us without ever having to put the pen to paper. It's nice to get a referral call from a city or municipality that needs work and they had spoken to an inspector we have worked with before or even a business owner.
2. Maintain a positive attitude. You can't succeed unless you have a positive attitude, period. You must have a 'Tom Brady' mentality and consistently work with a chip on your shoulder, especially when you are starting out. It's just like any other commission or sales-based profession; you have to keep grinding, and one day, everything will come together if you have the right people by your side.
3. Take chances. Do what you want and love. Don't be afraid to go against the grain and take chances — you never know where it will take you. I know that sounds so cliché, but it's very true.
Pam Kleineke is managing editor of Compact Equipment.