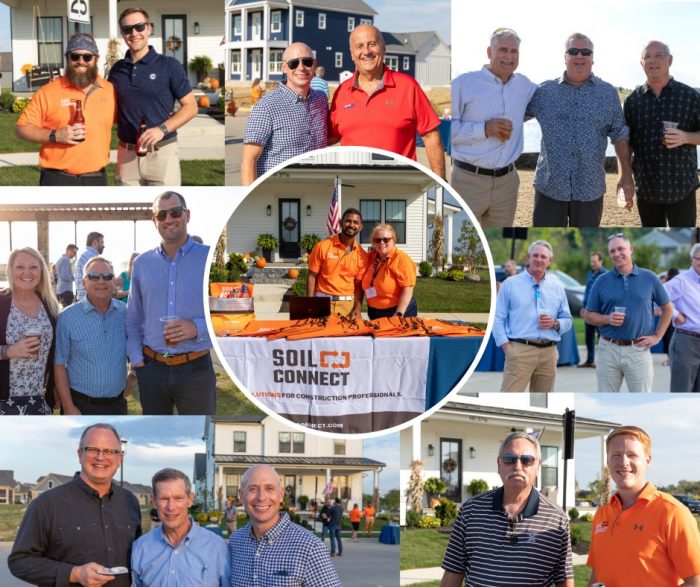 Soil Connect, the award-winning online soil and aggregates marketplace, recently celebrated the launch of their digital storefronts in Columbus, Ohio. Hundreds of attendees took part in festivities at the Building Industry Association of Central Ohio Parade of Homes Evening of Excellence Featuring Soil Connect on September 21. Many digital storefronts were claimed by material suppliers with the Quick Start program, and substantial number of new users registered during the event and the lead-up to it. The Quick Start program allows local construction material suppliers to claim digital storefronts where they can sell their products directly to the platform's growing user base of construction professionals. Clearly the program resonated with users because posts by those with materials such as quarries, concrete recycling facilities, landscape material suppliers, asphalt and concrete plants, and sand and gravel locations, as well as those seeking those materials, increased 1,500% after the event. 
"It was a great evening talking with members and other construction professionals at beautiful Beulah Park,' said BIA Executive Director of BIA of Central Ohio Jon Melchi. "With labor tight and costs increasing, it is more important than ever for contractors to work efficiently, and Soil Connect allows that. Making connections and finding materials closer to where they are needed is a smarter way to work that will bolster contractors' bottom line."
"Columbus has a robust construction economy so launching Quick Start here was a natural next stop for our nationwide initiative," said Soil Connect Founder Cliff Fetner. "It was great to see so many suppliers claim their digital storefronts, allowing them greater visibility to our large and growing network of users. We developed the platform to foster closer connections, so it is gratifying to see that happening in Columbus. We're eager to keep rolling out this program across the country."
In addition to its digital storefront program, Soil Connect continues to invest in and enhance its technology to advance its mission to be a full-stack, end-to-end solution for the construction industry. Most recently, the platform built a new tech stack to support its marketplace, allowing Soil Connect to introduce new services and features to its community, including the ability to triangulate and secure transport for materials within the app, as well as enhancing its Daily Dig job site monitoring service. Soil Connect was joined at the Evening of Excellence by other members of the National Dirt Alliance (NDA), a group of construction tech companies. On-site NDA members included OpenSpace, Traceair and the Ohio Chapter of NUCA.
We'd love to keep in touch! Check us out on Facebook, Twitter and LinkedIn! Tags: Soil Connect