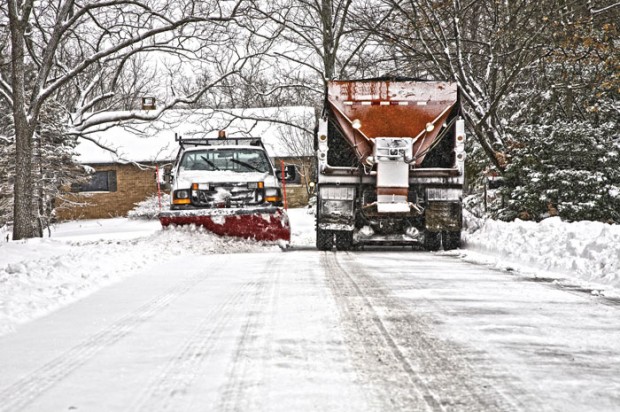 Smart Folks at SIMA Are Looking Forward to a Busy Season
Severe weather, brutally cold temperatures, record snowfalls, salt supply challenges — that about sums it up for many professionals faced with managing and removing snow in the United States and Canada last season. Winter came on strong last fall and in many places didn't stop until well into March and early April. This was truly one of those seasons that helps shine a light on the hard work and dedication it takes to fight snow and ice storms.
The entire snow industry was impacted by this past winter. Manufacturers saw new demand for equipment and parts. Salt and deicing suppliers were stretched to the limits and beyond to meet the needs of both the municipal/government side of the industry and the private snow contractors and grounds management professionals. At this stage, with another winter season barreling toward us, it makes sense to review this upcoming season in the context of last year's big winter.
Challenging the Norm
The past winter definitely challenged the current model for snow professionals. Material supplies were difficult to find toward the end of the season, and many business models are tied to the use of salt and other chemicals to achieve results dictated by clients and patrons. In March 2014, SIMA conducted a survey of the "current state" for snow contractors, with these results highlighting the challenges:
84 percent of respondents reported experiencing salt supply challenges in the 2013-14 season.
16 percent of respondents reported running out of salt completely for at least one snow/ice event.
14 percent of respondents reported purchasing adequate supplies of salt to get through winter.
New technologies and strategies are being reviewed by many service providers in order to mitigate some of the risks they faced this past season. The survey results were strong in this area. Here are the highlights related to what providers will proactively do in the upcoming season:
26 percent said build a larger storage facility to accommodate more product.
24 percent said preseason ordering.
18 percent said more efficient use of existing inventory.
11 percent said ordering as much as they can get regardless of need.
5 percent said properly estimate salt quantities.
3 percent said require clients to pay for projected salt usage in advance to enable preseason ordering.
The results of the survey highlight a key issue for the upcoming season — snow professionals are most focused on building their salt supplies, which will cause additional challenges for the industry. Now is the time to review multiple areas of the snow service plan and not simply rely on efforts tied to purchasing more salt.
New Strategies for Improvement
Liquids: Use of liquids has become fairly standard for roads and highways, but in facilities, the percentage of service providers using liquids is still relatively low. More snow professionals are now seriously considering liquids as a part of their toolbox. Deicing expert Dale Keep of Ice and Snow Technologies stated in recent industry literature, "Estimates as high as a 60 percent reduction in deicer use have been reported. What could using liquids have done for your company, even if it was just a 25 or 30 percent reduction?"
Contractual Clauses: The low temperatures and limited salt issue became a major potential risk for pretty much all stakeholders who have agreed on snow removal services. This season, expect to see a more broad use of contractual controls from both commercial consumers and service providers, such as:
Salt surcharge clauses: More specific language relating to salt supply and any potential surcharges if pricing of materials changes dramatically. If added to a contract, take care to include detail about the nature of the surcharge, including how it would be triggered. This type of clause should be looked at as a last resort in some ways, as client relations will deteriorate quickly if this is looked at as another way to charge more for service.
Pre-season salt ordering: The major salt suppliers are still delivering large quantities of salt to fill orders they weren't able to honor to municipal contracts from last year.  Because of this, it is already predicted that salt inventories will be low at the beginning of this season. Salt suppliers are also saying private companies that do not order a majority of their estimated seasonal salt supply will likely not be guaranteed salt, particularly near the end of the season. Because of the experience from last season's inventory shortages, the days of "order as you need" are gone.
Act of God clauses: Force majeure or Act of God clauses were a big topic this past season. In general, these clauses can be useful for any service provider whom is impacted by a flood, earthquake, etc. But care needs to be taken not to regard this type of clause as a solution for limited salt supply issues. According to Patrick McGuinness, an attorney for Zlimen & McGuinness, "If all the salt available to a particular city were to be lost in a barge or train accident and no other salt could be obtained, then perhaps the force majeure clause would protect the contractor. Another example would be if a labor strike caused salt to become unavailable," he says. "However an ongoing pattern of weather that causes a shortage of a material probably wouldn't fall under a force majeure clause."
Impossibility of performance: If you are contractually obligated to provide salting services but can't due to a supply shortage, it may be possible to rely on a principle called "impossibility of performance." Under this theory, if it is impossible to perform part of a contract, you may not be held in breach. Research and direct consultation with a lawyer will determine if this is a solid strategy for individual service providers.
Salt Management Strategies: Deicing with rock salt is the norm in the industry. However, service providers are being pushed from multiple directions to use less salt while still maintaining safe site conditions as defined by the Scope of Work. Better salt management strategies may include:
Calibration: Spreader calibration before the season begins is a must. Occasional calibration provides insight into the actual amount of salt being distributed on a property. It can also lead to more direct accountability and transparency for the industry as a whole.
Use of pre-treated salt: This type of product, typically a rock salt treated with a liquid product like Mag Chloride or Calcium Chloride, can add significant melting power in low temps and reduce overall salt usage. However, obtaining supplies of this product may still be a challenge this season.
Pre-wetting salt upon application: The most proactive approach to getting more out of salt, this requires an up-front investment in equipment and skill to spray a brine or other liquid melting agent to salt as it comes directly out of the spreader.
Better training: Training resources and tools have become much more commonplace over the last decade for the industry. There is no substitute for well-trained operators and managers. Knowledge is power, and nowhere is this more essential than in the deicing services.
Technology utilization: Each year better technologies emerge related to effectively measuring the output of deicing products. This is the future of the industry, as accountability and efficiency will become the driving factors of quality snow management services, especially related to deicing activities.
Looking Ahead
Clearly last winter had a huge impact on the industry at large. And the excitement (and challenge) is that no one really knows what will happen this coming season. Even though the weather is fickle, there are some major business trends that continue to push the snow industry into the spotlight more and more, including:
Big data: The retail and facilities management industries have been embracing new technologies and software that empower them to collect more data about property maintenance services and to compare service providers to each other. This trend will continue as business intelligence can serve as a strategic differentiator to companies that gain more clarity in regard to all areas of their business.
Labor and workforce: In a statistical needs assessment of SIMA members last year, one of the major challenges snow professionals face was finding and managing quality labor. Major areas of need included leadership development at the management level, as well as better skill and drive at the operator level.
Better access to training: The snow industry is still maturing as a whole. This includes growth in the amount and availability of training in the marketplace. The next decade in the snow industry will be dictated by how serious service providers value the training that is available to them, and how they utilize it to build a better workforce and snow-specific personnel development structure for their people.
Technology: The equipment, tools and technology available to snow professionals has never been more accessible and cost-effective than it is right now. Numerous snow-specific apps and software systems now exist. GPS technology is available and scalable for those contractors who see value in using it. Salt measuring and management technologies have become more and more sophisticated and are likewise scalable to fit the needs of most organizations.
Risk management: One of the most challenging aspects of the industry is tied to the risk associated with the work. Insurance costs, slip and fall liability and other legal-related areas continue to overburden snow professionals. These trends will consistently be both a challenge and an opportunity for the industry. The path forward lies in the adoption of more formal risk management techniques, more investments in training to enhance skill levels and more open communication between service providers, insurance stakeholders and facilities management professionals.
Brian Birch, CAE, is the COO for SIMA, based in Milwaukee. Contact him at brian@sima.org.