New Scissor Lift Training Simulator Previewed at The Rental Show
Serious Labs, a world leader in virtual reality (VR) solutions for training and operations of heavy equipment such as cranes and aerial boom lifts, previewed its new scissor lift operator training simulator at The Rental Show in New Orleans last week. The new simulator will launch in March at the IPAF Summit & IAPAs in Miami and will be available for sale worldwide in April.
The scissor lift training scenarios, developed through the collaborative guidance of leading scissor lift manufacturer Skyjack, will take the operator through realistic exercises of driving, turning, lifting and lowering. The scenarios will support a "generic" style of scissor lift — one diesel rough terrain and one electric slab — and provide the exact same feel and balance as being on the actual machine. A data-capture system records the operator's achievements and failures, which can identify weaknesses for future improvement.
"Our collaboration with Skyjack is a natural partnership," said Jim Colvin, CEO, Serious Labs. "With one in three scissor lifts sold worldwide being a Skyjack, they are the hands-down authority and gave us tremendous insight into the inner workings of this type of aerial."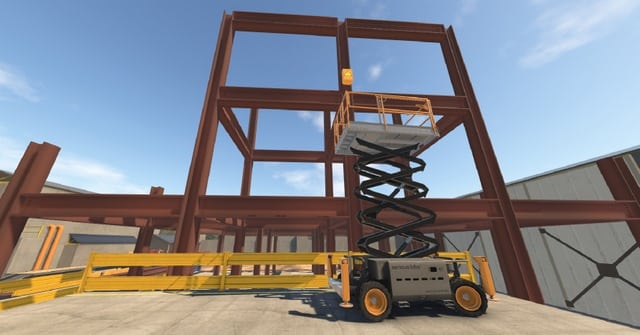 "We saw the Serious Labs approach with their boom training simulator and it just seemed natural that we should expand the scope to that product group," said Brad Boehler, President, Skyjack. "As with other Skyjack products, we firmly believe the adoption of new technology should not mean the end result is more complicated. In fact, although we are utilizing advanced ideas, successful adoption really depends upon it being simple and reliable."
The new scissor lift scenarios are being designed to comply with the new ANSI standards and the IPAF training program. The IPAF training program meets all the requirements of the new ANSI standards and draws on the vast experience of feedback from more than 1,000 active instructors around the world. The simulator's training scenarios map 1:1 on assessment for certification validation while tracking the movement of best practices.
Nationwide Platforms in the UK was instrumental in designing the scenarios for the new scissor lift simulator. "Our partnership with Serious Labs is evidence of our commitment to improving safety in the industry and the adoption of this cutting-edge training tool is something we should all embrace," said Peter Douglas, UK Director of Operations, Nationwide Platforms.
"VR has finally arrived in the heavy equipment environment, and our technology makes a difference in worker safety and productivity," said Colvin. "The goal of our operator training is to provide a safe environment to learn and make mistakes. But once those operators get on the job site, the goal is that they go home in the same shape as when they arrived. VR training helps achieve that."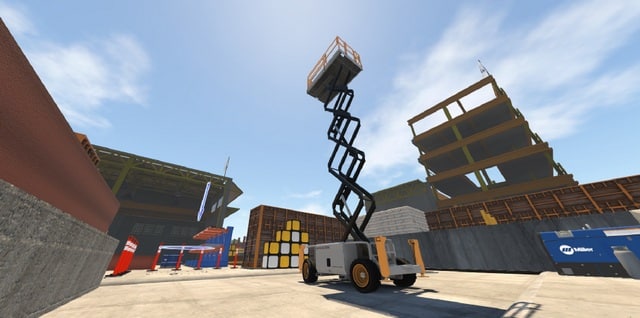 "We all want to continue to advance the safety of our industry. At the core of safety is the role of training in proper use of access equipment," said Boehler. "Like all areas of our business, technology can fundamentally change the way training is offered. VR and augmented reality are here to stay and just as simulation has become the norm in aircraft training, it will transform training for our equipment as well."
"It's imperative that the industry continues to embrace disruptive innovations when it comes to safety," said Jim Dorris, United Rentals' Vice President — Health, Safety, Environment and Sustainability. "United Rentals, in partnership with Serious Labs, has been a first mover in advancing the effectiveness of training and technology for the skills-based workforce in the construction and industrial sectors. The type of work that Serious Labs and Skyjack are doing with VR simulators is the future of safe equipment operations, and we stand ready to make it available industry-wide through United Academy training."
"IPAF welcomes this technology and immediately endorses the use of VR simulators as a good training tool for MEWP operators, when used in addition to the current IPAF theory and practical training programs," said Tim Whiteman, CEO & Managing Director, IPAF. "IPAF this year launched its own industry-wide consultation aimed at finding ways in which modern technology can complement our existing eLearning and classroom-based training for operators and managers. Who better to take advice from than the more than 1,000 accredited IPAF instructors around the world?"
In other news, Serious Labs and Skyjack are in preliminary discussions to develop a manufacturing strategy.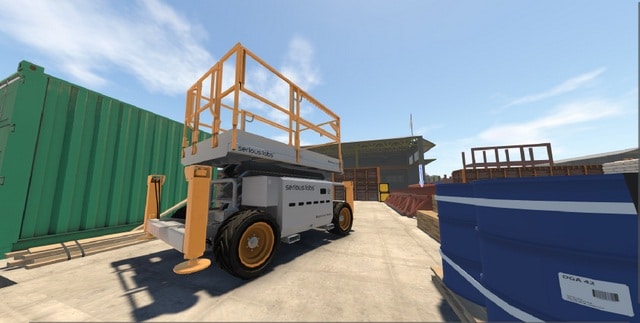 "We believe there will be a global need for simulators in the near future for a wide variety of construction-related equipment, and we will need manufacturing partners, such as Skyjack, to help meet that need," said Colvin. "The benefit of partnering with someone like Skyjack is that we share the same belief: advancing safety is the best thing we can do for this industry and it's only going to happen as a collaborative effort on a global scale."
Serious Labs will offer demonstrations of the new simulator at the IPAF Networking Event and IPAF Summit, March 7-8 in Miami, Fla.
For more information about Serious Labs, please visit http://seriouslabs.com.
Tags:
Serious Labs
,
Skyjack
,
The Rental Show