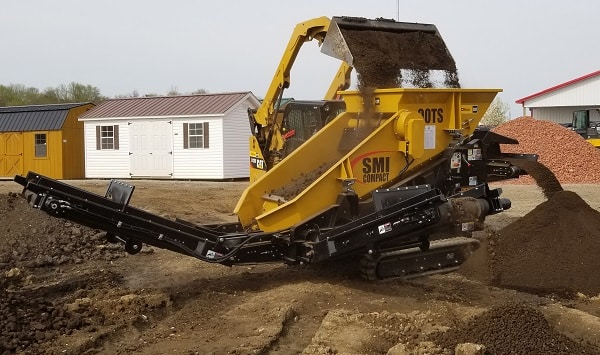 Screen Machine Industries LLC is now offering SMI Compact Crushers and Screening Plants. These machines are significantly smaller than the standard line crushers and screens that Screen Machine has been manufacturing and selling for more than a half century. About 1/5 the size in fact. That makes SMI Compact equipment ideal for a variety of uses.
"We see huge potential for SMI Compact equipment, especially in urban areas where full-size crushing & screening machines are simply too large," said Timothy Miller, director of new business development for SMI Compact. "There's really nothing else like the SMI Compact line in the marketplace, and we think it fills an existing void within the crushing & screening industry. We also foresee these machines being very successful in the rental market, which is why we are now accepting applications from dealers throughout the U.S. who would like to get in on the ground floor of this great opportunity."
The current SMI Compact line consists of the following models:
50TJ Tracked 16"x28" Jaw Crusher
20TJ Tracked 10"x20" Jaw Crusher
10TJ Tracked 7"x16" Jaw Crusher
90TS Tracked 3'x8' Double Deck Screening Plant
20SJ Stationary 10"x20" Jaw Crusher
10SJ Stationary 7"x16" Jaw Crusher
The 50TJ, the largest machine in the line, weighs in at 26,000 lbs and requires a semi-tractor trailer for transport. The rest of the line, however, can be moved with a heavy duty pick-up truck and transport trailer. They can be fed by hand, or by a mini excavator or skid steer loader. SMI Compact machines are ideal for jobs like concrete recycling, allowing the material to be re-purposed on-site.
"SMI Compact equipment is perfect for small-job applications, like driveway replacements, concrete renovation and landscaping work," said Miller. "They are easy to move, they have a small footprint and they are economical to run. But most important, they offer remarkable productivity."
The SMI Compact model numbers are indicative of their maximum production capability. The 50TJ is capable of processing up to 50 tons per hour, while the 20 and 10 models can do up to 20 and 10 tons per hour, respectively. The 90TS Screening Plant can process up to 90 tons of material per hour.
"SMI Compact machines are also remarkably durable," Miller added. "They are built with high-quality steel and reputable components. While they might be compact in stature, they are large in terms of productivity and profitability potential."
Looking for a particular attachment or what's new in the market? Click here!