Families do favors for each other. From taking out the trash to giving someone a ride to work, lending a helping hand is practically part of the job description. But what sets Tim Trimborn's favor apart from the rest is how it propelled a two-man excavation company to the leading edge of the Southwest's solar energy evolution. The kind gesture would also ultimately land the owner's son, Brandon Trimborn, a leading role in ensuring the excavation company's livelihood for generations to come.
From Subdivisions to Solar Fields
Triple T Excavating LLC is a modern-day success story that's even more impressive when you consider the company's modest roots. Founded by Brandon's grandfather Howard Trimborn in 1985, the small, one-person outfit specialized in grading roads and housing pads. Brandon's dad, Tim, along with his brother, Phil, ultimately took over the day-to-day operations of the business in 1989, and Triple T was born. Now, Tim's children, Brandon and Shawnae, and his nephew, Vincent, continue to help run the business.
"Back when they started there was a lot of construction," says Brandon, now project manager and heavy equipment operator at Triple T. "The majority of the work was roads and house pads in big subdivisions, just grading the whole area out."
That is, until one call from Brandon's high school forever changed the trajectory of the business.
"One of the volunteers asked my dad if he had an auger attachment to dig a new hole where a solar panel needed to be moved," says Brandon. Luckily he did and his father ended up doing the job for free. Little did he know at the time, but Tim's kind gesture for his son's school would pay off big time.
"My dad found out that the guy owned a solar company here in Santa Fe," says Brandon. That business owner offered Triple T a job installing panels on one of his fields. Never one to shy away from a good opportunity, Tim – whose business was constructed on building foundations — was about to watch his company move to new heights.
"My dad was willing to work with him and adapt to the work," says Brandon. "Dad would take care of it and the guy loved that, and we built a relationship with them. I guess the rest is history."
Triple T's Bobcat fleet gave the small-but-mighty brotherly crew the flexibility, versatility and durability that would lay the groundwork for Santa Fe's solar evolution.
Bobcat Machines Are the Backbone of Family Business
Thanks to the success of their initial solar field projects, Triple T Excavating became more than a typical excavation company. Today, solar ground mount installs make up about 80% of the business, which spans a service area of more than a 100-mile radius.
Bobcat customers for more than two decades, Triple T attributes their ability to work efficiently to their Bobcat machines, an impressive lineup that includes:
"With Bobcat machines and service, I don't even worry about losing work due to downtime," says Brandon. "I have a deadline to meet and I know that my machine is not going to leave me stranded."
Triple T uses a variety of Bobcat attachments in both the solar mount work as well as the more traditional excavation jobs. "My dad purchased so many Bobcat attachments over the years," says Brandon. "Bucket, forks, grapple bucket, augers, tree remover, trencher, rollers and a grader."
Bobcat Ingenuity Helps Brandon Succeed Despite Severe Injury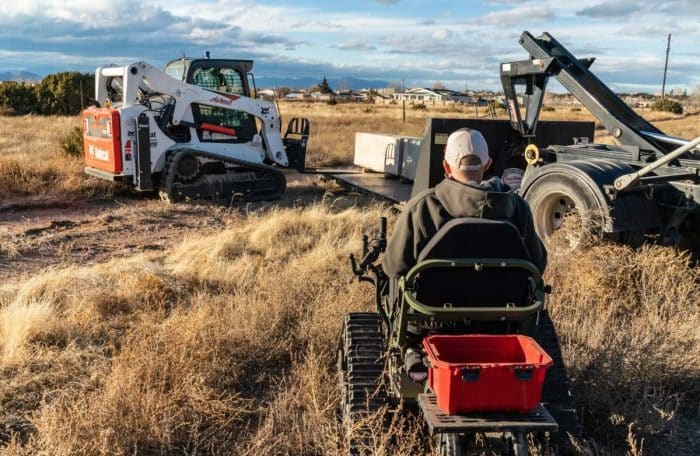 One Bobcat innovation in particular has helped Brandon grow the business and, perhaps more importantly, given him a greater sense of purpose and achievement in the aftermath of a serious injury.
In 2017, an ATV accident left him partially paralyzed from the chest down. After a long recovery, Brandon was uncertain about his ability to contribute to the family business – work that often required physical labor and the operation of foot-controlled machines. But thanks to Bobcat engineering and his own drive and determination, Brandon was able to help take his family's business to the next level.
Upon ordering a Bobcat T650 compact track loader the following year, his local Bobcat dealer sales representative, Miguel Merino, informed him of a new remote technology that would help keep Brandon in control, despite his serious injury. The new technology would allow him to control his compact track loader from an app on his phone, making operating easier and more convenient than ever before.
"He said they're debuting this new product called Bobcat MaxControl. He explained to me how it worked. When we got our T650 and had Bobcat MaxControl installed, it was a life changer."
From loading and unloading machines off the trailer to post digging and setting, the technology allowed Brandon to play an integral role in growing the family business at a time when demand for solar energy was peaking across the region. "I use it almost every day."
In his 15 years with Triple T, Brandon appreciates the partnership he's built with Bobcat of Albuquerque, a team that's always looking out for his family business' best interest. "I feel like we can rely on them to do their job like a client relies on us to do a job. We know that they're going to be there."
For a business that helps bring renewable energy sources to tens of thousands of Southwest residents, it's only fitting that Triple T Excavating found an innovative partner to help build solar fields.
"I hope Bobcat keeps doing what they're doing within the industry because they're definitely the top tier when it comes to power and just being innovative," says Brandon. A fitting match for Triple T Excavating, indeed.
This article was provide by Bobcat. Visit them by clicking almost any link in this story.
We'd love to keep in touch! Check us out on Facebook, Twitter and LinkedIn!