Doors are open at the new RDO Equipment Co. store in Riverside, a full-service dealership featuring equipment from manufacturers including John Deere, Vermeer and Topcon. On Wednesday, September 13, the team proudly opened the store to celebrate its Grand Opening, an event that included a ribbon cutting, store tours and lunch.
Store Highlights
The Riverside store is at 20 Iowa Avenue, in the same footprint as the previous store. The new building's site was chosen to keep the prime location that offers easy customer access, and plenty of space for parking and equipment. At well over 40,000 square feet of space, it's one of the top 10 largest RDO Equipment Co. facilities.
One of the highlights of the new store is the addition of Vermeer equipment, parts, and service. The former RDO Vermeer location in Fontana moved to the Riverside space to offer customers more solutions under one roof.
Led by Riverside team members, the tour highlighted all areas of the new store, including the 3,500-square-foot retail area, as well as offices, small meeting rooms, and large conference rooms. Also featured were the 11,000-square-foot parts warehouse and mezzanine, and 30,000-square-foot, 18-bay service shop.
The Riverside store was built with several special features and unique design choices. Interior finishes are made of low-emitting green materials to improve indoor air quality. A fan system in the shop and parts warehouse continually circulates air through the spaces without air conditioning and offers cooling to offset the California heat.
Along with unique aspects of the Riverside store, the team pointed out some of the hallmarks of new RDO Equipment Co. buildings, including LED lighting, and in the service shop, overhead doors with full-view glazing panels to allow maximum natural light and a drive-through, open air wash bay.
Impacting Customers and the Community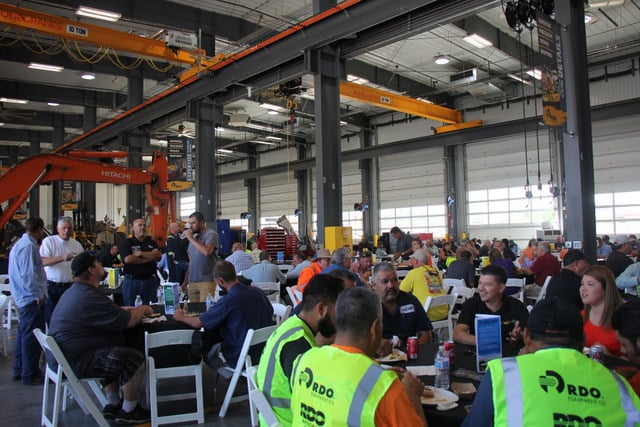 A customer appreciation luncheon wrapped up the day. Ronald D. Offutt, founder of RDO Equipment Co., and Christi Offutt, Chief Executive Officer of RDO Equipment Co. spoke to the packed luncheon crowd — filled with customers, manufacturing partners, and team members.
"It gives me a lot of pleasure to come here and spend time with our customers and team members," Ron said. He continued, offering credit and appreciation to the Riverside team for their role in making the new store a success.
"This is a dream store. And stores are not possible without a dedicated customer base and dedicated employee base," he said. "We have people who are innovative, work hard, and truly want to take care of our customers."
Christi built on Ron's message of gratitude to team members, saying, "Nothing makes me prouder than all the people here today in shirts with the RDO Equipment Co. logo. Your customer-focused commitment sets us apart and is what makes RDO Equipment Co. a company we're all so proud of."
Nearly 400 customers, manufacturing partners, and team members attended the event.
The Riverside store is the 15th RDO Equipment Co. location in the state of California and 77th in the company's network of dealerships across 10 states. Approximately 90 team members work at the store; roughly 35 of those employees are new to the area, transferring from the former RDO Vermeer store in Fontana. The store currently has open positions and anyone interested is encouraged to visit the Careers page of the RDO Equipment Co. website for details.
For more info on RDO Equipment, lick this link. Ha. We mean click, or did we?
Tags:
Dealers
,
RDO Equipment