Enclosed trailers are the ultimate mobile workshops. Rows of shelving for your precious tools. Expansive interior and exterior lighting. Temperature control. Safety and security. That big billboard-sized logo on the side promoting your trade. The ability to roll up that ramp as boss as any racecar driver heading off to their next gig. Enclosed trailers are the Cadillacs of light towing but alas fitting compact equipment into an enclosed trailer — say a mid-sized loader — was traditionally not a great way to treat your premium product.
"We found that customers would buy an enclosed landscape trailer and try and put a skid steer in there," said Mitchell Bender, president and owner of Bravo Trailers, the leader in light equipment enclosed trailers. "You can't put 8,000 lbs on a trailer that's built for lawnmowers. The skid steer will literally go through the [loading] door, and it's happened."
That got Bender and Bravo thinking. Why can't customers have the option of loading an 8,000-lb piece of equipment into an enclosed trailer? There's clearly demand for it. Bender was seeing it from customers.
"The whole Brute line of enclosed trailers started with a buddy of mine who was a contractor hauling compact equipment," said Bender. "He does a lot of work in the city of Chicago, and I sell him trailers for scissor lifts and mini cranes. He does a lot of high-rise stuff in lobbies. He was dragging around his equipment on open trailers. So, we sort of came up with this product — because enclosed trailers traditionally have failed dramatically for construction equipment."
Launched last year, Brute Trailers by Bravo are some of the beefiest enclosed trailers on the market. Thick, steely frames. Robust ramp doors. Complete customization. Specialty packages for skid steers, scissor lifts and more. The Brute line are specifically built and tested for the rigors of towing compact construction equipment and the lighter side of MEWPs (mobile elevating work platforms), and they are some of the coolest trailers for small tool-carrying earthmoving equipment I have ever seen. Of course, they are not cheap. The best products on the market never are. Roughly double the cost of a traditional open-air trailer, enclosed trailers offer way more than twice the amount of premium-level features.
Protect expensive equipment from theft, weather and vandalism
Help maintain equipment resale value with less rust, fading and weather abuse
Store equipment securely for long periods, both at the shop and the jobsite
Store all accessories and related tools inside for faster roll-outs
Create marketing opportunities as a full-time billboard both on the road and at the jobsite
Customize your ultimate haul office. Option out your trailer perfectly for your equipment trade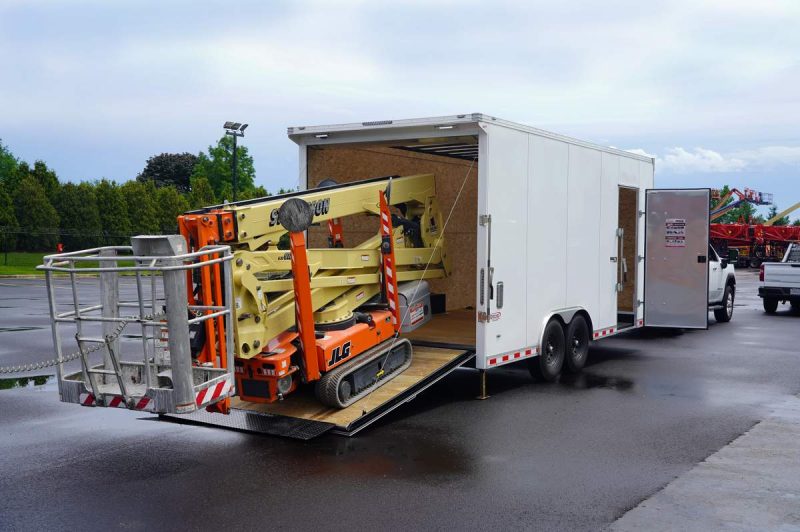 As mentioned, the Brute Series can be completely customized, but Bravo also sells specialty packages. Its scissor lift and skid steer packages are made specifically for those categories of equipment, but a customer will definitely need to sit down with a pro to go over the fine details.
"It's really about communicating with your dealer and telling Bravo what you're putting in there," said Bender. "Let us know your needs. Let us know what you're trying to accomplish, because we've seen most everything by now. We have a form called the HUHY form, help us help you. Because some companies are using these trailers for three or four different pieces of equipment, so tell us those four pieces, because you might need your tie-downs in a different spot and we're manufacturing the trailer. It's not really hard for us to weld in another couple set of lash rings. By knowing your needs and communicating it properly to the dealer, it's going to help us help you get the trailer that works."
Because there are literally hundreds of options: axles, running gear, framework, jacks, couplers, indoor and outdoor lighting, ramp doors, shelving, roofs, tie downs, vents, insulation, flooring and you get the idea. Some of the cooler options include a solar charger on the roof, embedded 30-gal fuel station, 110v electrical connectivity or a translucent roof so you can still let in light. Customers even have 12 color choices from sleek Windstar sliver to alien-looking arctic green. Heat and air are also an option.
Have questions about protecting your crew during the current pandemic? Check out our COVID-19 microsite for more resources from cleaning equipment to wearing the proper PPE.
"Like a scissors lift," said Bender, "if you leave it outside in cold weather, those lithium batteries, it takes a while for those things to warm up and have enough power to work. Every trailer comes with a little, what we call a mouse hole in the floor, and you can plug in a small heater and battery charger that either we provide or the customer provides. You keep your equipment full charged, which isn't hard to do, and it's ready to work immediately."
Correctly configured, a Brute can handle skid steers, track loaders, utility tractors, zero turn mowers, spider lifts, scissor lifts and compact tool carriers (those walk-behind or stand-on units, also called compact utility loaders or mini skid steers or mini track loaders depending on the brand).
"You can pretty much put a piece of equipment in there about up to 9,000 lbs," said Bender. "You need at least, depending on the size of the trailer and the equipment, a three-quarter ton pickup for towing."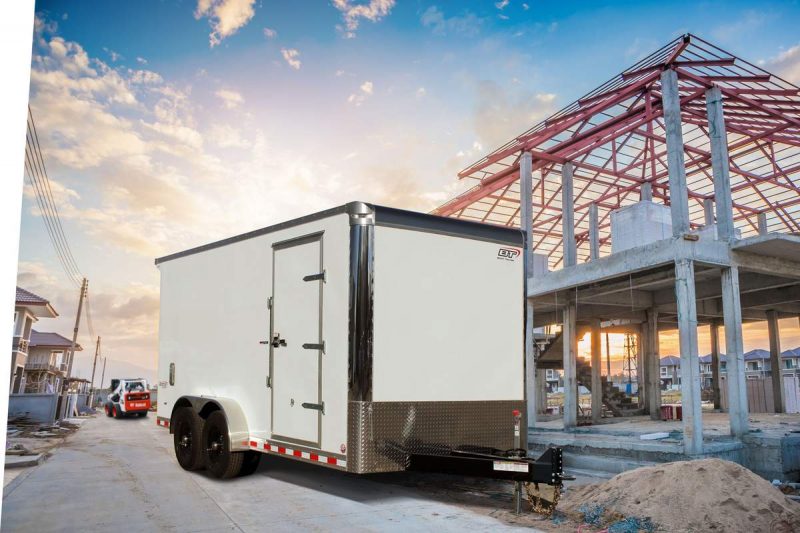 Bravo and the Brute Series can customize an enclosed trailer for a lot of different equipment and applications, but Brute is just one of Bravo's many offerings. The Bristol, Ind.-based trailer maker also makes a zillion types of other enclosed offerings — from concession to powersports trailers.
"We do general cargo. We do car and race trailers," said Bender. "I'd say in today's world, the landscape or contractor Brute trailer makes up about a quarter of our business, but car trailers are a big part of it. We do motorcycle trailers, and we do a lot of custom commercial stuff. We're in the middle of building a big batch of COVID trailers, which are basically medical offices. We do government work. We've got utilities that just sort of come to us for all their enclosed trailers. We made a whole bunch of mobile workshops for windmills where, you know, they're out in the middle of nowhere and the crews work from trucks with service bodies. We can customize a trailer for just about any job."
Keith Gribbins is publisher of Compact Equipment. Tags: Bravo Trailers, home, Trailers