It's here! Publisher and developer GIANTS Software released the Kubota Farming Simulator 22 with 11 new vehicles and tools today. It's now available on PC, Mac and consoles, is included in the Year 1 Season Pass and received a world-wide digital release with boxed PC versions available in selected regions. A launch trailer shows off the new machines and tools as well as a new feature for multiplayer fans.
Introducing the Largest Kubota Tractor to Date and More
The selection of machinery by the renowned multinational corporation that originated in Osaka, Japan, over 130 years ago, allows for tackling various day-to-day farming tasks – from tilling up the fields, to transporting produced goods: Included tractors are the Kubota M8, the largest tractor of the brand to date, as well as the M5, M6 and M7 series.

Also featured are a wheel loader, a skid-steer loader, two utility vehicles with room for your friends in the passenger seats in online multiplayer, and other machines and tools by Kubota. Meanwhile, Kubota-branded clothes for player characters are added to the virtual wardrobe. See all vehicles and tools included below.
Kubota M5, M6, M7, M8 Series
Kubota R640
Kubota SSV75
Kubota SVL97-2
Kubota RTV-XG850 Sidekick
Kubota RTV-X1140
Kubota M77
Kubota LA 2255
Adding a Fan-Request to the Virtual Garage
"By adding Kubota to the ensemble of agricultural brands within our series, we offer our dedicated fans another international big player they have been asking for", comments Thomas Frey, vice president of business development at GIANTS Software. "We are delighted to partner with this historic manufacturer whose engines power a variety of today's farming operations all over the world."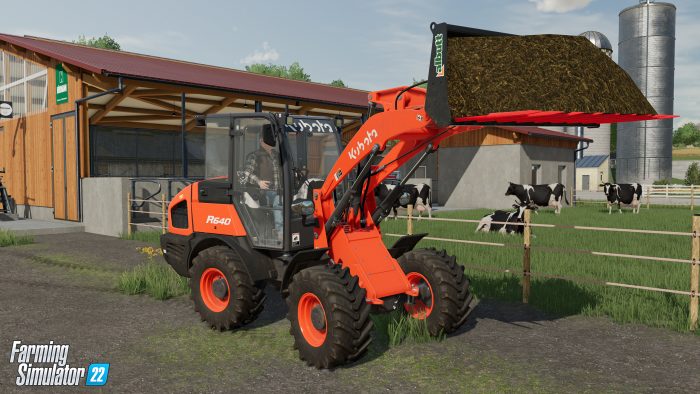 "We've been fielding inquiries from the #KubotaCountry community asking when they will be able to use Kubota equipment in Farming Simulator," says John Lee, marketing director, Kubota Tractor Corporation. "As Kubota celebrates 50 years in the U.S. this year, timing for Farming Simulator 22 couldn't be better. We continue to expand our product lines, building on our long legacy of engineering innovative equipment that delivers a range of durable, quality-built machines ready to handle tough tasks in agricultural, construction, commercial turf and residential settings. It makes sense for us to reach out to new potential customers in virtual settings to show them what our equipment is capable of."

Farming Simulator 22 is available for PC, Mac, PlayStation 5 (PS5), Xbox Series X|S, PlayStation 4, Xbox One, and Stadia. A Year 1 Season Pass is available, extending the game with even more content in the future – the Kubota Pack is included. GIANTS Software will also continue to release free content updates and user-generated content on the official ModHub. Visit the official Farming Simulator website and the GIANTS Software press area for more information.
We'd love to keep in touch! Check us out on Facebook, Twitter and LinkedIn!