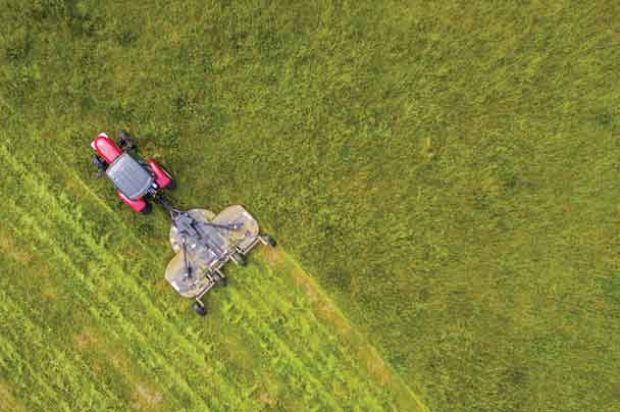 Present and Future Landscapes
According to IBIS World market research, the U.S. landscape industry is a $78 billion industry that employees nearly 1 million people. That puts us in the top tier of industries in terms of U.S. employees, and when you add in the economic impact of the supply side of the industry, it is clear that the landscape industry is an important contributor to the U.S. economy.  That is why the National Association of Landscape Professionals (NALP) works to grow and protect the industry and support the businesses of landscape contractors and industry suppliers.
So how are things looking for our industry overall? Pretty good. There is solid client demand for well-maintained commercial and residential lawns and landscapes. A spring 2016 survey conducted by Harris Poll for NALP found that 44 percent of people who have a lawn or landscape hired a professional in the past year. Outdoor living spaces continue to be popular and help grow the design-build sector of the industry and commercial and residential building is on the increase after the recession.
Many landscape contractors also sustain year-round businesses by adding additional service lines such as Christmas lights and décor, snow plowing and control or mitigating Lyme disease, Zika and other outdoor insect related problems.
Industry Challenges
However, the industry is not without its challenges. Government legislation and regulations put pressure on landscape contractors in every aspect of their business — from overtime rules to OSHA and DOT mandates, from green building codes to H-2B restrictions and from pesticide to fertilizer bans. Professionalism in the industry is one of the keys to lessening some of these pressures by demonstrating that the industry's companies are committed to safe workplaces, committed to professionalism through certifications like Landscape Industry Certified, Certified Arborist, Certified Snow Professional, ASCA Certified and others and committed to the use of Integrated Pest Management practices.
However, increasing the professionalism of the industry through certification and education isn't enough to stop the tide of over-reaching or harmful state, local and federal regulation. It requires constant monitoring and action to help educate lawmakers, present accurate science and work together to steer important issues in a way that benefits the industry.
NALP invests extensive time and effort into monitoring and campaigning for positive outcomes on our top issues including H-2B, fertilizer and pesticide bans and restrictions and water quality and quantity issues. In the past year, we have seen wins on H-2B with the inclusion of the returning worker exemption and regulatory relief measures, however, the Department of Labor keeps the battle going every year to limit the number of H-2B workers, making the program hard to use.
We have also been working at the state and local level to defeat bans of neonicotinoid pesticides and glyphosate, to get industry representation on state pollinator task forces and to stop gas-powered leaf blower bans.
Promoting the Industry
With each passing year, the barrage of communications on digital, social and traditional media means that it is more important than ever to cut through the clutter with positive messages about professionally managed landscapes. Many of the industry's groups and associations are working to promote positive messages to the public. At NALP, we recently launched LoveYourLandscape.org, a consumer website with helpful information from the pros about all aspects of landscape and lawn care, helping to correct and dispel misinformation to increase the demand for landscape and lawn care services. LoveYourLandscape also has a strong social media component on Facebook, Twitter, YouTube and Pinterest.
We are also engaging in a national media relations campaign to raise the visibility of the industry and drive business. It is our industry's "Got Milk" campaign and is managed by NALP's Industry Growth Initiative (IGI). The IGI is supported by landscape contractor and industry supplier contributions. Many national industries run similar campaigns like the "Edible Incredible Egg" and "Beef. Its what's for dinner." It is necessary for everyone to come together to support the growth of the industry. There are more and more choices about where consumers spend their money, and we have to push ourselves to the top of their list.
Working in Our Communities
We are always impressed by the amount of philanthropic service landscape contractors do each year in their communities. At NALP, we celebrated 20 years of Renewal and Remembrance this year which brings 400 landscape and lawn care pros and their families to Arlington National Cemetery each year to help rejuvenate the turf, install cabling and lighting protection of trees, as well as perform irrigation and landscape projects. We want to help tell the story of all the amazing volunteer projects that are being done throughout the year so we recently launched Landscape Professionals Advance America to showcase volunteer projects and help the public understand the role that landscape professionals play in their communities.
The Future of the Industry
The only thing that is certain in the long run is change. Baby boomers are the biggest residential lawn and landscape clients. As they age out, the industry needs to be looking to the future. As we, like all industries, chase millennials, we know a few things about them. They are into experiences much more than appearances, so we need to market the experiences that stem from managed landscapes, and they are also very environmentally conscious so we need to let them know that our industry is the first line of defense in caring for the environment.
We need to bring millennials and the younger generations into our industry as employees and company owners. We are doing that through the National Collegiate Landscape Competition that we hold every spring with 800 of the best and brightest college students who compete in nearly three dozen skills events and interview for jobs with top companies. We are also focused on bringing people into the industry through public relations and marketing campaigns.
We are part of a great industry with many associations, non-profits and supplier companies that are working to grow the industry and support it, but we can't do it alone. We expect things to stay on a similar trajectory in 2017. Our industry is on a path of moderate growth, and client demand is solid but there is room for improvement. We have to be vigilant in protecting and nurturing the industry, and we invite landscape contractors and suppliers to join us in that effort.
Lisa Schaumann is the director of communications for the National Association of Landscape Professionals.