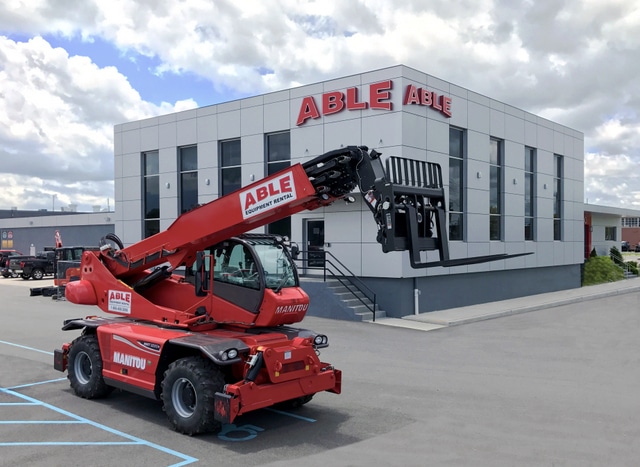 Manitou, a world leader in all-terrain material handling equipment, recently welcomed ABLE Equipment Rental, Inc. to the Manitou dealer network. ABLE Equipment Rental will partner with Manitou to sell the heavy capacity telescopic handlers and rotating telescopic handlers at their 1050 Grand Blvd, Deer Park, New York and Philadelphia locations.
"We are proud to have ABLE Equipment Rental, Inc. join our Manitou dealer network," said Chris Mathijs, Manitou Americas Director of Sales and Marketing. "ABLE Equipment Rental is a major supplier of rental products to the industrial and construction equipment market and we are confident that given their track record in the market, they will provide expert sales, service and parts for Manitou equipment."
Steve Laganas, Founder and CEO of ABLE Equipment Rental stated, "We're very excited to be adding a well-respected, high quality brand like Manitou and are honored to be part of their dealer network. We look forward to a valued partnership along with offering key Manitou products and exceptional customer service to ABLE's growing list of customers."
Founded in 1996, ABLE Equipment Rental is a northeast regional leader in the construction equipment industry with locations in New York, New Jersey and Philadelphia. ABLE offers an extensive range of aerial, material handling and earth moving equipment; power generators and power distribution; mobile HVAC, lighting and air compression units; truck trailers; atrium lifts and many other types of special-purpose heavy duty equipment plus equipment service, parts, inspection, maintenance, refurbishment and transportation. ABLE is an authorized rental and sales representative for many of the heavy-duty equipment manufacturers in the United States and offers certified training in all the equipment types it rents and sells.
Tags:
ABLE Equipment Rental
,
Manitou