Magnetek Inc. recently unveiled a new line of Enrange lightweight miniature transmitters.
The mini versions retain many of the capabilities found in Magnetek's full-size wireless controls and provide an effective yet economical solution for controlling small fluid-powered machines.
"Our new line of mini wireless controls, the Flex Mini, Mini-MBT, and Mini-PGT, expands our portfolio of wireless control products so customers can choose the exact functionality, size, and style that fits their applications," said Eugene Novak, Magnetek's radio controls development and product manager. "They provide many of the capabilities and configuration options found in our full-size transmitters in smaller, lighter packages, making them easy and comfortable to use."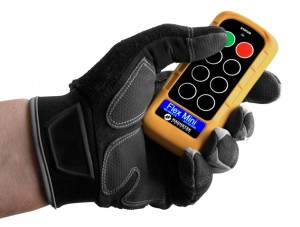 Magnetek's new Flex Mini, a low-cost, easy-to-configure wireless transmitter, is an ideal solution for applications that require simple control operations, such as grain augers, seed tenders, winches or hydraulic doors.
The Flex Mini features up to eight pushbuttons for on/off control and has a new pairing feature that increases up time. Flex Mini fits comfortably in the palm of an operator's hand, preventing fatigue during use. The Flex Mini's compact design also enables one-handed operation, freeing operators to assist with other tasks.
The ergonomically styled Mini-MBT transmitter is one of the smallest and lightest bellybox controls available on the market today.
While the new Mini-MBT fits easily in an operator's hands, similar to today's handheld gaming controllers, it offers many of the same capabilities as larger bellybox transmitters including toggle switches, potentiometers, graphic display, two-way feedback, and a fully proportional control option.
The flexible Mini-MBT offers the most configuration selections in a streamlined package for applications such as loader cranes, stick boom cranes, and tire hands.
Rounding out the mini Enrange lineup is the Mini-PGT, which incorporates the latest electronic technology in a compact, pistol-grip transmitter.
The Mini-PGT features controls found on Magnetek's larger bellybox transmitters. A strong, ergonomically designed handle provides a natural feeling hand grip and an LCD screen displays easy-to-read, detailed feedback.
Mini-PGT is an economical solution for controlling multiple proportional hydraulic valves on applications such as telescoping cranes, service cranes, and stationary concrete pumps.
For more information about any of Magnetek's advanced wireless controls, visit magnetekmobilehydraulic.com.
Tags:
Enrange
,
Magnetek
,
Remote Controls