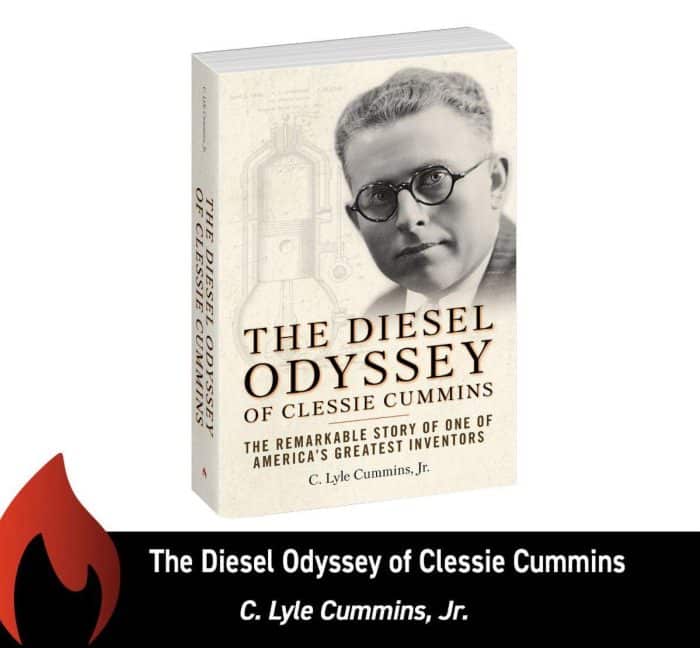 Octane Press just announced its publishing a third edition of The Diesel Odyssey of Clessie Cummins: The Remarkable Story of One of America's Greatest Inventors by C. Lyle Cummins, Jr. This edition is made in partnership with the Cummins Heritage Center in Columbus, Indiana. Lyle Cummins remained a faithful champion of creating such a center for Cummins Inc.
"Cummin's Heritage Center is a physical collection of records and artifacts and a specific location devoted to the spirit of so many who worked to create this manufacturing success whose products have powered the globe," said Lori Lindberg, Cummins Heritage Center Leader and Archivist.
This book is a true celebration of how Cummins Inc. began. In this captivating story, look back at the life and impact of Clessie Cummins as Clessie's son, Lyle Cummins, recounts memories of his father from his own youth and describes how later, as a practicing engineer, he saw other sides of the man who would become his employer, mentor, and colleague.
Lyle, through his own recollection, interviews with his father, and his extensive research, shares what garnered Clessie the moniker "Father of the American Truck Diesel." There is no piston left unpumped of the diesel inventor's life in this riveting biography.
Lyle dives deep into the life of Clessie. Lyle shows us that despite the ending of Clessie's formal education in 8th grade, Clessie remained persistent and curious throughout his life as an inventor, engineer, and businessman. Always the problem solver, Clessie generated 33 U.S. patents over 56 years. Then even in the face of declining health and retirement, Clessie continued to leave his mark when he created a new product that launched a second industry.
If you're into engines, innovation, and American history, you won't want to miss a minute of Clessie Cummins's fascinating life story.
Octane Press is set to launch this third edition to print on September 26, 2023. The Diesel Odyssey of Clessie Cummins: The Remarkable Story of One of America's Greatest Inventors will be available from Octane Press and anywhere books are sold.
We'd love to keep in touch! Check us out on Facebook, Twitter and LinkedIn!