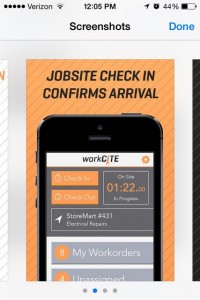 CrossFleet, a Northwest Arkansas-based mobile tech startup, is making waves in the field service industry with its field service mobile app. The "workCITE" app allows contractors (electricians, plumbers, HVAC, grounds maintenance workers, etc.) to electronically manage their service business from first call to final invoice, including: scheduling jobs, tracking work orders and managing invoices. workCITE features:
Streamlines Communication Between Dispatchers and Field Technicians: Using the app dispatchers can set up new jobs with their field technicians; communicate with technicians and update job status in real-time. In addition, after job is completed, technicians can communicate to their dispatchers to confirm.
Streamlines Communication Between Field Technicians and Customers: The app allows the field technician to easily access customer information (which is constantly updated by the dispatcher as necessary), confirm appointments, schedule follow-ups and track before and after photos.
Streamlines Billing: workCite speeds up billing and payment cycles and automatically update customer records.
CrossFleet is one of the many startup companies thriving in Northwest Arkansas. The area is home to major companies like Walmart, Tyson Foods and J.B. Hunt that have paved the way for a new generation of entrepreneurs establishing their roots in the area. Northwest Arkansas' positive economic resources and distinctive business climate have attracted startups following in the footsteps of Walmart founder, Sam Walton, and other Fortune 500 companies in the area. Over 300 startups have launched in region in the last five years, raising more than $190 million in funding and inviting a new wave of entrepreneurs that are expanding and bringing new businesses to Northwest Arkansas.
Tags:
Apps
,
CrossFleet
,
workCITE