The Tennessee College of Applied Technology in Elizabethton received a boost Tuesday (Oct. 30) when Kubota Tractor Corporation, based in Grapevine, Texas, launched a certification training program to prepare graduates for employment as Kubota technicians. Some 100 Kubota dealers, directors of career and technical education and local, state and federal elected and appointed government officials from throughout northeast Tennessee were among those attending the event held in the TCAT Elizabethton auditorium at the Main Campus in the Watauga Industrial Park.
In partnership with the National Coalition Certification Center (NC3), the Kubota curriculum will be integrated into the TCAT diesel program, according to John Lee, NC3 coordinator at TCAT Elizabethton, a designated NC3 Training Center, only one of four in the U.S. Stacy B. Schroeder, senior manager of Kubota University, Kubota Tractor Corporation, and Branden Brown, Kubota instructor, both from Kubota Tractor Corporation, Grapevine, Texas; Dan Ramirez, assistant director of NC3; Dean Blevins, president of TCAT Elizabethton; James King, vice chancellor for TCATs, Tennessee Board of Regents; State Sen. Jon Lundberg; State Reps. Timothy Hill and John Holsclaw, Jr.; Bill Darden, 1st district director for Congressman Phil Roe, also made brief remarks.
TCAT Elizabethton will soon begin a $300,000 renovation project at its former campus located at 1500 Arney Street in Elizabethton to house the Kubota training program, according to Blevins. The program will offer four levels of certification. Initially, students will receive a certificate as a Preventive Maintenance Technician, followed by Level 1 Technician Apprentice; Level 2 Technician Diploma; and Level 3, Advanced Diploma.
Level 1 includes basic electrical, hydraulics, and fuel systems, and diesel and gas engines. Level 2 consists of drive train, brakes, suspension, steering and electronic controls. Level 3 consists of heating, ventilation, air conditioning, advanced electronics and hydraulics and diagnostics. Schroeder said the Kubota training program is designed to make Kubota equipment "work ready" for the customer on Day One.
Lee said a Kubota Advisory Committee will soon be organized and hold its first meeting in December. He invited Kubota representatives to join the committee to (1) evaluate program strengths and (2) identify training areas needing improvement to meet the needs of customers. TCAT Elizabethton is governed by the Tennessee Board of Regents and accredited by the Commission of the Council on Occupational Education. TCAT Elizabethton began operation in 1963 and graduated its first students in electrical, automotive and office occupations in 1965.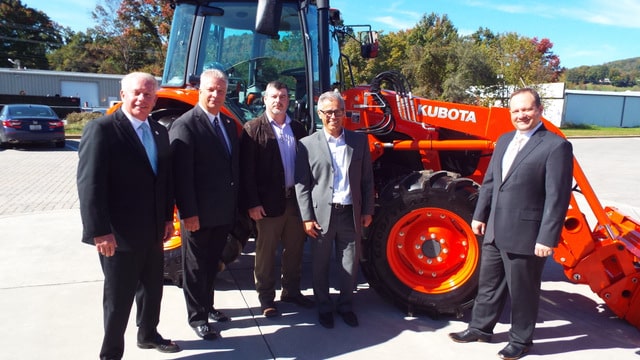 Currently, TCAT Elizabethton serves approximately 1,100 each year who commute to classes daily from Carter, Johnson, Sullivan Unicoi, and Washington counties. Training programs that may be completed in 12 to 20 months are offered in Administrative Office Technology, Automotive Technology, Computer Information Technology, Diesel Powered Equipment Technology, Industrial Electricity, HVAC, Machine Tools, Millwright Skills, Pipefitting, Practical Nursing, and Welding.
For the past several years, the program completion, job placement and licensure pass rate has been in the 90th percentile range, Blevins said. On Sept. 1, 2015, Tennessee Promise and Tennessee Reconnect scholarships began. Tennessee promise for high school seniors and Tennessee Reconnect for adults offers two years of free tuition at TCAT Elizabethton after other applicable financial aid has been applied.
Tags:
Kubota
,
Kubota Tractor Corporation
,
Tennessee College of Applied Technology in Elizabethton