KIOTI Tractor recently welcomed dealers from the United States, Canada and overseas to its annual meeting held from Oct. 29-Nov.1 at the Gaylord Opryland Resort & Convention Center in Nashville, Tennessee. Each year, the event serves as an opportunity to bring together over 500 dealers from across the globe to connect and celebrate KIOTI's dealer network, dive into industry trends and preview new product announcements.
This year's meeting, with the theme of "Dirty Work," showcased the gritty work KIOTI equipment powers through daily. "We were pleased to welcome back our dealers to gather, celebrate and network in person," said Peter Dong-Kyun Kim, president and CEO of Daedong-USA, Inc. KIOTI Tractor Division. "KIOTI continues to evolve with the industry, and we are excited to continue exploring new product lines that bring value to new and trusted customers, such as our compact construction line and diesel-powered mower models. We hope the experience prepared our dealers to elevate their business and continue their 'dirty work' into 2023."
Highlights of the meeting included a welcome reception Sunday evening followed by a variety of educational sessions and new product overviews on Monday. On Tuesday, dealers and their guests gathered for KIOTI Fest – a daylong event with equipment displays and training sessions, games and Nashville-themed activities. The meeting closed with an awards banquet honoring top-performing dealers and ended with a private concert from Trace Adkins.
Welcome Reception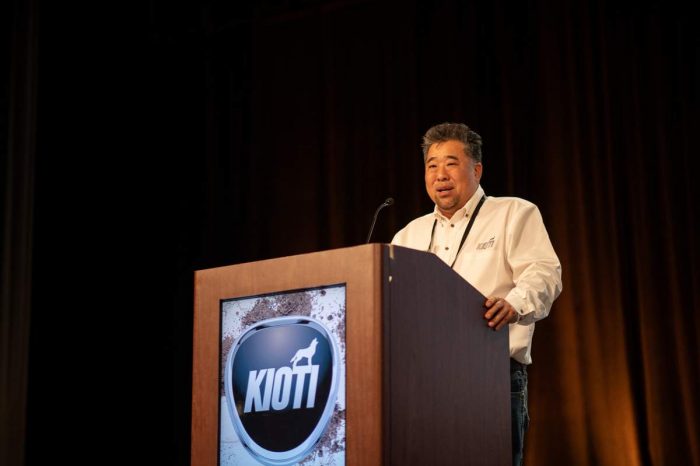 The dealer meeting kicked off Sunday evening with a welcome reception recognizing new dealers, celebrating dealer milestones, and honoring special guests from Korea.
Educational Sessions
KIOTI dealers reconvened on Monday morning for a day filled with guest speakers and education sessions aimed to equip the dealers with the tools and resources to help them excel in their businesses.
This year's general session featured comedian and emcee Adam Christing along with keynote speakers Dr. Anthony Chan and Kirk Gibson. Returning to the stage, former JPMorgan Chase & Co. Chief Economist Dr. Chan highlighted key variables including the lowest unemployment rate in 50 years, an increase in the manufacturing sector and high retail sales, all signaling optimism for the global economy despite the threat of an upcoming recession. Speaker and coach Kirk Gibson then provided best practices on how to capitalize on KIOTI's strong core company values and powerful dealer network to create a winning business model for dealers across the country.
Before afternoon sessions kicked off, Trace Adkins, an American country music singer and actor, graced the stage for a moderated, one-on-one Q&A session. As a long-time KIOTI fan and owner, Trace knows KIOTI's equipment is built to last and has purchased several tractors over the years. When asked, "why KIOTI?", Trace shared, "My career is singing – I've worked in the music industry for years and I love my job – but my passion has always been farming. Working on the land and staying true to my roots reminds me of my father. Years ago, James Little (Eastern Regional Sales Manager, KIOTI Tractor) found my father's 641 Ford Workmaster and helped me restore it to its former glory. That kind of commitment and passion is why I remain a loyal KIOTI customer." To celebrate Trace's commitment to the brand, KIOTI is gifting him the first compact track loader from the company's new compact construction line.
Throughout Monday afternoon, breakout sessions provided dealers a deep dive into some of KIOTI's newest product developments, including the new CK/DK Series, HX Series, diesel-powered ZTR (ZXD) mowers and more. KIOTI also shared their plans to explore electrical platforms for several of their product lines, and interest in expanding their compact construction line.
KIOTI Fest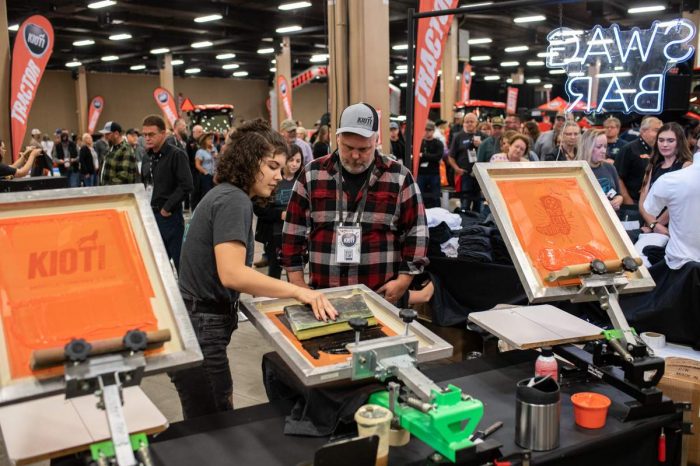 On the meeting's final day, dealers experienced KIOTI Fest, an all-new, day-long, trade-show-style event. Dealers were among the first to see — and experience — many of KIOTI's new products including the HX series, ZXD diesel mower, the new compact construction line (skid steer and compact track loader), and the new CK/DK series tractors. Alongside the new products and equipment, dealers participated in in-depth equipment training sessions, games and Nashville-themed activities.
Awards Banquet
The dealer meeting concluded in downtown Nashville at the Wildhorse Saloon with a banquet honoring the company's top dealers with awards to commemorate their 2021 success. Recognitions were also given to KIOTI's oversees special guests, including dealers from Germany. The evening concluded with a private dealer concert from Trace Adkins.
You love dealer news. Can't get enough, right? Well, click here for more. Like, lots more. Tags: Dealers, Kioti