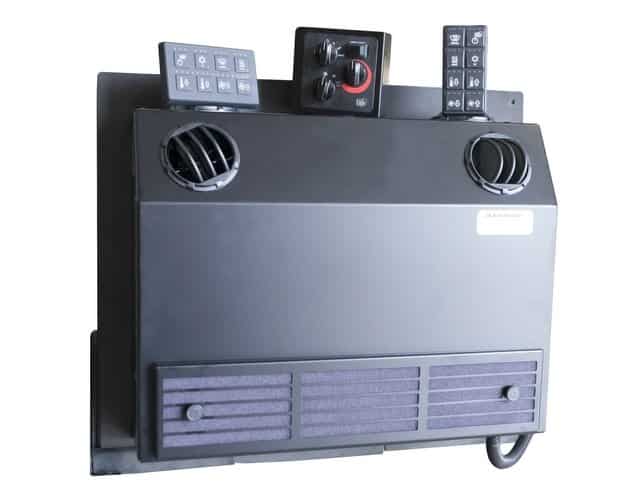 Kenway Engineering Inc. of Fairmont, Minn., has introduced a flameless HVAC unit for off-road construction equipment unlike any previous hydraulics-based operator cab climate control systems. The Kenway 9067 Series is the product of four years in-the-field use, both as OEM and retrofit equipment.
Ideal for off-road construction equipment at jobsites that restrict or prohibit heaters running on propane or diesel fuel, the Kenway 9067 Series can be installed as a split unit system or as a self-contained model about the size of a small window air-conditioner. As a self-contained unit, Kenway 9067 Series installation requires a rectangular opening in the cab wall, four hose connections and a single electrical hookup.
Flameless means hydraulic
Kenneth Detloff, co-owner of Kenway Engineering, said, "People in this industry have been looking for a better solution than what's been available. More jobsites are requiring flameless solutions, and flameless means hydraulic. We have the solution. It's available right now."
Detloff said that in addition to its reliable performance, the Kenway HVAC unit also offers low cost of ownership. "There is no hydraulic oil reservoir or filter in our system to maintain, which eliminates those regularly scheduled service steps."
Rey Carlson, Kenway's chief engineer, said the Kenway heat system has carefully designed hydraulic circuits that protect the pump, valves, and seals from damage caused by oil breakdown and pressure and flow fluctuations. "The hydraulic power we use is only used to heat the cab, so our system has no thermal impact on the crane's oil reservoir."
Since the Kenway 9067 Series does not rely on engine heat to run an antifreeze/coolant-based HVAC system, the unit works just as well with cooler-running EPA Tier 4 engines as it does with pre-compliancy engines.
Detloff said, "One customer told me his Tier 4 engines were only putting out about 100 degrees (Fahrenheit) at the engine, and only 66 degrees at the heater fitting. You'll never heat a crane cab in northern Canada with those coolant temperatures. On the other hand, our hydraulic units can output 27,000 BTU per hour at idle. The hydraulic oil in our heat circuit can go as high as 205 degrees. Canadian crane operators in the dead of winter actually turn our heater down."
Adaptable, efficient, smart
The system is highly adaptable for a wide variety of heavy equipment. Kenway Engineering can design units to suit any OEM interior cab scheme, and the compact size of the hydraulic drive unit can fit just about anywhere.
Kenway's own engineering department will work with any manufacturer to create an OEM design perfectly matched to its branded interior cab scheme, from custom painting in Kenway's state-of-the-art finishing center down to the selection of matching control panel switch orientation, style, labeling and icons.
Tags:
HVAC
,
Hydraulics
,
Kenway Engineering