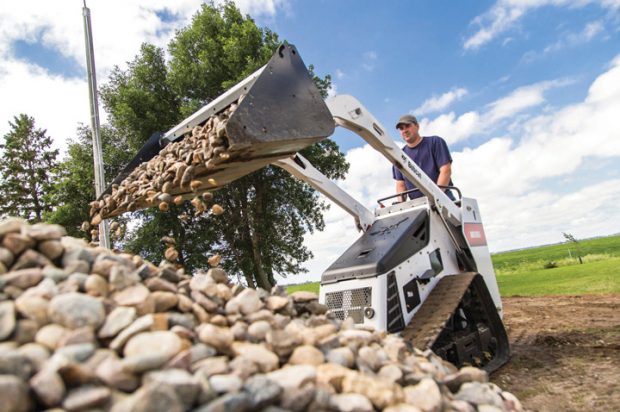 Growing One Machine Category at a Time
First off, thanks to all the manufacturers that participated in the fifth-ever Compact Equipment Spec Guide. This 124-page canon of compact machinery (our biggest yet) required a lot of research, and a lot of that legwork came from the equipment manufacturers who provided us the information. We couldn't do it without the help of the Cases, Cats and Kiotis of the world.  Of course, the big welcoming party this year goes to compact tool carriers — those nimble, attachment-takers from the likes of Toro and Ditch Witch.
Compact tool carriers (also called mini skid steers and compact utility loaders, depending on the brand) are some of the smallest attachment-using machines on the market. Equipped with tracks or tires, diesel, gas or electric engines, walk-behind or stand-on platforms, compact tool carriers can wield a multitude of non-hydraulic and hydraulic attachments: buckets, blades, snowblowers, brooms, breakers and even tiny backhoes.
With that addition, the magazine overall is now divided into six main sections: 1) skid steers (pages 20-43); 2) compact track loaders (pages 44-61); 3) compact excavators (pages 62-85); 4) compact tractors (pages 86-95); 5) utility vehicles (pages 96-107); and 6) compact tool carriers (pages 108-116). Manufacturers are listed in alphabetical order, and each listing has a product summary, photo, advice and list of essential model specifications (everything from bucket breakout force and boom lift orientation to engine power and operating weight). Contact information is provided for each listing as well, so you can continue your journey over the phone, online or with your local dealer. We're so pleased with the 2016 version of the Spec Guide, we're thinking about including more specs and more machine categories in future annual issues (compact wheel loaders next year?). Let us know your thoughts.
This year's version is designed as a 12-month reference guide, so find a handy place to store this magazine — office shelf, glove box or maybe the cab of your favorite piece of iron. There are a ton of brands on the market, so this guide should be a great reference point to begin to compare model to model. Of course, the dealer is an invaluable resource for researching and test driving compact machinery, but before you go, ensure you bulk up on brands, technologies and specifications with Compact Equipment's 2016 Spec Guide.