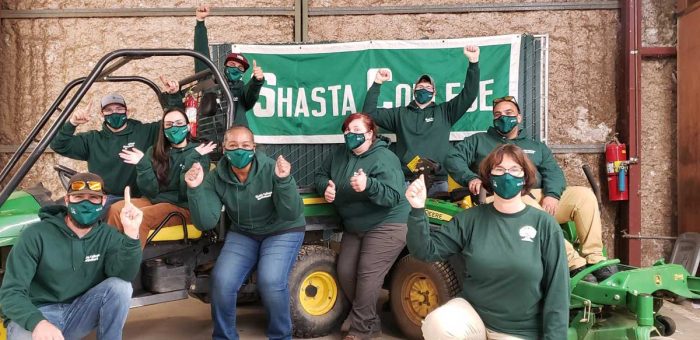 John Deere crowned a new champion at the 2021 National Collegiate Landscape Competition (NCLC), announcing that Shasta College won the 'Team Spirit Photo Contest' and will be awarded with a $1,000.00 prize. In recent years, John Deere has helped to select a winner of the 'Best Cheer Award' at NCLC. With this year's event going virtual, John Deere and the National Association of Landscape Professionals worked to shift the competition to a photo contest to ensure school spirit could still be honored among this year's landscaping and horticulture students.
"As a Gold Sponsor of the 2021 NCLC, we were excited to present a new way to promote school spirit through this year's photo contest," said Nick Minas, go-to-market manager, John Deere. "The passion seen through Shasta College was notable and we're proud to offer these students a reward that will help their landscape and horticulture programs grow."
This year's virtual event included over 15 student workshops, a career fair, and industry-related challenges for students to compete in. John Deere was the lead sponsor for this year's compact excavator quiz, testing students with a series of questions and/or problems pertaining to the safety, maintenance, operation, and key machine characteristics of a compact excavator.
We love awards! (Who doesn't?) Anyway, click here to see articles from our award-winning June 2018 issue where we visited manufacturers and test drove all sorts of equipment.
Tags:
John Deere
,
National Association of Landscape Professionals