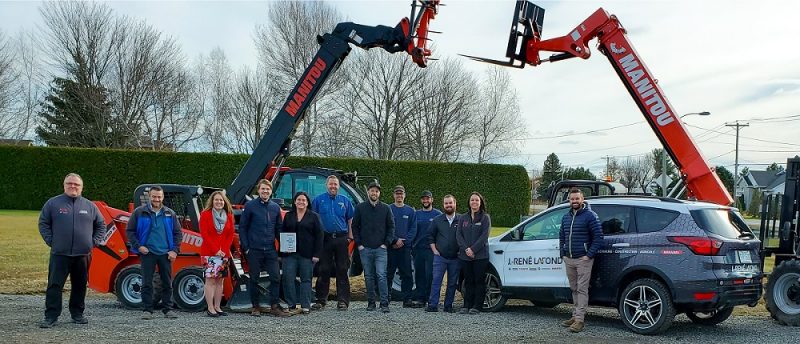 Manitou Group is pleased to present J. Rene Lafond located in Mirabel, QC, with a Manitou 2019 Top Dealer Award, as well as the overall Top Dealer Award from Manitou North America. This prestigious award is based on the overall sales performance, commitment and customer support of Manitou equipment.
"It is an honor to award J. Rene Lafond as a Top Manitou brand dealer in 2019, and also the Top Dealer for Manitou North America." said Scott McGuigan, Manitou Managing Director — East. "J. Rene Lafond has done an excellent job of growing their market and is one of our most loyal partners in our dealer channel." 
J. Rene Lafond has been in business for 47 years. They started as a dedicated agriculture dealer and in 2008, expanded into industrial and construction. In 2014, they introduced the Manitou products into their offering, and are now a full line dealer for Manitou including Compact equipment.
"I am sincerely proud to receive this great honor after only 3 years managing the Manitou product sales at J. Rene Lafond. The efforts we put as a group and the expertise of every member of the team really helped us grow a solid reputation in the market for heavy equipment." said Louis Simard, Sales Manager at J. Rene Lafond "We always have the solutions for the customer in front of us, whatever the situation is. Manitou is a big part of the J. René Lafond family. Special thanks to Erick and Victor for their daily support."  
Tags:
J. Rene Lafond
,
Manitou Group
,
Manitou North America