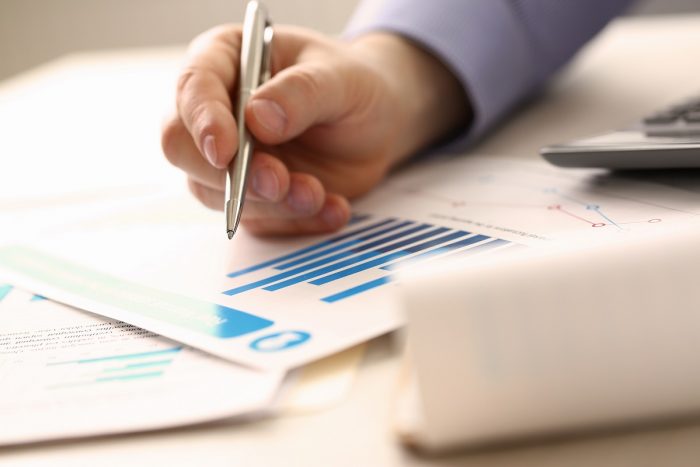 Construction input prices declined 0.5% in September, according to an Associated Builders and Contractors analysis of U.S. Bureau of Labor Statistics' Producer Price Index data released today. Nonresidential construction input prices fell 0.4% for the month.
Despite the monthly decline, construction input prices are 18.9% higher than in September 2020. Nonresidential construction input prices increased 20.2% over that span. Steel mill products experienced the largest year-over-year increase, rising 134.2%, while iron and steel prices nearly doubled, rising 96.3%. All three energy subcategories experienced significant price increases. Natural gas prices were up 120.9% compared to last year, while crude petroleum and unprocessed energy materials prices increased 89.1% and 84.8%, respectively.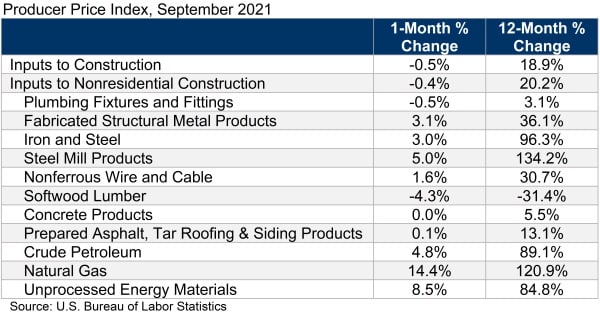 "Despite the monthly decline in construction input prices, contractors should expect elevated and likely rising prices for months to come," said ABC Chief Economist Anirban Basu. "In addition to ongoing, global supply chain disruptions, which in many instances are worsening, transportation costs are surging due to rising fuel prices and insufficient capacity. This will put additional upward pressure on input prices which could cut contractor profit margins; according to ABC's Construction Confidence Index, contractors' profit margin expectations have worsened in recent months.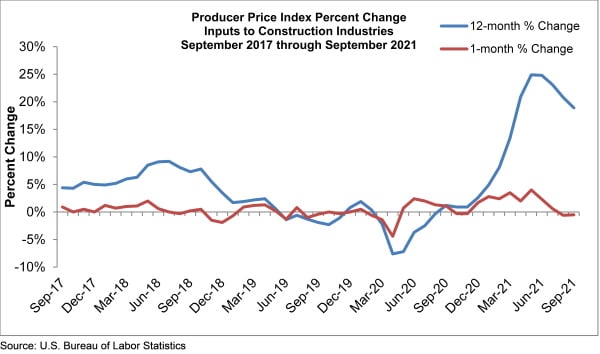 "For months, many economists, including certain Federal Reserve officials, have been indicating that inflation is merely transitory," said Basu. "This statement is likely correct, but elevated prices have already lingered far longer than those economists had anticipated. The recent surge in energy prices strongly suggests that contractors, consumers and other economic actors will be wrestling with inflationary pressures for much of 2022. "Contractors should always be careful with respect to their contractual obligations," said Basu. "But the current period is one that requires greater care and caution than usual. Input prices are likely to remain volatile, and shortages of key materials and equipment will continue to result in project delivery delays. Accordingly, contractors need to be especially focused on limiting their financial and legal exposure during a period sure to be associated with price volatility and supply chain challenges."
Tags:
Associated Builders and Contractors