Yesterday, President Biden announced the American Jobs Plan, unveiling a package of more than $2 trillion in infrastructure and economic recovery for America's utilities (roads, bridges, water, sewer, internet and beyond). The funding would rely heavily on a significant hike of the corporate tax rate (from 21 to 28 percent). That's quite a bump, considering it would also be raising taxes on the construction companies it's trying to help. How did the construction community react? Read for yourself.
Associated General Contractors of America,
The chief executive officer of the Associated General Contractors of America, Stephen E. Sandherr, issued the following statement in reaction to the unveiling of President Biden's new infrastructure proposal as well as related plans to raise taxes and impose new regulatory and labor requirements on employers:
"We greet the President's new infrastructure proposal with mixed emotions. On one hand, the President is right to focus on rebuilding a broad range of aging and overburdened infrastructure and modernizing buildings. These investments will create a significant number of new construction career opportunities that traditionally pay well above jobs in other industries. Unfortunately, the President seeks to saddle these new investments with a host of labor and regulatory measures that will hurt workers and offset many of the economic benefits of these new infrastructure investments.
"For example, by seeking to couple his new infrastructure proposal with the dangerous PRO Act, the President is signaling that infrastructure investments must come at the expense of labor harmony and economic certainty. That is because the PRO Act will give organized labor unprecedented abilities to disrupt all manner of economic activities, at any time, to meet their broader objectives. His justification for seeking to impose the labor measures in this proposal, that construction workers have been traditionally underpaid, is clearly wrong as even a cursory check of data tracked by the Bureau of Labor Statistics would have confirmed.
"The President's proposal to finance the new investments primarily via an increase in the corporate tax rate will likely undermine many of its economic benefits. That is because these new tax hikes will limit the ability of many employers to invest in capital improvement that will provide additional career opportunities for construction workers. The tax hikes will also undermine firms' ability to investment in new equipment and technology and will limit America's global competitiveness.
"The most important aspect of the President's proposal is that it once again serves as a reminder that we need to boost investments in our infrastructure. Our expectation is this proposal will prompt an important debate about the best way to make, and fund, those investments in a way that fully supports economic growth. We look forward to working with members of Congress in both parties to craft a bipartisan infrastructure proposal that will do as much to boost economic growth as it does to improve civil works and make our structures more efficient."
Associated Builders and Contractors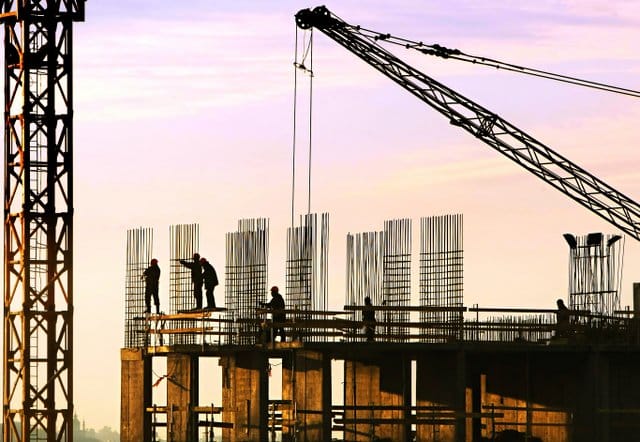 Associated Builders and Contractors President and CEO Michael Bellaman issued the following statement responding to President Biden's announcement of a multitrillion-dollar infrastructure plan:
"Our nation is in strong bipartisan agreement that America's crumbling roads, bridges, schools and water, energy and transportation systems are in desperate need of modernization in order to accelerate our strong economic comeback and keep our country competitive in a global economy. ABC continues to advocate for any plan to modernize our nation's infrastructure to include policies to reduce costly and ineffective regulations, ensure fair and open competition, address the construction industry's skilled worker shortage, embrace new technology, and pursue value-adding, public-private partnerships that can help bring critical construction projects to market in a more economical and efficient manner. Unfortunately, much of the Biden plan ignores ABC's infrastructure policy recommendations, while proposing tax increases on job-creating construction firms that are still recovering from the effects of the COVID-19 pandemic.
"While policy details are still emerging and the infrastructure plan will need to go through Congress, it is disappointing to see the Biden administration support the use of divisive government-mandated project labor agreement schemes on taxpayer-funded construction projects. Government-mandated PLAs exclude more than 87% of the U.S. construction workforce from rebuilding their communities and benefitting from well-paying middle-class jobs created by taxpayer investments in infrastructure. It also means taxpayers will spend 20% more per mandated PLA project, which results in fewer infrastructure improvements and less job creation to help America rebound from the pandemic's economic devastation. Coupled with a call for Congress to pass the Protecting the Right to Organize Act, it is clear the Biden administration's infrastructure plan is designed to help powerful donors and special interests instead of all Americans.
"It is difficult to support an infrastructure plan that excludes the 87% of the workforce that chooses not to join a union and promotes the PRO Act, which eliminates workers' freedom to choose how to pursue their career dreams, places their personal information security at risk and legalizes intimidation and secondary boycotting against a company's supply chain and customers.
"We encourage President Biden to work with Congress and stakeholders to pursue a bipartisan path forward that would efficiently and effectively modernize our infrastructure, drive economic growth, welcome every construction professional and deliver value to all taxpayers. ABC will continue to work with Congress and the Biden administration to improve the infrastructure plan."
National Utility Contractors Association
The chief executive officer of the National Utility Contractors Association (NUCA), Doug Carlson, issued the following statement about the Biden Administration's "The American Jobs Plan":
"President Biden's infrastructure plan has some very good elements in it, such as the $111 billion to increase spending on improving our nation's water infrastructure systems. The $100 billion for both broadband improvements and building a resilient electric grid will deliver long-term improvements for millions of Americans.
"However, our industry joins the American business community in being wary about how the President is going to pay for all of this with corporate tax increases on the very companies that create new jobs. Congress has its work cut out on reconciling this plan with economic and fiscal realities."
"The best thing that can be said about the plan is that the Administration and Congress, and both parties, are at least talking about infrastructure. Our deteriorating water and wastewater systems, crumbling highways, and insufficient broadband capacity can't be ignored forever."
A comprehensive list of the utility construction industry's 2021 legislative infrastructure priorities can be found here or be reviewed online at www.nuca.com, under Media/Comment Letters, released March 3, 2021.
Have questions about protecting your crew during the current pandemic? Check out our COVID-19 microsite for more resources from cleaning equipment to wearing the proper PPE.
National Association of Home Builders
Chuck Fowke, chairman of the National Association of Home Builders (NAHB) and a custom home builder from Tampa, Fla., issued the following statement on President Biden's infrastructure proposal:
"NAHB commends President Biden for proposing a much-needed transportation and infrastructure plan for our nation that notes the important role that housing contributes to building strong communities. With the nation facing a housing affordability crisis, the plan recognizes the urgent need to build more affordable housing and retrofit existing homes to increase energy efficiency. NAHB looks forward to working with the White House and bipartisan leaders in Congress to advance an infrastructure package that addresses the nation's housing affordability challenges and pays for it in a way that will not jeopardize future economic growth."
International Bridge, Tunnel and Turnpike Association
The International Bridge, Tunnel and Turnpike Association (IBTTA), the worldwide association for the owners and operators of toll facilities and the businesses that serve them, released the following statement following President Biden's announcement detailing his American Jobs Plan:
"President Biden's infrastructure package unveiled today has spurred another round of discussion in our country about the cost and benefits of investing in our nation's roads, bridges, tunnels and highways. Today is the start of what will be a robust debate about the best path forward; but rest assured the cost of doing nothing and kicking the can further down the road is enormous.

"Investment in our nation's infrastructure is an investment in America and our people. It boosts our economy and ensures global competitiveness while improving safety and quality of life for all Americans. President Biden's proposal to spend $115 billion on repairing bridges, highways and roads, $20 billion on road safety and $85 billion to modernize transit systems is a welcome sign of the administration's desire to strengthen our nation's transportation infrastructure.
"Tolling is a powerful and effective tool that has been used to fund and finance more than 6,000 miles of the most productive and heavily traveled highways in America. Giving states greater flexibility to use this valuable tool to meet their individual transportation needs is an important part of solving America's infrastructure investment crisis.
"As transportation and tolling innovators, IBTTA and its members stand ready to be part of the solution by investing in our infrastructure, strengthening our economy, and improving the lives of all Americans as we move out of the year-long pandemic," Compton said.
Keith Gribbins is publisher of Compact Equipment.
Tags:
Associated Builders and Contractors
,
Associated General Contractors of America
,
National Association of Home Builders
,
National Utility Contractors Association