At first glance, the Safety Head may appear to be a barricade or an over-sized safety cone. However, upon closer inspection, it is apparent that the bright orange, reflective piece of equipment at the jobsite is actually a brand new, one-of-a-kind New York portable toilet rental.
Charles W. Howard, the president and CEO of the iconic brand Callahead, set out to create a construction portable toilet that would be extremely versatile and stand out on the jobsite to keep workers safe. The result is the Safety Head, adding value that every construction site in New York will deem necessary.
Whether it's the development of a high-rise building, a renovation of the underground NYC transit system, a repair of a bridge over the Hudson, or highway construction on Interstate 278, the Safety Head porta potty will be there, ready to provide comfortable restroom facilities for the entire crew, no matter how long the project takes. The steel lifting hoist included with this New York portable toilet rental was designed so a crane can effortlessly connect to it and safely transport the Safety Head port a potty to its desired location.
Once the Safety Head is in place, it is sure not to be missed. From the vivid orange exterior color to the strategically placed red, yellow, and white safety reflectors, it's clear that this New York portable toilet rental is on a mission to keep crews safe — especially during tunnel, bridge and road construction when the ability to be seen in dark environments and high-traffic areas is crucial. There is a reason construction safety equipment, such as vests, cones, and hard hats, is highly visible, and a construction portable toilet is no exception. Callahead's Safety Head delivers two functions in one rental, adding more value to the jobsite.
It is not just the outside of this NYC road construction port-a-potty that is sure to impress the masses: the interior is equally notable. The surprisingly spacious design is sure to excite the job site crew, and they will be equally thrilled about the option of using a separate non-splash urinal that is directed away from the toilet seat. When nature demands the toilet seat usage, the experience will still be comfortable. Workers will be able to hang their work belt or hardhat on the built-in hook as they enjoy the full-sized seat. They will also be appreciative for the covered toilet paper dispenser that ensures clean wiping materials.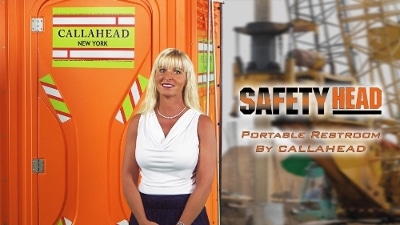 Since odor is always a concern in a construction porta potty, the Safety Head is equipped with extra features to help the smell dissipate quickly. This includes a vent pipe directly connected to the urinal, floor and ceiling wall vents, and a smooth interior that won't absorb any odor. The job site crew will also appreciate the natural light that seeps in through the translucent roof, as well as the lockable door that alerts others that the New York portable toilet rental is occupied. The Safety Head was built to withstand heavy usage and contains an impressive 70-gallon tank, which all but guarantees it won't get full between scheduled cleaning visits by Callahead.
Speaking of cleaning service, this is another area where Callahead shines. They are known for their meticulousness in keeping both their portable toilet rentals and their delivery trucks in pristine condition. Callahead offers add-ons too. This includes a waterless hand sanitizer dispenser, GoJo hand cleaner to help remove acid and cement, Headliner toilet seat covers, and the Headmist time-released air freshener. True to the Callahead name, all of these items will be stocked and maintained at each scheduled cleaning service
When Charles W. Howard designed the Safety Head, he wanted to create a New York portable toilet rental that would offer a first-class porta-potty experience while eliminating job site accidents. To no surprise, this is exactly what he did and more. The Safety Head is not only in high demand throughout New York. It is one of the most pioneering construction portable toilets ever designed. Its unparalleled versatility allows it to be placed virtually anywhere, saving valuable time at the job site while its reflective exterior protects construction crews and the public from accidents. Clearly an invaluable addition to any job site.
Callahead has been equipping New York job sites with groundbreaking construction portable toilets since 1976. They are currently offering the Safety Head for same-day delivery in all of New York City, Westchester County, and Long Island. From Manhattan to Montauk Point, construction workers can breathe a sigh of relief when they see the Callahead truck deliver the Safety Head to their jobsite.
Tags:
Callahead
,
Portable Toilets
,
Rental
,
Safety Head