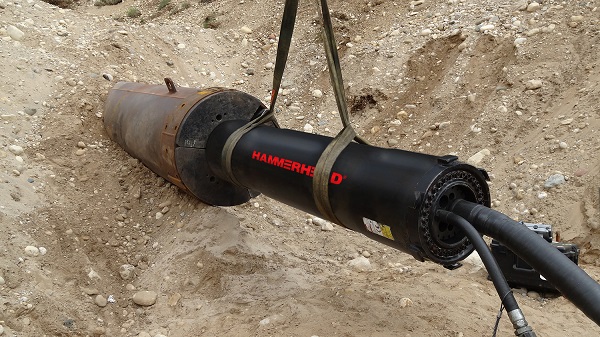 HammerHead Trenchless, a Charles Machine Works Company, has released the first model of its new XPR series of high-performance pneumatic hammers for pipe ramming and pipe bursting applications. The XPR series features a newly designed high-flow valve system that produces a more powerful impact. The first model to utilize this new technology, the 26XPR, is the most powerful pneumatic hammer in its class.
The XPR technology is a modification of the patented Air Reverse (AR) valve system standard on all HammerHead pneumatic hammers larger than 7 in. Both systems allow for the reverse function to be controlled above ground, greatly simplifying tool removal from pushing collets and burst heads, saving valuable time on the job.
The 26XPR, a 26-in. hammer, is the first model to be equipped with the performance-enhancing XPR technology. It has replaced the 24-in. AR model in the HammerHead line of pneumatic hammers.
"While our 24-in. hammer has proven to be durable and effective, we identified a need for a more versatile and higher performing tool," said product manager, Josh Hood. "By designing a system that maximizes the air flow, we were able to increase forward horsepower while maintaining the highly desired functionality of the Air Reverse feature. We chose the 26XPR to be the first model to utilize the new technology to better bridge the gap between our 20- and 34-inch AR models."
The 26XPR is capable of installing casing 24 to 84 in. in diameter and is suitable for use in drainage culverts, pipeline work, and HDD assist methods such as wash over casing installations, pipe assist or pipe extraction, and guided pilot bore ramming.
It is also effective in pneumatic pipe bursting applications of pipes ranging from 15 to 36 in. in diameter.
The hallmark of all HammerHead Trenchless pneumatic hammers, including the new 26XPR, is easy serviceability to minimize costly downtime due to tool maintenance. It features HammerHead's patented clamped rear anvil and tail bolt designs, one-piece body and striker, and high-temperature replaceable wear rings.
HammerHead Trenchless produces 11 models of pneumatic hammers ranging from 4 to 34 in., capable of ramming pipe diameters ranging from 4 to 180 in. or bursting pipe diameters from 4 to 36 in.
While the 26XPR is the first model of the new XPR series, HammerHead Trenchless plans to expand the series in the future by equipping other sizes of hammer with the high-performance technology.