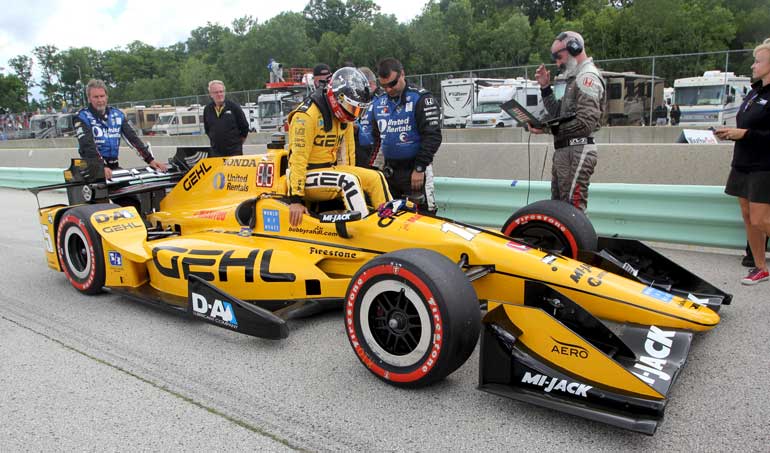 Manitou Group recently announced that Gehl was the primary sponsor of the Rahal Letterman Lanigan Racing (RLLR) Graham Rahal's No. 15 Honda-powered entry at the Iowa Corn 300 IndyCar Series race at the Iowa Speedway July 9th. Gehl was also co-primary sponsor of Rahal's entry at the Kohler Grand Prix at Road America for the second consecutive year and has increased their involvement.
"We are very excited to continue our relationship with Graham and the Rahal Letterman Lanigan Racing team at the Iowa Corn 300 IndyCar Series race," said Laurent Bonnaure, Executive Vice President, Global Sales and Marketing, Manitou Group. "Graham has been associated with Gehl for over 11 years and has developed strong relationships with our dealers, customers and company employees. We are honored to have Graham drive the Gehl/Manitou-sponsored car."
Gehl was an associate sponsor of RLLR's IndyCar Series program from 2006-2008 and again for the 2014 season. Manitou Americas, Inc. is a producer of Gehl, Manitou, and Mustang branded equipment for construction, agriculture, mining, energy industries and beyond. In addition, Gehl is in their 12th year of involvement with Graham Rahal, whom they have supported since his 2006 Atlantic Championship season where he was runner up to the champion.
"We value our longstanding relationship with Gehl and also appreciate their support of Graham throughout his career," added Bobby Rahal, co-owner of Rahal Letterman Lanigan Racing with former CBS Late Show host David Letterman and Mi-Jack co-owner Mike Lanigan. "To see our partnership extend from Road America and now to a primary sponsorship at Iowa is something we are very proud of. We look to continue to build our program with Gehl in the future and help strengthen relationships and business opportunities through their dealers and customers."
Rahal was only 38 points behind second place ranked driver Simon Pagenaud in Verizon IndyCar Series standings and ranked seventh overall heading into Round 11 of 17 at Iowa Speedway. Season highlights to date include one pole and two wins in a dominant doubleheader weekend in Detroit earlier this month. Rahal's best finish at Iowa Speedway is fourth in 2015 and he won Heat Race 2 in 2013. The Iowa Corn 300 was televised live on NBCSN on Sunday, July 9 beginning at 5 p.m. ET.
"I'm extremely excited that Gehl has come back on board as the primary sponsor for the race in Iowa," said Graham Rahal, 28. "For me this has been such as tremendous relationship that goes back so many years. It's great to see them expand their relationship with the team and put the bright yellow car on track in Iowa. I want to thank everyone at Gehl Manitou that made this possible. We will certainly do our best to make them proud."
"The Gehl/Manitou product is one we distribute in the Midwest and west coast United States," added Mike Lanigan of the business relationship between Gehl and Mi-Jack, a company he co-owns. "To have them on our team is one I am most proud and excited about. Their product range enjoys the most advanced technologies and quality in our industry. To be associated on both fronts with racing and as a dealer for Gehl/Manitou enforces the marketing commitment of both our companies. We are and will continue to be the leader in the markets we compete in."
In addition to its relationship with RLLR and driver Graham Rahal, Gehl has been active in motorsports for many years. Gehl has been the "Official Construction Equipment" of the Grand Prix of Long Beach and Road America in Elkhart Lake, WI for over 27 years. Other race venues Gehl has been involved with include the Grand Prix of St. Petersburg, Denver Grand Prix, Infineon Raceway, and The Milwaukee Mile. Gehl was also an "Official Supplier" to the Champ Car Safety Team for many years.
Tags:
Gehl
,
Kohler
,
Rahal Letterman Lanigan Racing