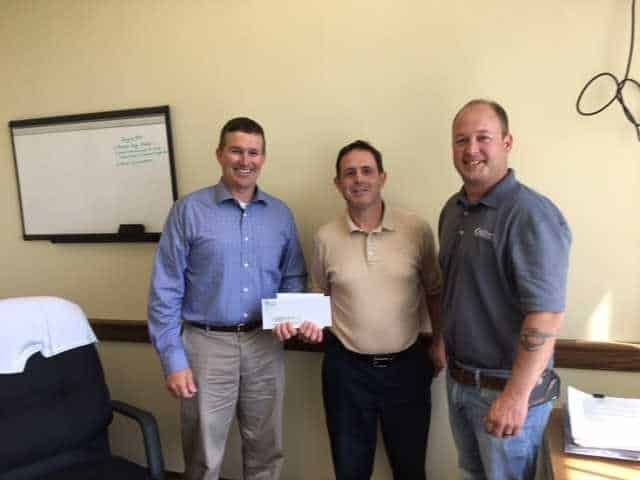 The Lebanon County Career and Technology Center (LCCTC) received a generous donation of $5,000 from B. R. Kreider & Son, a family-owned site management, excavating, and paving company based in Manheim, Pa. The check will support students enrolled in the LCCTC's Landscaping, Automotive, and Diesel programs and was presented by Brent Kreider, President, and Jason Groff, Safety Director.
Kreider and Groff met with the school's Director, Glenn Meck, and Assistant Director, Matthew Schwenk, to discuss a developing industry partnership which will ultimately serve to benefit students and meet the needs of both organizations.
"Positive relationships like this result in jobs for students, better prepared workers for industry, and improved career and technical education programs informed by experts in the field," said Schwenk. Groff will also serve on the occupational advisory committee for the school's Landscaping Program next school year.
The LCCTC offers 23 career and technical education programs open to high school students and adults. B. R. Kreider & Son was founded in 1936 by Kreider's grandfather.
For more info on B. R. Kreider & Son, click this link. It just takes a click, clicky.
Tags:
B. R. Kreider & Son
,
Friday Accolades
,
Lebanon County Career and Technology Center