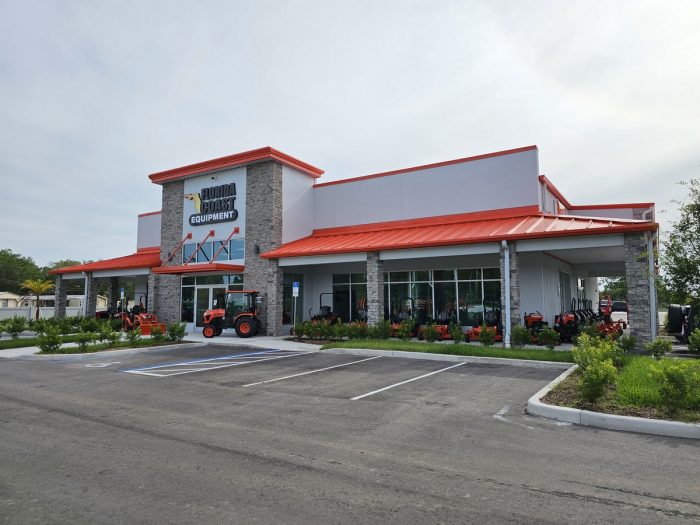 Florida Coast Equipment (FCE), the nation's largest Kubota equipment dealership, recently announced the opening of its newest location in Mims, Florida, expanding its presence to the Space Coast. This state-of-the-art dealership offers a comprehensive range of Kubota products, including parts, sales, service, and rentals, serving the communities of Titusville, Oviedo, and Melbourne. Florida Coast Equipment is dedicated to providing superior customer service and unrivaled product support by a dedicated local team of committed professionals.
"We are thrilled to open our new dealership in Mims," said Todd Bachman, President and CEO of Florida Coast Equipment. "Our investment in Mims showcases Florida Coast's unwavering commitment to our team, customers, and dedication to the great state of Florida."
The newly opened store offers the local community an extensive selection of high-quality equipment from Kubota, a brand renowned for its reliability and performance. In addition to a retail store, the facility offers comprehensive repair and maintenance services, with a knowledgeable team on hand to assist customers in finding the perfect equipment for their unique needs.
Leading the Mims location is Site Lead JB Kingsland, a seasoned industry professional with over 30 years of experience and a deep understanding of the local market.
"We are thrilled to bring our exceptional customer service and top-of-the-line equipment to the Space Coast," said Kingsland. "Our team is fully committed to delivering the best possible experience to our customers, and we are eager to build long-lasting relationships with the community."
Since its founding in 1985, Florida Coast Equipment has grown from a single store with two employees to the largest Kubota dealer in the nation with 13 locations and over 200 employees.
For more information, or to find a Florida Coast Equipment location near you, visit www.floridacoasteq.com.
Compact track loaders are the most popular category of compact equipment in America. Learn why with loads of track loader features right here.