The rising star in the field of digital construction, FJDynamics, will begin promoting its full line of digital construction products in the United States in 2023. From 2017 to 2022, FJDynamics has been continuously preparing and accumulating strength for intelligence solutions in heavy industry; and has successively launched well-received products such as 3D Excavator Guidance System and EasyDig Excavator Guidance System. In response to the expectations of many, FJD will participate in CONEXPO, the most influential industry event in North America, in 2023 as the first step to entering the market. and bringing their advanced high-precision GNSS positioning technologies, RTK Technologies, 3D Modeling technologies, and Machine control algorithms to the US market with a brand-new digital construction solution.
What Is FJDynamics' Digital Construction Solutions Comprised Of?
FJDynamics unfolds the solution from 3 layers: Physical, Software, and Management.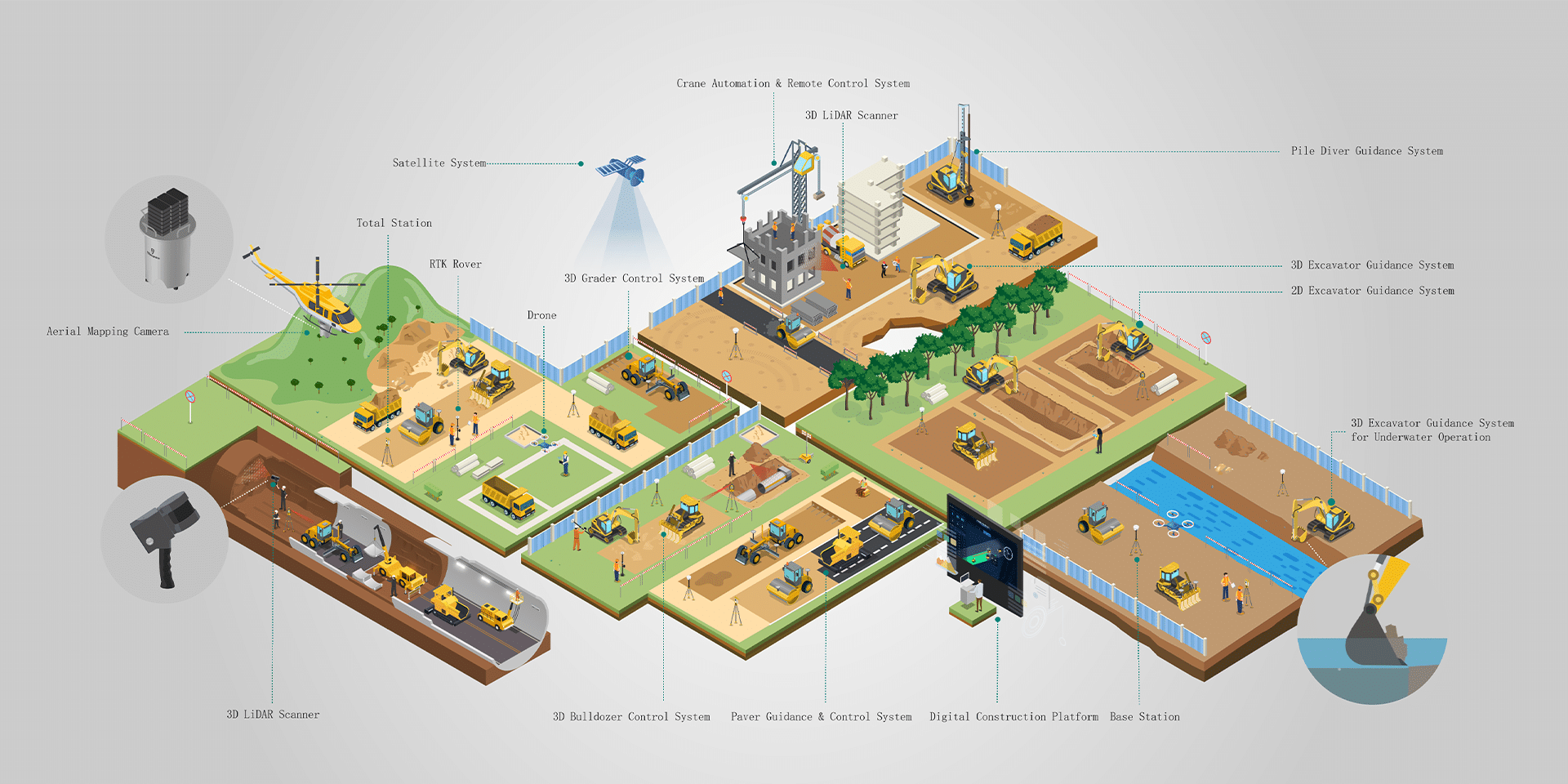 -Physical: support various needs and complex job sites
As a global robotics company, FJDynamics released its solution–3D Excavator Guidance System and EasyDig Excavator Guidance System –to digital construction in 2021. This is FJD's new accomplishment in the field of digital construction. In the wake of the increasing market share of global excavators and a shortage of skilled labor, FJDynamics is using digital technology to help construction companies better adapt to the new era.
FJD machine control systems are configured with GNSS and RTK positioning technologies and multiple sensors. They can be used to precisely control excavators, motor graders, bulldozer pavers, pile drivers, cranes, etc. They are recognized as open and compatible solutions that help operators deliver seamless workflow on job sites. The excavator guidance increases the accuracy of construction. And accuracy means efficiency. Based on GNSS & RTK antenna and multi-type sensor modules, which lead to high-precision construction, and give operators of all skill levels the ability to be more productive than ever before.
Moreover, FJDynamics also provides geospatial products for helping surveyors build a solid information foundation. Trion O1, the aerial mapper that captures 1.5 billion pixels per second; Trion S1, the handheld 3D LiDAR scanner versatile with surveying scenarios; and Trion V1, the RTK rover delivers accurate positions even in harsh environments.
-Software: process data and carry construction processes seamlessly
FJD Mapping and Surveying software process geospatial data captured by physical products efficiently, while machine control software access geospatial data and based on it, support high-precision construction and connect different systems to various job sites.
-Management: support production management and decision-making
FJD Digital Construction Management Platform* synchronizes and analyzes geospatial data and construction data. It monitors the whole digital construction process to support production management and decision-making, covering the workforce, equipment, materials, progress, etc.
Product Highlights – 3D Excavator Guidance System
The FJD 3D excavator guidance system is compatible with most major excavator models on the market and supports a wide range of bucket types. With the aid of a sensor module, the operator does not have to repeatedly jump off the excavator but can sit in the cab and get real-time feedback on the accuracy of the moving arm and bucket teeth up to 3cm. Under assist mode, the bucket and boom will operate automatically while the operator simply needs to control the controller.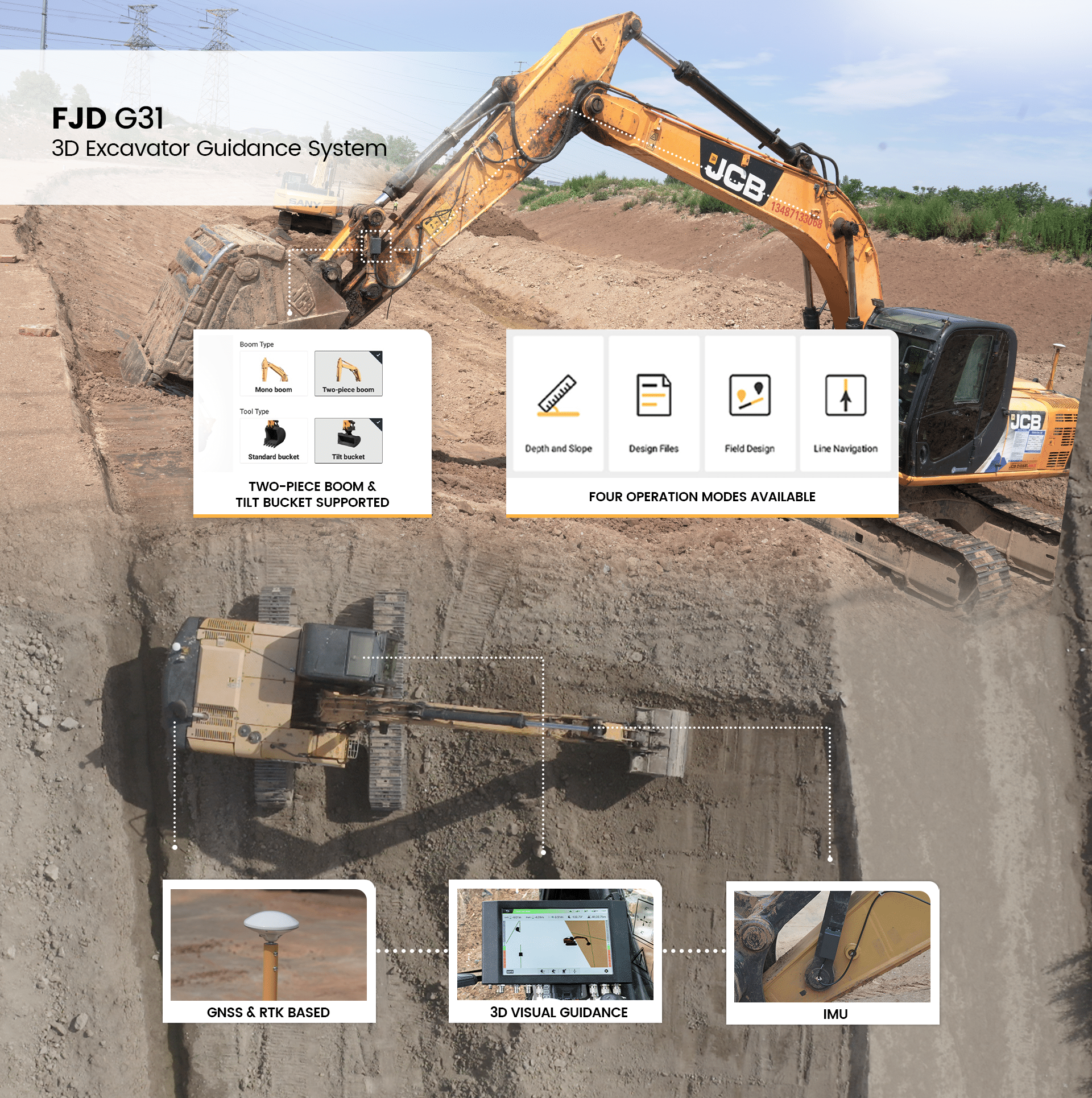 Operators can view the 3D construction images corresponding to the construction environment in real time through the software and services provided by FJD, which enables them to have a clearer understanding of the construction status on site. In terms of safety, the 3D excavator guidance system provides the E-fence function, which can ensure maximum space and personnel safety during construction.
The FJD 3D excavator system has enabled better performance in construction teams regarding fuel saving and construction time, providing higher productivity than ever before. Here are some key differences between excavator operations with the 3D excavator guidance system installed and traditional excavator operations.
>Save up to 35% of fuel per day
>Save 35% of working time
>Construction efficiency increases by up to 50%
We are still working on further energy saving, cost reduction and efficiency improvement. Different excavation sites and tasks around the world have different requirements for excavator guidance systems. To some extent, expenses on labor and time cost also affect the return on investment for companies. Most construction teams maximize their investment by implementing 3D guidance systems. By doing so, construction teams will reap the rewards of improved project execution schedules, lower fuel consumption, and thus reduced work time and increased team construction efficiency.
Product Highlights – EasyDig Excavator Guidance System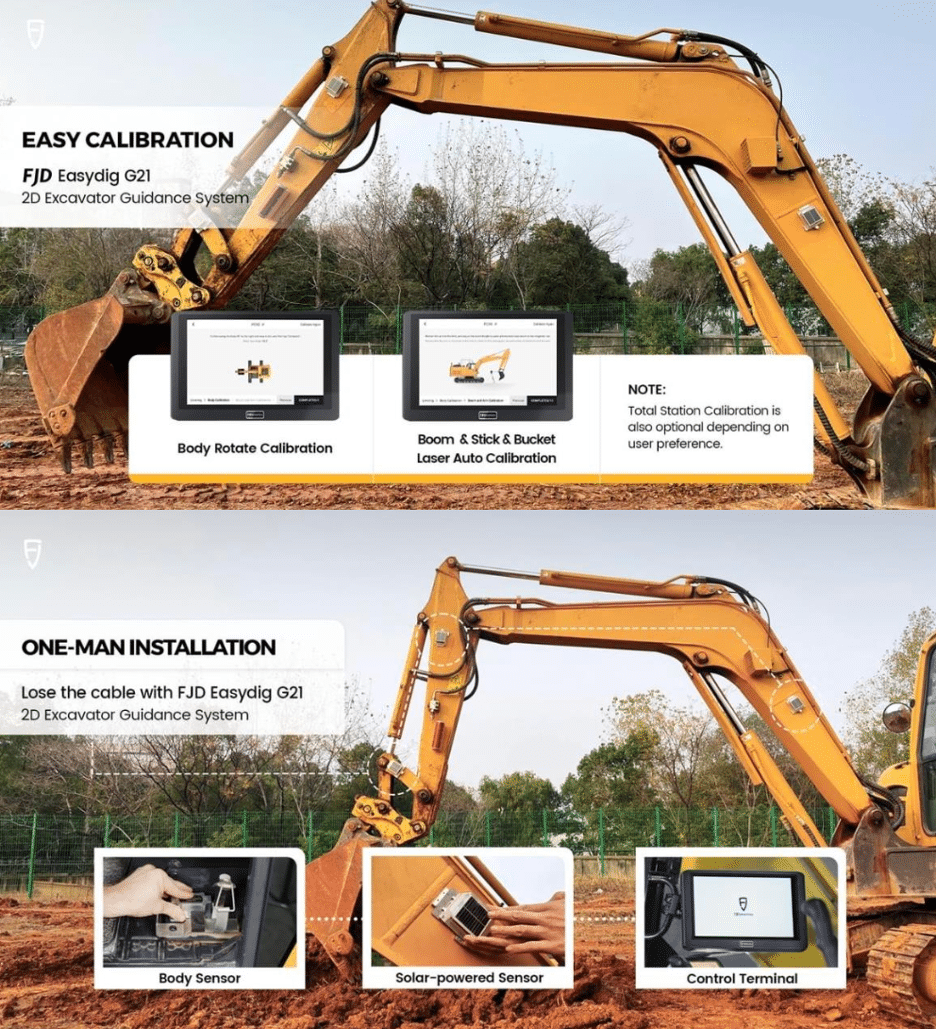 The FJD EasyDig Excavator Guidance System is a wireless guidance system that leads the industry with centimeter accuracy. It is a modular upgradable product, including upgrades from 2D to 3D, installation of laser upgrades, and so on. It can be applied to many scenarios – road constructions, trenches, foundations, residential projects and etc. It is easy to use that even newbies can get started quickly. It comes with a modular design that allows you to switch between machines. And it has an affordable price for all operators. The sensors can be affixed to the excavator's boom, stick, bucket, and car body to use high-precision algorithms to collect real-time positioning data. And the sensor can be easily disassembled and installed onto another excavator with a snap on/off switch!
What's more, the whole installation process is pretty simple. Thanks to the Bluetooth wireless sensor, one person can complete the whole process within 30 minutes.
The calibration process for this product is also beginner friendly. The whole calibration laser package consists of a magnetic pole for adsorption on the excavator to facilitate the acceptance of laser points; a laser module for shooting a laser point at the magnetic pole to help calibration, and a gimbal and tubes for fixing the laser and adjusting laser height. The operator can use the laser calibration for boom/stick by adjusting the laser at different heights and operating the excavator so that the laser beam is irradiated to the bucket axis 12 times and use the bucket auto-calibration by adjusting the bucket angle to make the top of the bucket touch the reference 9 times.
About FJDynamics
FJDynamics is a robotics company focusing on digitization, automation, and new energy.
We are committed to driving carbon neutrality and improving working environments in the most labor-intensive industries with our useful and affordable robots.
Our technology has been widely applied in agriculture, construction, geospatial, landscaping, and more. With the global reach of our business, we are thrilled to work with our partners and customers to build a better future for our world.
Contact Us
For more information about our dealership opportunity and other business inquiries: https://www.fjdynamics.com/dealer
For product purchase:
Email: sales.global@fjdynamics.com or https://store.fjdynamics.com.